Get to Know: Gynecologist Kenneth Barron, MD
---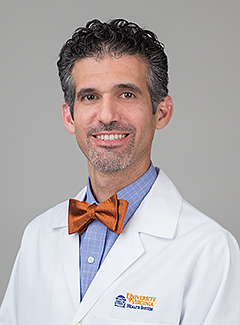 At a Glance:
Assistant Professor of Obstetrics and Gynecology, Division of Advanced and Minimally Invasive Gynecologic Surgery
Specialty: minimally invasive gynecologic surgery and chronic pelvic pain
Fellowship: Minimally Invasive Gynecologic Surgery, Florida Hospital Orlando, 2016
Residency: Obstetrics and Gynecology, University of Massachusetts Medical Center, 2009
Medical Degree: University of Massachusetts Medical Center, 2005
Gynecologist Kenneth Barron, MD, has focused his clinical practice and research efforts on providing women with more minimally invasive surgical options to treat gynecologic conditions, and more non-surgical options to treat chronic pelvic pain. At UVA Health System, he will have an opportunity to expand on these efforts.
When did you join the faculty at UVA?
I joined UVA in August of this year. My wife and I met as undergraduates at UVA, so when the opportunity to return to Charlottesville became available, we couldn't pass it up.
You were in private practice for a few years. Why did you decide to pursue a fellowship?
I was in private practice for four years in the greater Boston area before deciding to do a fellowship in minimally invasive surgery and chronic pelvic pain. I wanted to improve my surgical technique so that I could take on more complex cases.
I now have the experience to perform minimally invasive laparoscopic and robotic-assisted surgeries for women who might otherwise have open surgery due to the size of their fibroids, ovarian cysts or uterus. I learned these procedures in residency, but volume affects proficiency and also outcomes. Because of the number of complex gynecologic cases I performed during those two years, I broadened my skill set significantly. I also have gained the ability and experience to operate on and around the bowel and bladder, which is necessary when operating on patients with severe endometriosis.
What are your goals going forward for advancing laparoscopic GYN surgery at UVA?
One goal is to begin offering hysterectomy as an outpatient procedure. Thirty years ago, if a hysterectomy couldn't be done vaginally, it was done with a large incision, so it required a three- to four-day stay in the hospital and six weeks or more to recover. With laparoscopic surgery, we can get patients back on their feet quicker and back to normal activities within two weeks. Doing the procedure in the Outpatient Surgery Center at UVA will improve the patient experience and allow patients to get home to the comfort of their own bed sooner without any compromise in quality.
Additionally, over the past two decades, we've been seeing instrumentation getting smaller and smaller for laparoscopic surgery. Instead of 5-10 mm instruments, we just acquired a 3.5 mm set. So I'll also be working on developing procedures utilizing this smaller instrumentation. A smaller port means you have to do more with less, so you have to be comfortable with different instrumentation. The benefit to patients is less pain, less risk of herniation and smaller scars.
What interested you in the treatment of women with chronic pelvic pain?
Patients with chronic pelvic pain are often some of the most challenging to treat. One of the reasons these patients are more challenging is because they often have a complicated story. They may have seen five or six doctors and still don't have a diagnosis, so they are frustrated and hopeless. When I'm able to find a cause for their pain and direct them to appropriate treatment, the improvement can be life-changing. Being able to make such a huge difference in someone's quality of life is extremely fulfilling. Treatment can be a journey for these women and often just letting them know they have a partner in that journey and that their pain is not purely psychological is a huge burden off their shoulders.
What are some of the treatments available to these patients with chronic pelvic pain?
I had the honor of spending time with one of the great experts in this field, Georgine Lamvu, MD, MPH, during my fellowship. We studied non-surgical options for women who have pelvic pain of an unknown cause. If doctors can figure out the source of the pain, there may be other options outside of a total hysterectomy. This can include the use of nerve blocks, trigger point injections of Botox into the pelvic floor muscles, specialized pelvic floor physical therapy, diet changes, topical medication and oral medications. With bladder pain, often we find the cause of pain is the pelvic floor muscles at the base of the bladder, not the bladder itself. The key to working with patients with chronic pain is to utilize a multidisciplinary approach when needed. At UVA, we're fortunate to have a network of specialists to work with, including physical therapists who specialize in pelvic floor disorders, anesthesiologists in the Pain Management Center, psychologists in the Behavioral Medicine Center as well as urology and gastrointestinal specialists.
Will you be involved in research as well at UVA?
Yes, I will be involved in a study looking at a different way to do pudendal nerve blocks. Typically these are done through the vagina, which is not as accurate. So we're looking at using fluoroscopy with dye to see where the anesthetic is being injected.
Also, as we begin offering outpatient hysterectomies, we'll be studying outcomes, rates of readmission, patient satisfaction, complication rates, etcetera.
How will you work with referring providers?
It really depends on a provider's needs. Sometimes you may just need a second opinion regarding the need for surgery or treatment recommendations and, in that case, I would send the patient back to the referring provider for treatment. Co-managing a patient with chronic pain is often the best option, especially if the patient lives far from UVA. I anticipate that many referrals will be for specific surgery, such as excision of endometriosis, laparoscopic removal of an ovarian mass, fibroids or hysterectomy, after which patients will return to their referring provider for continuing care.
Because of my experience treating chronic pelvic pain and performing minimally invasive surgery for non-cancerous gynecologic conditions, I think my skill set will be a valuable resource to referring providers.
If you would like to schedule an on-site visit from Dr. Barron, please contact our Physician Relations team.
To refer a patient, call UVA Physician Direct at 800.552.3723.