UVA Poised to Make Progress In Battle Against Brain Metastases with New Clinic Launch
---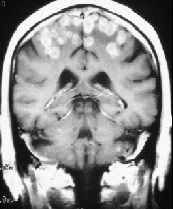 At a Glance
UVA Cancer Center opens Brain Metastases Clinic.
New clinic will provide patients with comprehensive, integrated care.
UVA is fostering progress in the treatment of brain metastases by offering new clinical trials, with more on the horizon.
Just as the treatment for primary brain cancer has improved over the past decade, we are making headway in the treatment of brain metastases. There are options now available that can not only prolong life, but also maintain a patient's way of life. With the recent opening of the Brain Metastases Clinic, UVA Cancer Center is making it easier for patients to access these treatment options — and giving referring providers a place to turn when a patient's care needs exceed standard practice. "For referring providers, this clinic offers an opportunity to make a difference in the lives of very complex patients," says UVA neurosurgeon Jason Sheehan, MD. According to UVA neuro-oncologist Camilo Fadul, MD, the demand for this type of dedicated clinic is growing. "Better treatment of systemic cancer means patients are living longer, which puts them at greater risk for brain metastases," he says. In 2016, there were approximately 43,000 new cancer cases diagnosed in the state of Virginia. About 10 percent of the estimated 30,000 solid cancers will develop brain metastases, suggesting the number of patients affected is close to 3,000. To care for them effectively, Fadul says the Brain Metastases Clinic will address head on some of the primary barriers to treating these complex patients. The clinic will provide: Integrated Care The clinic started as a collaboration between neurosurgery and neuro-oncology, however all specialists at UVA's NCI-designated cancer center will be easily accessible, including radiation oncologists, medical oncologists, palliative care providers and others. "Dr. Fadul will serve as quarterback to screen and assess patients and bring in the full range of needed providers for a given patient," explains Sheehan. "With an integrated clinic, these patients will get a diverse perspective at one clinic appointment rather than having multiple doctor visits." In addition, the tumor board allows all specialists involved in a patient's care to share ideas and determine the best course of treatment. Due to the expertise within this pool of cancer specialists, the treatment options patients have to choose from are some of the most advanced available, including stereotactic radiosurgery (SRS), hippocampus-sparing whole brain radiation, immunotherapy and targeted tumor resection. Customized Disease Management The comprehensive assessment of every patient will allow Fadul and his team to personalize treatment according to patient characteristics and the makeup of their tumor, the location of brain metastases and the staging of the cancer outside of the brain. "We will follow clinical and patient-reported outcomes to see how personalized management impacts them," he says. "Based on these measurements, we want to determine what's working and implement strategies that will improve outcomes." When caring for patients with cancer that has metastasized, the measure of success extends beyond overall survival to include quality of life. "At every visit, the patient will fill out a questionnaire so that we have real-time information on how our approach is working for pain management, depression, headache and other symptoms," says Fadul. "We are able to see the full course of disease with these types of reports and determine which approach is benefitting an individual patient the most." Access to Clinical Trials In general, the number of clinical trials available for patients with brain metastases is small compared to other cancers. The research funding has been limited, according to Fadul. "The concept that these patients are beyond treatment needs to change," he says. "[Clinical research] is something we have to embark on if we are going to make progress." UVA is helping to initiate that progress, as it now offers two studies for patients with brain metastases and more on the horizon. "UVA is committed to fostering an interdisciplinary relationship among basic scientists and clinical researchers, so they can develop new trials based on the tumor biology," says Fadul. The two clinical trials currently enrolling patients with brain metastases at UVA are:
"Our goal is to work in tandem with a patient's primary oncologists to provide patients with greater options for treatment, to inhibit further spread of disease and provide them a better quality of life," says Fadul. Learn more about UVA Cancer Center's approach to treating brain metastases. To refer a patient to the UVA Brain Metastases Clinic, call UVA Physician Direct at 800.552.3723.