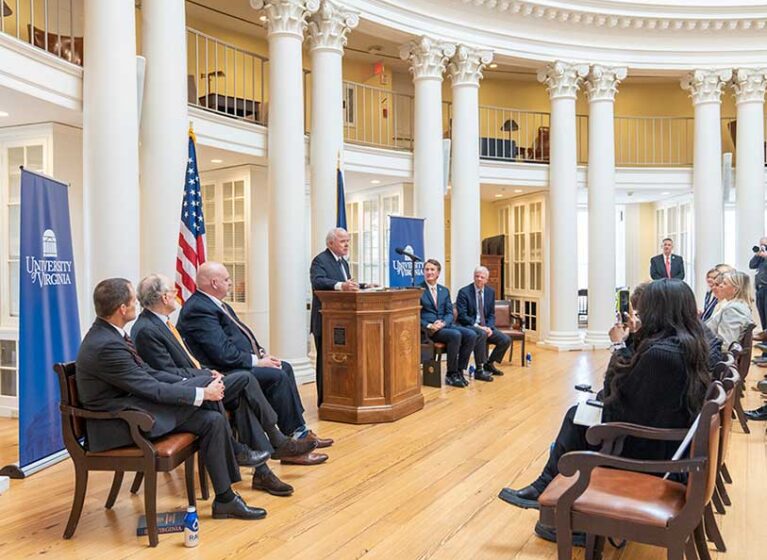 With the support of a $100 million gift from a donor and healthcare visionary, the University of Virginia is establishing a major biotechnology institute to position UVA at the forefront of cutting-edge, next-generation medicine. The institute will accelerate the development of treatments for even the most intractable diseases, reshape healthcare delivery across Virginia, and transform the state's economic landscape.
In addition to the generous gift from philanthropists Paul and Diane Manning, the first phase of the institute will be funded by $150 million from UVA and a substantial contributing investment from the Commonwealth of Virginia, reflective of the Commonwealth's desire to heavily support biotech growth in Virginia.
K. Craig Kent, MD, chief executive officer of UVA Health and UVA's executive vice president for health affairs, called the new institute a "historic milestone" for UVA Health. The Paul and Diane Manning Institute of Biotechnology, he said, will close the gap between bench and bedside and advance UVA Health's mission to transform healthcare and inspire hope, not just for Virginians, but for people around the world.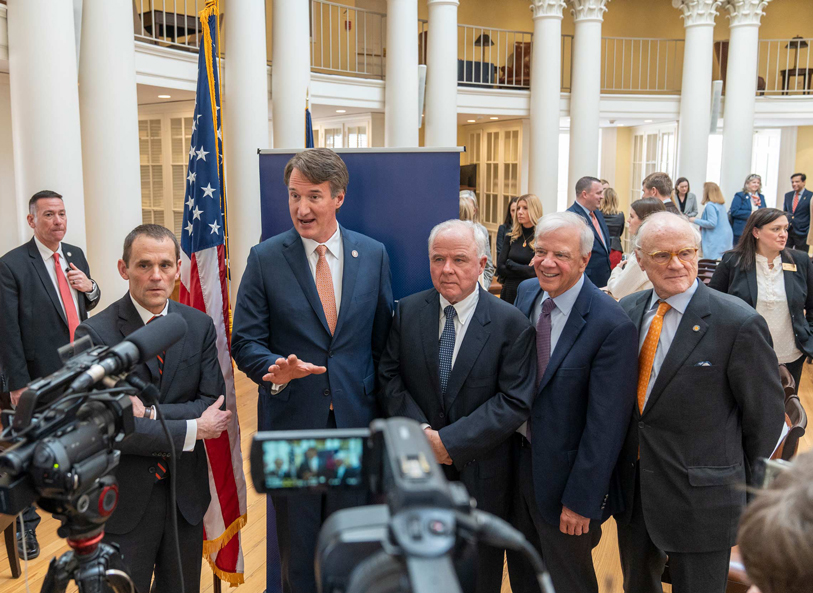 A few recent breakthroughs demonstrate how UVA Health's research inspires hope.
CAR T-Cell Therapy for Deadly Cancers
UVA Children's has been at the forefront of CAR T-cell therapy for refractory and relapsed leukemias and lymphomas. Daniel "Trey" Lee III, MD, director of the Stem Cell Transplant and Cellular Therapy Program at UVA Children's, was one of the first in the world to treat children with CAR T; he was recruited to UVA specifically for his cutting-edge expertise. UVA Health's program offers FDA-approved CAR T-cell therapy and clinical trial versions for childhood leukemia and B-cell lymphoma. UVA also offers FDA-approved CAR T-cell therapy for adults with aggressive B-cell lymphomas.
This state-of-the-art biotech institute will further enhance the exceptional research that already exists at UVA, creating a groundswell of innovation that will energize our students, attract top talent, and engage the entire community. The benefits will reverberate far into the future.

Melina Kibbe, MD
Dean, UVA School of Medicine
Chief Health Affairs Officer, UVA Health
Lee and his research collaborators recently discovered vulnerabilities on solid tumors that can be targeted with CAR T. This could lead to more effective treatments for two brain tumors that are almost inevitably fatal, glioblastoma and diffuse intrinsic pontine glioma, as well as other solid tumors.
The Potential & Promise of Focused Ultrasound
A decade ago, UVA Health neurosurgeon Jeffrey Elias, MD, treated a clinical trial participant with essential tremor using scalpel-free focused ultrasound. The results were immediate and dramatic. Before treatment, the participant's shaking hands made it all but impossible for him to eat a bowl of cereal. Afterward, he could use his now-steady hand to fill in a crossword puzzle.
Elias' pioneering research paved the way for the FDA to approve this technology for the treatment of essential tremor and demonstrated the vast potential of focused ultrasound. Dr. Sanjay Gupta, CNN's chief medical correspondent, recently broadcasted a half-hour special on UVA's focused ultrasound work. The feature followed a tremor patient's experience, highlighting how UVA is testing the technology for an array of applications, from treating cancer to opening the blood-brain barrier. UVA's success with focused ultrasound has prompted UVA Health to launch the world's first research center devoted specifically to using the technology to enhance the effectiveness of immunotherapy.
Improving Lives with the Artificial Pancreas
The FDA approved an artificial pancreas for patients with type 1 diabetes that was developed based on UVA Health research. The system automatically monitors patients' blood glucose and adjusts their insulin dose accordingly, freeing them from endless painful finger sticks and insulin injections.
For patients with type 1 diabetes, the artificial pancreas can be nothing short of life-changing. And that's exactly the type of translational research that the Paul and Diane Manning Institute of Biotechnology will nurture.
Read more about the launch of the institute.