UVA and Inova Schar Cancer Institute Team Up to Present the 2019 Oncology Update
---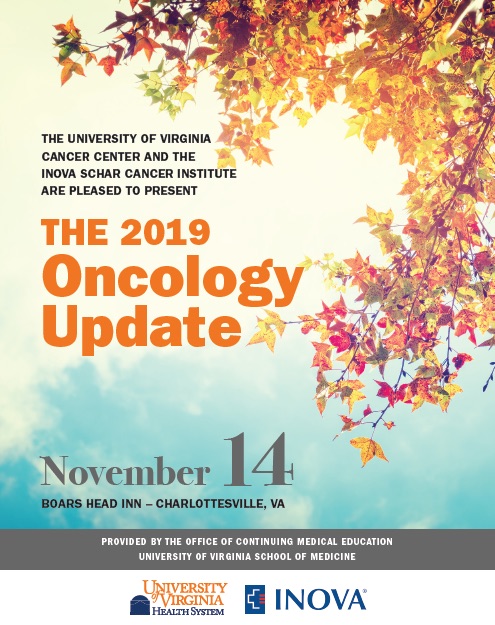 In an effort to inform and educate providers who care for patients with cancer, UVA Cancer Center and Inova Schar Cancer Institute will host the first-ever Oncology Update on Thursday, Nov. 14. "The goal of this meeting is to present an interdisciplinary mixture of didactic lectures and case-based discussions covering a range of neoplasms and clinical issues in solid tumor oncology," says course director and UVA Cancer Center Deputy Director Robert Dreicer, MD, MS, MACP, FASCO.
Participants will learn:
Why pertuzumab may not be needed in low-risk HER2+ breast cancer
Why over use or under use of NGS in management of patients with squamous cell lung cancer may be problematic
To appreciate early immune toxicity events and to intervene earlier
To understand immune-related cardiac toxicity
To better appreciate the role of interdisciplinary management of pancreatic cancer and evolving data on the role of radiotherapy
To gain a better understanding of molecular diagnostics and impact of sidedness on selection of therapy
Understand why the optimal management of oligometastatic disease requires multidisciplinary management and an knowledge of evolving data in management of non-metastatic castration-resistant disease
To begin to discern differences in clinical trial results.
This live activity is eligible for a maximum of 6.50 AMA PRA Category 1 Credits. Registration closes on Sunday, Nov. 10. Cost ranges from $100 for residents and students to $150 for physicians.

2019 Oncology Update
Thursday, Nov. 14 | 7 a.m. to 5 p.m.
Boar's Head Inn, Charlottesville, Virginia
To learn more and to register, visit cmevillage org.
---