Are You Talking with Your Patients About Breast Density?
---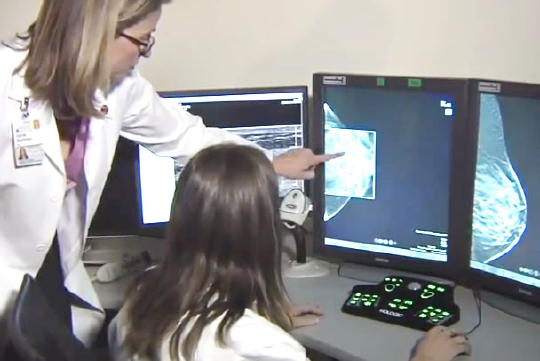 At a Glance
A UVA School of Medicine study revealed that most women do not know that dense breast tissue increases their risk for cancer and reduces a mammogram's ability to detect it.
Virginia is one of 27 states requiring radiologists to tell women they have dense breast tissue.
The study showed that written notices sent to patients informing them of the risks associated with dense breast tissue were not as effective as having a conversation with a provider.
As you're likely aware, women with dense breasts are twice as likely to receive a breast cancer diagnosis. However, according to a recent UVA School of Medicine study published in the Journal of the American College of Radiology, most women don't know that having dense breast tissue increases their risk for cancer and reduces a mammogram's ability to detect it.
A random phone survey of 1,024 Virginia women ages 35 to 70, conducted by the UVA Center for Survey Research, found that just 1 in 8 women were aware that breast density is a risk factor for breast cancer, while just 1 in 5 women knew that dense breasts reduced the sensitivity of mammograms to find tumors.
"It is important for women to know whether or not their own breast density is classified into one of the two high-density categories since this will increase their breast cancer risk," says study co-author Wendy Cohn, PhD, an associate professor in UVA's Department of Public Health Sciences. "Women need to know whether their breast density will make it harder to detect breast cancer so that, along with their healthcare team, they can consider other options for screening and detection."
Virginia is among at least 27 states that require radiologists to tell women about their breast density, according to the study, and providing that information improves women's understanding of how breast density may impact their health. 
A letter is typically mailed to patients who have dense breasts along with their mammography report. However, this survey revealed that the key to ensuring women know about breast density and its relationship to breast cancer is to have a conversation.
"The most important thing that doctors and patients can take away from this study is that the required written notice about breast density isn't enough in itself: patients need to talk with their providers about what breast density means for each woman's individual breast cancer risk," says Thomas Guterbock, a professor of sociology and director of the UVA Center for Survey Research.
Here are some key points you may want to share with your patients, provided by radiologist Jennifer A. Harvey, MD:
Traditional mammography is not as effective for women with dense breasts because the cancer and tissue are both white.
Women with dense breasts should consider an alternate form of breast cancer screening, such as 3-D mammography or breast ultrasound.
Screening should be done annually for women with dense breasts.
Listen to a podcast on UVA RadioMD for more from Harvey on dense breast tissue.