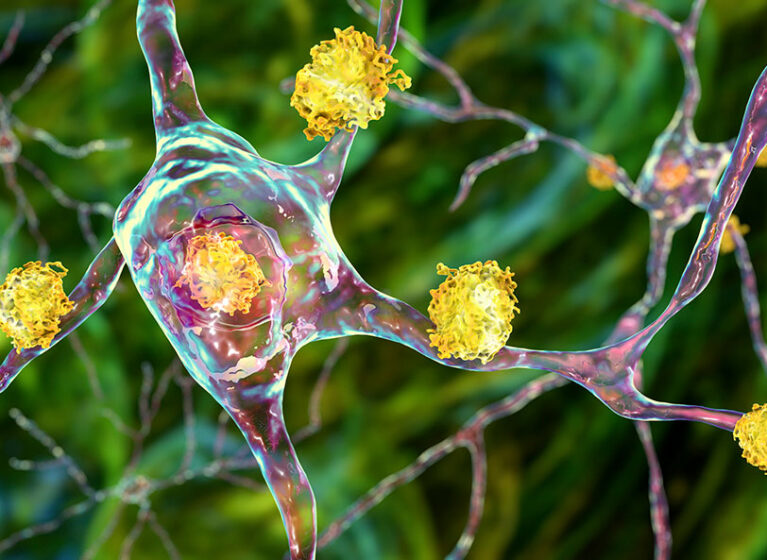 UVA Health neurologists are actively contributing to a worldwide, prospective observational study and clinical research platform that seeks to advance the understanding of Huntington's disease (HD), facilitate clinical trials, and improve clinical care. The study's robust collection of data and biological samples of symptomatic and pre-symptomatic individuals enables detailed monitoring of how this rare disease evolves over time.
With a long, rich history of clinical research in Huntington's Disease, UVA Health neurologists add a depth of perspective to the project. They're leveraging the study's massive amounts of data to deepen our understanding of HD patients as well as the disease itself.
A Rich History in Clinical Research of HD
UVA Health neurologists' involvement in clinical research of HD dates to 1995, only 2 years after the discovery of the repeat mutation that causes the disease. Now they are participating in an ongoing effort to collect data that may speed the development of disease-modifying treatments.
"We started a clinic to provide genetic counseling, genetic testing, and clinical care for HD, and then rapidly moved into clinical trials, working with the Huntington Study Group," says neurologist Madaline Harrison, MD, director of UVA Health's HD program.
A Game-Changing Step: Enlarging the Patient Pool
Since HD only affects an estimated 30,000 to 40,000 people in the United States, researchers have traditionally struggled to find enough clinical trial participants for studies. Then, in 2012, the CHDI Foundation launched Enroll-HD.
Enroll-HD collects information on HD families from North America, Latin America, Europe, Asia, and Australia. As of April 2022, the database had over 21,000 participants.
Heavily involved in other collaborative studies for years, UVA Health applied for and became one of the North American Enroll-HD sites. "Enroll-HD took the place of smaller observational trials to make it a global effort, and this was one of the most exciting things about it," Harrison says.
This expanded number of patients can improve the identification of eligible participants and the speed of recruitment for individual trials. Another benefit: There is no end date for enrollment. In line with the study's collaborative nature, researchers and clinicians have access to the database for additional research projects.
Focusing on Markers of Progression
Lately, Enroll-HD has been focusing research on people who are pre-symptomatic or have recently developed symptoms.
"Part of the Enroll-HD goal has been to look at subtle changes that might occur in markers you can identify in the blood, in imaging changes, or in motor or cognitive function that become more obvious later," Harrison explains.
With an improved understanding and ability to identify markers of progression, researchers are better able to detect changes in response to potential treatments.
Small Site, Big Collective Benefit
While UVA Health is a small Enroll-HD site, it nevertheless helps to enable studies that would otherwise be unattainable. After a pause due to COVID-19, recruitment is rebounding at UVA Health.
"We have recruited 36 participants, of whom 23 are still active, and we have identified another 10 to 12 potential participants who are in a subgroup the study is now focusing on," Harrison says.
That subgroup consists of people who are positive for the mutant gene and, barring an intervention, will develop the disease along with recently diagnosed people with early symptoms. The study is open to anyone with HD or at risk for it.
Enroll-HD participants are seen yearly at UVA Health's HD clinic for about 2 hours. The visits involve a core battery of cognitive and motor tests, including the Unified Huntington's Disease Rating Scale, a blood draw for DNA banking, and questionnaires that collect data on family history, medical history, medications, and the onset of certain symptoms.
Leveraging the Database for Studies
UVA Health neurologist W. Alex Dalrymple, MD, recently worked with a medical student to measure the effects of education on HD symptom onset and severity using Enroll-HD. In particular, the student was interested in learning if the number of repeated CAGs over 40 could influence or was correlated with patients' educational status.
Their study, published in Movement Disorders Clinical Practice, revealed HD participants with higher education levels have an earlier age of diagnosis and age of symptom onset, but lower motor exam scores and higher functional assessment scores.
"The result was a little bit surprising; it was the opposite of what I would have thought," Dalrymple says. "But it's just one example of the things you can do when you have thousands and thousands of patients' worth of data at hand."
The UVA Health HD team hopes to expand its portfolio of studies leveraging information in the Enroll-HD database. One area of focus may be support for the caregiver.
"It's no secret that any neurologic or neurodegenerative disease creates high demands on the caregivers," Harrison says. "We'd like to understand better how to help and develop better strategies to support them."
Connecting With HD Specialists, Clinical Research
Although genetic testing for HD is widely available, Harrison urges neurologists to refer their patients to specialty programs as soon as they suspect HD.
"I encourage physicians to take advantage of specialty programs for HD and involve their colleagues in the care of their HD patients from the beginning," Harrison says. "We have a lot of experience helping people navigate decisions like whether to get tested for the gene, how to deal with the changes that occur when you have HD, and how to get connected to research like Enroll-HD that's going to make a difference."