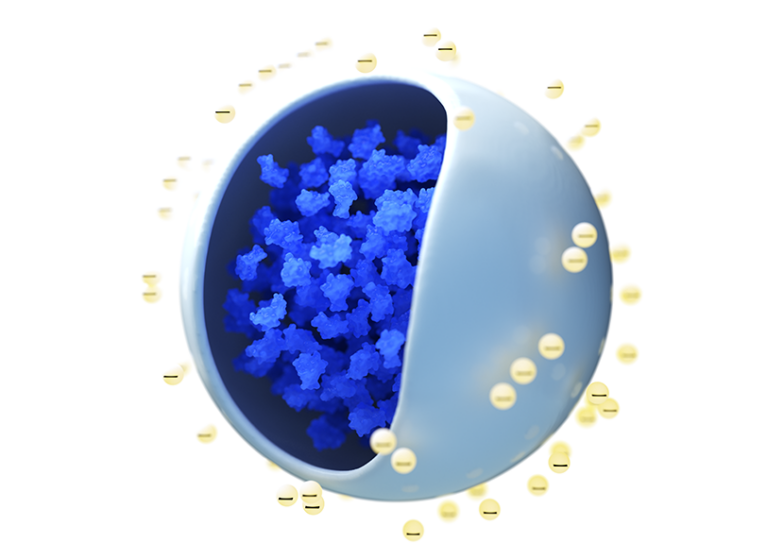 For patients with primary biliary cholangitis (PBC), treatments can often keep the disease under control, preventing progression to cirrhosis and end-stage liver disease. But these therapies don't work for everyone and must be taken indefinitely. Researchers at UVA Health, led by hepatologist Stephen H. Caldwell, MD, are investigating whether a novel, cutting-edge treatment using nanoparticles could provide a cure for this often-manageable but incurable disease.
Better Treatments Needed for PBC
The current state of PBC treatment is not ideal. While long-term use of ursodiol (ursodeoxycholic acid) can delay or prevent liver damage in people with PBC, it doesn't work for everyone. Another drawback: Ursodiol often does little to treat itching and fatigue — symptoms that lead to a severely reduced quality of life.
There aren't really other options. "Another drug, obeticholic acid, may also be used, but it has a fair number of side effects," Caldwell says. Novel peroxisome proliferator-activated receptors (PPAR) agonists also are being developed for treating PBC and appear to put the disease into remission for some patients, but are not yet widely available, he adds.
Nanoparticles Contain Antigen to Tame Immune System
The lack of desirable treatment options makes a new approach especially compelling. In a recently launched phase 2a, first-in-human trial, researchers are studying CNP-104. This nanoparticle-based drug is designed to desensitize the immune system. Taming the inflammatory response that drives the disease could prove uniquely effective and long-lasting. "This approach has really captured everyone's imagination," Caldwell says.
The antigen contained in the nanoparticles is PDC-E2 (the E2 component of the pyruvate dehydrogenase complex). In people with PBC, PDC-E2, which is normally contained inside the mitochondria, is trafficked to the organelles' exterior, where it's recognized and targeted by immune cells. In fact, the anti-mitochondrial M2 antibody is considered a serologic hallmark of PBC.
"One interesting hypothesis is that exposure to Escherichia coli, especially due to a urinary tract infection, can prime the immune system to go after PDC-E2," Caldwell says. "E. coli contain pyruvate dehydrogenase proteins that share similarities with PDC-E2. If the immune system is already programmed to recognize that piece of antigen, then it may also attack the bile ducts in people who have this antigen present outside the mitochondria."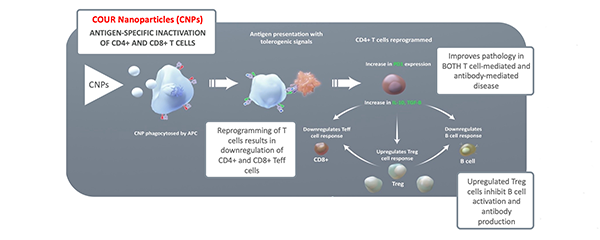 The Scope of the Trial
The nanoparticles used in the trial were developed by COUR Pharmaceutical. The double-blind, placebo-controlled study is enrolling 40 patients at centers around the U.S., including UVA Health. The drug is being studied in PBC patients who have had an incomplete response to ursodiol. Patients with cirrhosis may qualify for the trial, as long as they don't have serious complications from the condition.
The particles are given as two infusions one week apart. Patients are then monitored for an initial 120-day period followed by a longer-term follow-up period of 20 months to determine safety and durability of the response. If the drug is safe and effective, investigators expect that no further treatment will be needed.
"Our first patient tolerated the treatment very well," Caldwell says. "She's now in an observation period, but it will take months for the old lymphocytes that are reactive to the antigen to be turned over."
Promising Treatments for Liver Disease & Other Autoimmune Disorders
The nanoparticle trial is only one way in which the hepatology team at UVA Health is leading the advancement of new treatments for liver disease. Trials are also under way to evaluate the effectiveness of PPAR agonists in treating sclerosing cholangitis and other conditions. UVA Health also expects to participate in a gene transfer trial (currently in the approval process) for treating Wilson disease.
Caldwell says the approach of using nanoparticles to introduce small amounts of antigen may also be effective for treating other immune-mediated disorders, including, celiac disease and type 1 diabetes. The technology is being investigated for treating peanut allergies as well. "The idea of using this technology to alter the immune system is one that's very exciting and promising," he says.