At a Glance
Degenerative scoliosis is becoming more common and symptoms of this condition can be debilitating for some.
Significant improvements have been made in the surgical treatment of spinal deformity.
Case study highlights one of the complex spinal surgeries being performed by UVA spine surgeon Justin Smith, MD, to treat degenerative lumbar scoliosis.
Degenerative lumbar scoliosis is a condition that can develop later in life as part of the aging process. As the demographic in the United States continues to shift toward an older population, the prevalence of degenerative lumbar scoliosis will continue to increase.
"Patients with degenerative scoliosis may be unaware of their condition, and some may never develop symptoms," says Amanda Carter, FNP. "However, when symptoms occur, they can be debilitating and can include back pain, difficulty standing upright, neurogenic claudication, radiculopathy (leg pain) and neurologic deficits, such as numbness and weakness."
Management of degenerative scoliosis is specific to the type and severity of symptoms and impact on the patient's quality of life. "In the absence of significant or progressive neurologic deficits, non-surgical management is typically pursued first and may include medication management, steroid injections, and land- or aquatic-based physical therapy," says Carter. "Patients may choose to pursue surgical intervention to address their symptoms based on quality of life, failed non-surgical management, and/or the presence of neurologic symptoms."
The general goals of spinal deformity surgery for degenerative lumbar scoliosis include:
Improvement of back and leg pain and disability
Restoration of spinal alignment
Improved quality of life
Over the last few decades, significant advances have been made in the surgical treatment of spinal deformity. Improvements in imaging, instrumentation, surgical techniques and anesthesia have enabled surgeons to address increasingly more complex spinal deformities.
UVA spine surgeon Justin Smith, MD, is one of the few surgeons in the region who performs more complex surgeries like the one highlighted in the case study below. "These types of cases require more complex decision making and surgical planning with regard to ensuring appropriate decompression of the nerves and achieving appropriate alignment of the spine," says Smith. "Much of my research has focused on these types of patients and procedures and in defining how to optimize surgical planning in order to maximize outcomes and reduce the risks of complications."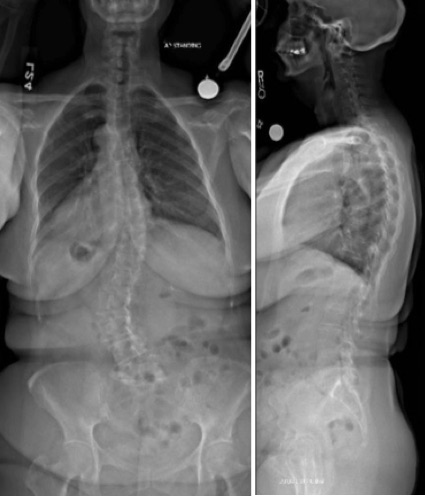 Case Study: Degenerative Lumbar Scoliosis
Patient: 67-year-old female
Assessed by: Justin Smith, MD, and Amanda Carter, NP
Presented with: Significant back pain as well as left lower extremity radicular pain
"Her symptoms had been present for many years, but increased in severity, which led her to seek out a referral for evaluation," says Carter. The patient had tried multiple non-surgical management approaches, including land-based and aquatic physical therapy, chiropractic treatment, acupuncture, muscle relaxants and steroid injections. In addition to pain impacting her quality of life, she also developed neurologic symptoms, including numbness in her feet and toes, as well as subjective weakness in her legs.
Diagnosis: Degenerative scoliosis with significant multilevel degeneration of the joints and severe nerve compression
"The magnetic resonance imaging (MRI) showed severe narrowing of the bony channels where the nerves leave the spine and travel to the legs for sensation and strength. This narrowing correlated with her symptoms and clinical presentation," says Smith.
Treatment: T11-ilium posterior instrumented arthrodesis, L2-S1 Smith-Petersen osteotomies, and L5-S1 discectomy with interbody fusion
The procedure was performed under general anesthesia. Smith utilized fluoroscopy to mark a midline incision to enable access to the T11 through sacrum levels. After the incision was made, the posterior elements of the spine from T11-sacrum were exposed.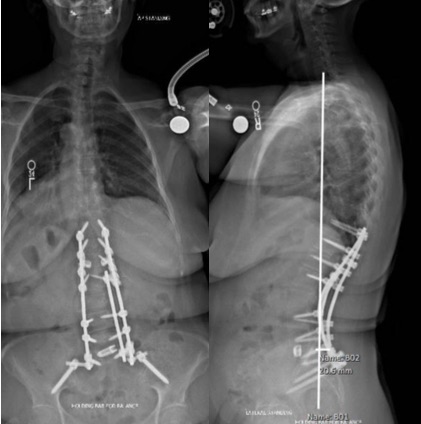 Smith used surface anatomic landmarks and a high-speed drill to place instrumentation and, with fluoroscopy guidance, drilled starter holes into the bone for the pedicle screws. A pedicle finder was used to cannulate the trajectories. Screws were placed bilaterally spanning from T11 through S1, and supportive bolts were placed into the ilium. Osteotomies provided decompression of the spinal canal and the exiting nerve roots, and helped release and correct the scoliosis.
At L5-S1, Smith performed a discectomy to allow placement of a titanium interbody spacer, as a means of deformity correction and an aid for bone healing across the lumbar-sacral junction. Cobalt chromium rods were then measured, cut, contoured and placed to span from T11 through the ilium bilaterally. Locking caps were placed over the heads of the screws to secure the rods, and a junctional tether was placed at the top of the construct for proximal junctional support.
Recovery: Discharged on postoperative day six
The patient had a significant improvement of her radicular pain after surgery, even before leaving the hospital.
Outcome: Complete symptom resolution
The patient was most recently seen back in clinic for routine follow up one year out from her fusion surgery. "At the time of her visit, she reported that her preoperative back and radicular pain have essentially resolved, and she continues to be pain free," says Smith.