At a Glance
In femoroacetabular impingement (FAI), contact between a hip's misshapen ball and/or socket damages the cartilage and labrum.
If untreated, FAI can lead to arthritis and ultimately require hip replacement surgery.
FAI is most often seen in young athletes or in weekend warriors, though it can affect patients of all ages.
Arthroscopic surgery has become the treatment of choice for most cases of FAI.
Arthroscopic surgery has long been the standard treatment for such injuries as rotator cuff and meniscus tears. But it has only been within the last two decades that arthroscopic surgery has been used to treat femoroacetabular impingement (FAI), a condition in which the ball may not be perfectly round, and the socket can be too deep or overhanging. This may damage the cartilage and labrum and can lead to arthritis.
"The use of arthroscopy for hip conditions had been limited by anatomy and indication," says UVA orthopaedic surgeon Winston Gwathmey, MD. He notes that the hip is deeper in the body than the shoulder or knee, and it is much tighter. It was only after clinicians developed ways to safely distract the hip joint did the possibility of using arthroscopy to treat FAI become a possibility.
The procedure is especially beneficial for the subset of patients who develop arthritis as young adults and require a hip replacement. When hip replacements are performed early in life, there is a risk that patients will need a second, more complicated replacement as they age. By reshaping the hip joint and repairing damaged cartilage and labrum, arthroscopic FAI surgery can reduce the incidence of arthritis and the subsequent need for replacement surgery.
Symptoms of FAI include pain in the inner hip or groin, usually after walking or prolonged sitting. Patients sometimes experience a clicking or catching sensation within the joint and can walk with a limp. To learn more about arthroscopic treatment of FAI, take a look at the case study below.
Case Study: Arthroscopic Treatment for Femoroacetabular Impingement
Patient: Diddy Morris, a 49-year-old female
Presented with: Chronic hip and groin pain
An avid runner, Morris was experiencing progressively more severe pain that made it difficult for her to sit for extended periods or exercise. When physical therapy proved ineffective, her therapist recommended she see Dr. Gwathmey.
Diagnosis: Femoroacetabular impingement in the patient's right hip
An X-ray revealed that an impingement in the socket was responsible for Morris' FAI.
Treatment: Steroid injection and arthroscopic surgery
Gwathmey proceeded conservatively. He administered a steroid injection, but when relief proved temporary, Morris opted for surgery.
During the procedure, Gwathmey introduced a small video camera into the hip joint through a 6 mm incision on the outside of the hip. He then inserted specialized operative instruments into the joint through two additional small incisions on the front of the hip.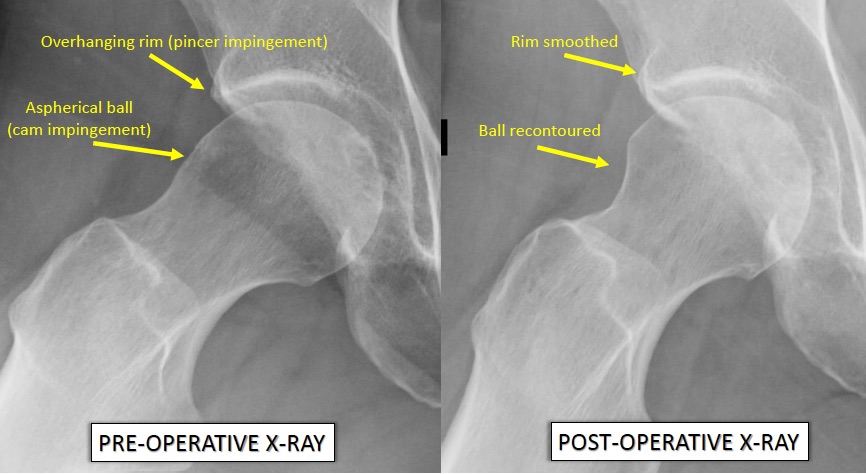 Gwathmey smoothed the socket with a high-speed burr to remove bone impingement in the socket that pinched the labrum and to make the ball more spherical and improve its rotation. He consulted X-rays throughout the process of reshaping of the ball and socket to verify the accuracy of the modifications.
Gwathmey then removed loose cartilage flaps with a shaver to reduce any friction within the joint and inserted tiny anchors with attached sutures into the bone around the rim of the socket to secure the labrum.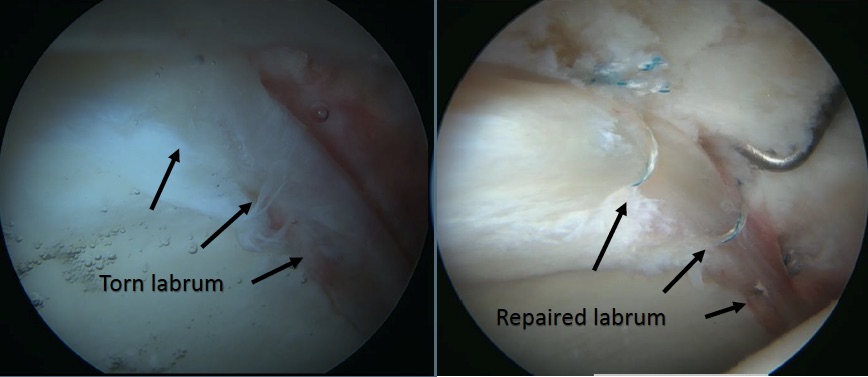 After correcting the impingement and repairing any cartilage or labral damage, Gwathmey manipulated the hip to ensure fluid range of motion and to check for any residual impingement. He then repaired the joint lining and closed and bandaged the small incisions.
Recovery: Limited weight-bearing activity and physical therapy
Arthroscopic treatment for femoroacetabular impingement is an outpatient procedure, so Morris was able to return home the day of surgery. Physical therapy is critical to reducing post-operative inflammation and to restore range of motion, so Morris began therapy almost immediately. She used crutches after surgery to allow her hip to heal and help normalize her gait. She also walked in the pool and rode an exercise bike. Within two weeks of the procedure, she had returned to work part-time.
Outcome: Six months after surgery, Morris was walking and using an elliptical trainer for 40 minutes.
Almost three years later, Morris says she feels as though she is in better shape than at any point in her adult life. In addition to running, she cross trains and does high-intensity interval training several times a week. "I didn't appreciate how much I had limited my activities in response to my growing pain," Morris says. "Now I feel as though I have my life back."
To refer a patient to UVA Health, call 800.552.3723.