Ankle replacement surgery has gone through many iterations over the past decade. With the expertise of three full-time, fellowship-trained orthopedic foot and ankle specialists to guide decision-making, UVA has been able to standardize its approach to a procedure with a somewhat binary treatment algorithm.
"With hip and knee replacement, the implants are all very similar and we've converged on similar designs," says orthopedic surgeon Joseph Park, MD. "But for ankle replacement, there are various device trends and there's a lack of consensus in the orthopedic community in terms of how this procedure is performed."
"At UVA, we use our research to dictate which patients are the best candidates and the type of implant we think would perform best for each person, so it's a more individualized approach to ankle replacement," adds Park. "In addition, our collaborative biomechanical research helps us analyze and improve current and future ankle replacement designs. Innovations like our robotic gait simulator and motion analysis laboratory allow us to perform research that cannot be done anywhere else in the world." In the case study below, Park utilizes the Scandinavian Total Ankle Replacement System (STAR™ Ankle) to provide one patient relief for arthritis pain and compromised mobility.
Case Study: Ankle Replacement
Patient: Sharon Hodges, 69-year-old female
Presented with: ankle pain
"I fractured my ankle in 1980 and had pins and screws put in. I didn't have any issues with it until about 2008 when I started having pain in my ankle. I love to walk and the pain was preventing me from walking as far as I used to," says Hodges.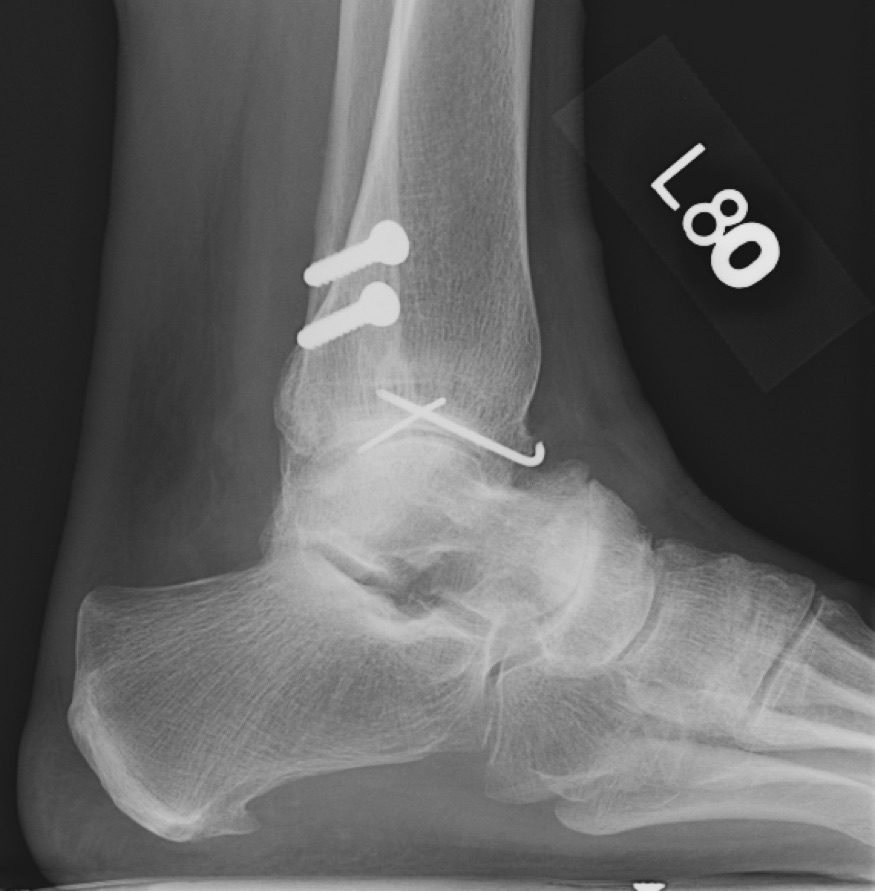 Assessed by: orthopedic surgeon Joseph Park, MD
Diagnosis: arthritis in the ankle, as well as subtalar and talonavicular joints
"Sharon came to see me in 2001. She had an X-ray and a physical exam. By watching her walk, I checked her alignment," says Park. "In addition to ankle arthritis, she had some arthritis in the joint just under the ankle and in other joints of the foot as well. This combination makes total ankle replacement a preferred option compared to ankle fusion for this specific patient."
Treatment: bracing followed by total ankle replacement
Hodges had tried bracing to reduce the pain and swelling in her ankle, however her symptoms persisted. "Injections, bracing and physical therapy should always be tried before almost any ankle surgery," says Park. "If non-operative measures are unsuccessful at relieving symptoms, then surgery may be the best option."
Park and Hodges discussed ankle fusion, however Hodges decided ankle replacement was the better option for her. "Once Dr. Park shared the pros and cons of the new technology, I decided on ankle replacement because I wanted to maintain the flexion in my ankle so that I could continue to walk," says Hodges.
"The goals of ankle replacement surgery are to maintain or improve range of motion, and to restore alignment and stability," says Park. "In addition, we believe ankle replacement restores a more natural gait compared to ankle fusion."
During the approximately three-hour procedure, Park made an incision on the front of the ankle, dissecting between tendons and moving vessels and nerves out of the way in order to expose the ankle. He made templated cuts on the tibia using a cutting guide affixed to the leg. He then removed bone from the tibia and talus, inserting metal components on each side of the joint before placing the plastic portion of the implant between the metal pieces.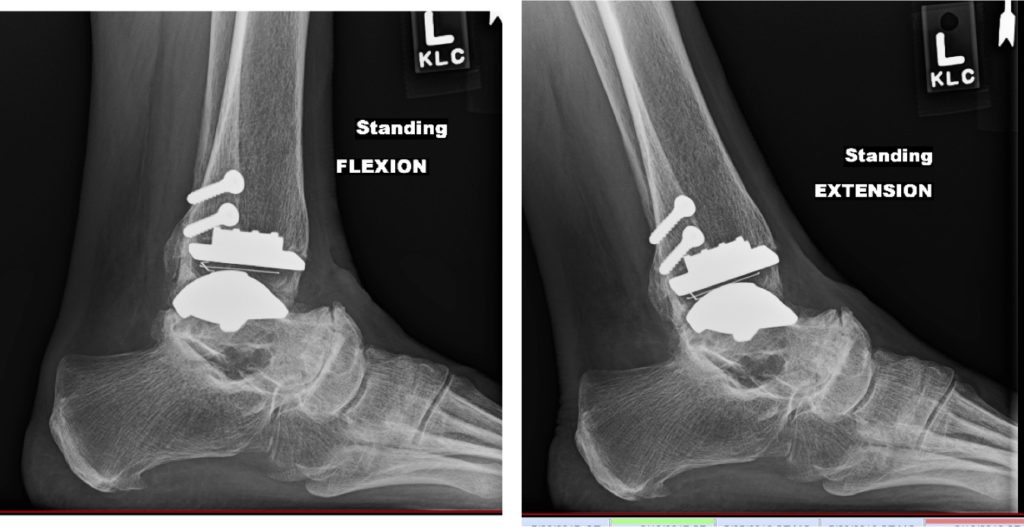 Recovery: Overnight hospital stay, six weeks of splinting and non weight-bearing, followed by a walking cast and exercises to regain motion in the joint
"There was very little pain that I recall and limited scarring," says Hodges. "It took about three months before I got some mobility back."
"I make sure that patients understand not just what the surgery itself entails but what their role in recovery will be," says Park. "The surgery may take three hours to complete, but for a total ankle replacement, it can take over a year for full recovery. That doesn't mean they're off their foot for a full year, but continued healing needs to take place.
"It's very critical that bone be allowed to incorporate or grow into the metal components that are inserted. Mechanical loosening may occur if there is not adequate bony incorporation of those metal components."
Typically, Park recommends physical therapy at six weeks post-op; however Hodges, a retired nurse, did exercises on her own to restore flexibility in her ankle joint. "Sharon was a little more self motivated than most people," says Park.
Outcome: full recovery with pain resolution and restoration of ankle motion
"Sharon was an optimal candidate for this procedure," says Park. "She was the right age and the right BMI [body mass index]. She didn't have significant alignment problems. She's informed, motivated and followed instructions to a T."
Now eight years out from her procedure, Hodges says she has developed arthritis in her knee that limits her ability to speed walk long distances, but she has had no issues with her ankle. "I could not have been more pleased with the whole procedure," she says.
According to Park, Hodges is a testament to the longevity of the implant. "In my opinion, if you make it through the first two years, your chance of a good long-term outcome — 10- to 15-years-plus — is much higher. However, it's important to pursue treatment from foot and ankle fellowship-trained orthopedic surgeons who do a lot of these procedures and who understand the importance of limb alignment and ligament balancing."
Is Your Patient a Candidate for Ankle Replacement Surgery?
Prior to referring a patient for evaluation, Park advises referring providers to keep in mind that not every person is well suited for ankle replacement surgery. "There are some mechanical problems or alignment problems that make this procedure too risky to perform," says Park.
Additional contraindications for this procedure include:
Young patients (under age 60)
Patients with neuropathy
Someone with poor skin quality or wound healing issues
Patients with prior or active infections involving the ankle joint
Poor bone quality, including avascular necrosis
Patients with increased body mass index/obesity
Patients with comorbidities that may increase their risk for infection, including diabetes or rheumatoid arthritis.
To refer a patient, call UVA Physician Direct at 800.552.3723.