At a Glance
The COAPT study found the MitraClip® device is a viable option for treating patients with heart failure and moderate-to-severe mitral regurgitation.
UVA was an active site in the COAPT trial and has a team with unparalleled depth of experience with the MitraClip device.
Because of the positive study findings, FDA approval is currently underway and UVA will continue offering the MitraClip device to qualified patients.
The just-released results of the COAPT trial (Cardiovascular Outcomes Assessment of the MitraClip® Percutaneous Therapy for Heart Failure Patients with Functional Mitral Regurgitation) are getting lots of attention in the news media — and for good reason. The study found that in patients with heart failure and moderate-to-severe mitral regurgitation who failed to respond to medication, those who received the MitraClip device and standard medical treatment saw a substantial decrease in symptoms, including shortness of breath and inability to exercise. Furthermore, they were much less likely to be hospitalized for heart failure during the ensuing two years or to die from any cause compared to those who received standard medical treatment.
A Milestone in Noninvasive Care
UVA Medical Center was one of the most active sites in the COAPT trial, enrolling 38 patients out of 614 total in the study, which is considered a game-changer for select patients. "The magnitude of difference was bigger than anything we have seen with other therapies," says Scott Lim, MD, the co-chair of the COAPT eligibility committee and site investigator at UVA. "The fact that a highly selective publication like the New England Journal chose to highlight the results of the trial is an indication of its significance."
The MitraClip — a transcatheter device that fastens the heart's mitral valve leaflets together —   is already approved by the Food and Drug Administration for patients who have mitral valve regurgitation caused by degenerative abnormalities of the leaflets, but have an otherwise normal-strength heart. The COAPT trial was designed to extend MitraClip use further to patients who have mitral valve leakage due to heart failure and resulting changes in heart geometry or a heart attack damaging tissue surrounding the valve. "Previously, we really didn't have data supporting a surgical option for them," Lim says.
Because of this rigorous study, we now have the data supporting MitraClip as a viable option for these patients. Some of the key findings: of those patients who received the MitraClip and medical treatment, 92 were hospitalized for heart failure compared to 151 who received only medical treatment. Just 28 died from all causes, versus 61.
The device is moving through the FDA approval process — a decision is likely within six to nine months — yet the agency has allowed UVA to continue offering the MitraClip to qualified patients. UVA's experience with MitraClip to date is unparalleled. Even before the COAPT trial began, UVA interventional cardiologists had inserted MitraClips in several hundred patients, either as part of a previous clinical trial or for FDA-approved uses, and Lim was the first MitraClip proctor in the world.
"We have assembled the kind of comprehensive team required to perform this procedure safely, including specially trained interventional cardiologists, cardiothoracic surgeons and heart-failure experts," says Lim.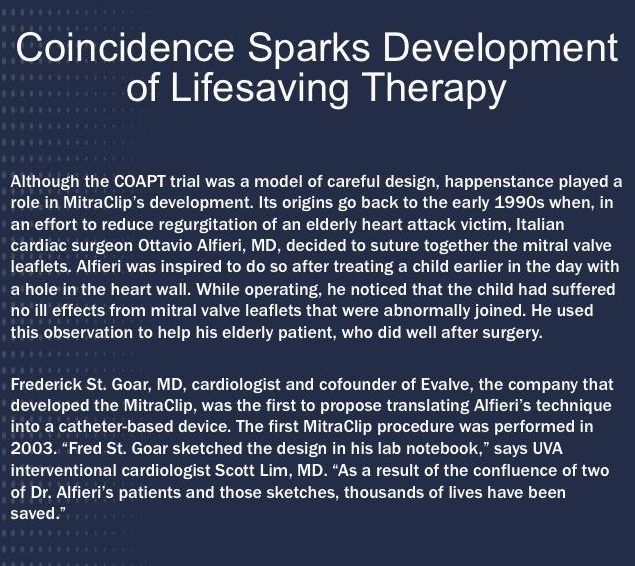 A Leading Center for Valve Treatment
Over the last decade, UVA has established itself as a national center for heart valve repair and replacement, and as a result, COAPT is just one of many clinical trials that have been made available to UVA patients. Currently, UVA is participating in several clinical trials for next-generation mitral valve treatments. "We have created a virtuous cycle," Lim says. "Because we have invested in gathering the expertise needed to provide world-class valve treatment, we have the opportunity to participate in groundbreaking research that keeps us on the forefront of discovery."
To refer a patient to the UVA Advanced Cardiac Valve Center, call 800.552.3723.
Image above: Courtesy of Abott Vascular