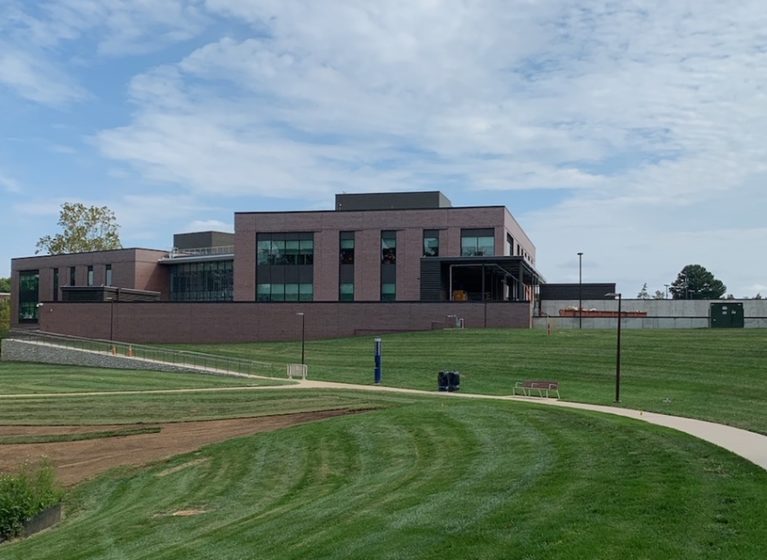 More than a decade after planting the seed for the creation of a regional best-in-class orthopedic and musculoskeletal facility, Chair of the UVA Department of Orthopedic Surgery Bobby Chhabra, MD, is ever closer to seeing this vision become reality. The UVA Orthopedic Center Ivy Road will open its doors in early 2022, with outpatient clinics opening first, followed by operating rooms later next year.
"I first discussed the possibility of this center with Health System leadership in 2009. After some negotiation, we started architectural development in 2016, with BOV approval in 2017, and we broke ground in 2018," says Chhabra. "When it opens in 2022, this facility will be one of just a handful across the country to provide the highest level of orthopedic care across all specialties in one location. I'm really proud of this effort, the amount of time and attention to detail invested for our patients and for our team members who will provide care in this facility."
There were approximately 50 different work groups involved in the initial planning phase of the project, from physicians and advanced practice providers to nurses, researchers, administrative staff and residents. Making the space patient-centric, with seamless access to all necessary services and amenities required for diagnosis, treatment and recovery, was a top priority. However, Chhabra says the planning team went a step further to ensure the environment also meets the needs of providers and all members of the team.
"Of course it was critical that we focus on the patient," he says. "But unlike many care centers and facilities, we felt we also needed to create an environment that is provider-centric, where our team enjoys working. We need to recruit and retain the best — not only physicians, nurses and healthcare providers, but clinical researchers, residents, fellows and administrative staff. By creating a very clinically distinct, comprehensive facility and environment, UVA Orthopedics will be in a position to draw the best talent locally and regionally, but also nationally."
Highlights of the Orthopedic Center Ivy Road
Located on Ivy Road near the U.S. 29 / U.S. 250 interchange, the 195,000-square-foot facility will feature:
8 outpatient clinics
The joint replacement, sports medicine, orthopedic trauma, orthopedic oncology, hand, orthopedic spine, foot and ankle and prosthetics and orthotics clinics will be co-located into one facility for patient convenience, with associated specialties adjacent to each other to optimize clinical care, allow for provider proficiency and to encourage education.
On-site imaging
X-rays will be located within the clinics; there will also be advanced imaging in the facility, including two MRIs, two fluoroscopy suites, a standing CT and ultrasound.
6 operating rooms 
The operating rooms will have a stand-alone sterile processing department and nine high-end, post-recovery suites where families can stay after same-day or one-day joint replacement and sports surgeries. Anesthesia will be on-site, so pre-op assessment can be done in the same location as surgery. 
A sports concussion facility
Dedicated to ensuring accurate diagnosis and effective treatment of sports related concussion, this is one of many services UVA Sports Medicine will offer at this new center to further its commitment to provide high-level care for both high school and college athletes throughout Central Virginia.
Education center
This center will house a conference room, as well as a simulation room for dry simulations and computer simulations, creating a focused educational environment for medical students,  residents and fellows.  
Therapy and wellness facility
With one of the largest therapy gyms in the region, as well as lush outdoor spaces with miles of walking trails, the center will offer physical therapy and occupational therapy on site.
Integrated clinical research
Research teams are embedded within clinics to allow interested patients easy access to innovative treatment options.
Consumer amenities
An on-site pharmacy and food services are added conveniences for patients and staff.
All outpatient orthopedic care will be provided at the UVA Orthopedic Center Ivy Road once clinics open early next year. Patients requiring an inpatient stay after surgery will be treated at UVA Medical Center. Across these two locations, UVA's fellowship-trained orthopedic specialists will treat the full scope of orthopedic problems, from common conditions to more complex, such as lower and upper extremity and pelvic traumas, revision joint replacement, sports and complex spine surgery. 
"Orthopedics has been one of the fastest growing specialties at UVA for the past 8 years," says Chhabra. "This facility will allow us to expand to meet the growing demand in our community, state and region."
Learn more about the development of the UVA Orthopedic Center Ivy Road.