About a decade ago, Jeffrey Vogelgesang started to notice that climbing the StairMaster™ at his gym was leaving him increasingly short of breath. He decided to see his family physician. The first diagnosis was asthma. The next diagnosis, after a series of biopsies and consultations at his local hospital, was idiopathic pulmonary fibrosis (IPF). In his mid-forties with two young daughters, Vogelgesang was terrified. There was no treatment for IPF, and he had read online that 80 percent of patients with IPF died within five years of diagnosis. He decided to consult Borna Mehrad, MD, now the director of the UVA Interstitial Lung Disease Clinic.
According to Mehrad, approximately 95 percent of patients referred to the clinic have been diagnosed with IPF. However, less than half actually have IPF. "Based on his age, I knew he did not have IPF even before I walked into the examination room," Mehrad says. "The challenge was to find out what he did have."
A few telltale clues — Vogelgesang's skin had become more sensitive to sunlight and he had a rash on knuckles — led Mehrad to conclude that his patient had dermatomyositis, an autoimmune disease related to lupus that frequently leads to lung disease. Mehrad referred him to the Rheumatology Clinic at UVA, which confirmed the diagnosis.
Although there is no cure for dermatomyositis, it can be treated. Today, Vogelgesang's lung function is better than it was when he first came to the clinic. He has seen his oldest daughter graduate from UVA and his youngest daughter enroll, and he plays half-court basketball with his seven-year-old son. "My visit with Dr. Mehrad made a huge difference to me," Vogelgesang says. "I was preparing for the end of my life. Now I'm enjoying it."
Vogelgesang's experience underscores the importance of subspecialty expertise in diagnosing interstitial lung disease. "There are more than 200 individual conditions in this class of illnesses, many of them quite rare," Mehrad explains. "They differ dramatically in terms of treatment and prognosis, so experience matters tremendously."
Since Mehrad founded UVA Interstitial Lung Disease Program in 2011, the number of patients served by the clinic has grown significantly every year. The program now has three physicians, three thoracic radiologists and a pulmonary pathologist. "There is strong data showing that having a multidisciplinary group of specialists who focus on these diseases is critical to providing superior patient care," Mehrad says.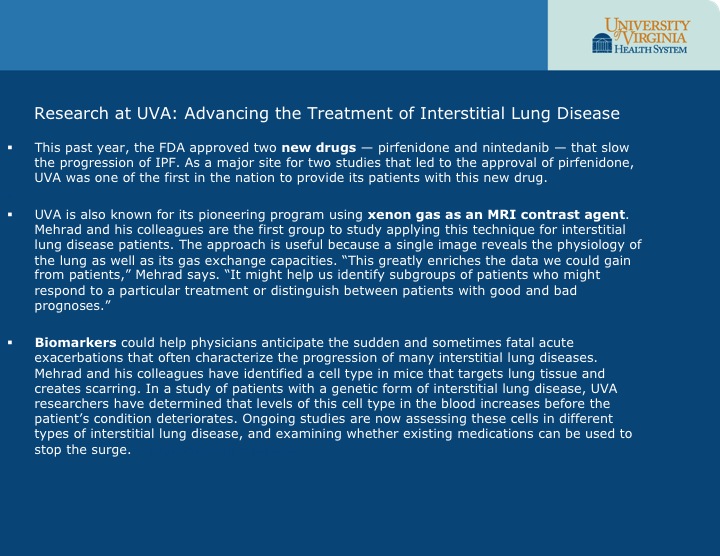 The UVA ILD Program is one of just 40 centers in the U.S. designated as a Pulmonary Fibrosis Foundation Care Network site, which speaks to the level of expertise and quality of care patients receive and also the progress being made at UVA in advancing treatment for these complex lung disorders.
"We see a wide range of patients from around the Mid-Atlantic at the clinic," Mehrad says. "We can provide an accurate diagnosis with a high degree of confidence and, working with colleagues in such areas as rheumatology and thoracic surgery and even transplant, provide the best possible treatments for their conditions."
Listen to a recent podcast in which Dr. Mehrad discusses the treatment options available at UVA for interstitial lung disease.
To make a referral to the UVA Interstitial Lung Disease Clinic, call UVA Physician Direct at 800.552.3723. To arrange an on-site visit from Dr. Mehrad or another provider, please contact our Physician Relations team.