At a Glance
Cardiac implantable electronic devices are now commonly used to treat conditions such as heart failure and heart arrhythmia.
Problems can arise with the device, including malfunction, lead failure and infection.
In many cases, devices must be removed to mitigate complications.
UVA has a team of skilled electrophysiologists trained to safely extract device leads and manage even the most complex devices appropriately.
The implantation of a cardiac implantable electronic devices (CIED), such as pacemakers or defibrillators, is increasingly common. Cardiac patients may receive these devices for a variety of reasons, including slow heart rhythms, heart failure and the prophylaxis of dangerously fast heart rhythms. The number of patients who go on to develop a problem with their CIED — generator malfunction, lead failure or device-related infection, for example — is small, but not insignificant. For instance, the incidence of infection is only around 1-2%. Yet the consequences can be severe; patients can develop endocarditis, with mortality rates in excess of 30%.
Lead Extraction and Lead Management in High Demand
UVA Heart and Vascular Center has committed to becoming the foremost lead extraction center in Virginia, comparable to any other facility in the United States. In addition to adopting the latest techniques for minimizing infection during implantation (including the use of antibiotic-emitting pouches), the UVA lead management team has the expertise both to extract leads safely — whether they are infected, broken or simply no longer required — and to help those patients with infections recover rapidly so that a new device can be implanted.
"We have capabilities in both lead extraction and in the rapidly expanding field of lead management, which are unique in the region" says Oliver Monfredi, MD, PhD, an assistant professor of cardiology and cardiac electrophysiology who trained at Johns Hopkins University with Charles Love, MD, one of the foremost leaders in the field. Monfredi, together with chief UVA electrophysiologist Pamela Mason, MD, drive UVA's CIED lead management efforts.
The demand for this high-level expertise is growing. The population eligible for implantation has increased, so CIEDs are more widely used. Another contributing factor: the technology has become more advanced. For example, a single implanted pacemaker lead was once the rule, but today some devices have three (including complex high-voltage leads and quadripolar left ventricular leads). This wider use of complex CIEDs, including cardiac resynchronization therapy (CRT) devices and implantable cardiac defibrillators (ICDs), accounts at least in part for the rising number of patients who subsequently go on to require some kind of lead management or extraction procedure.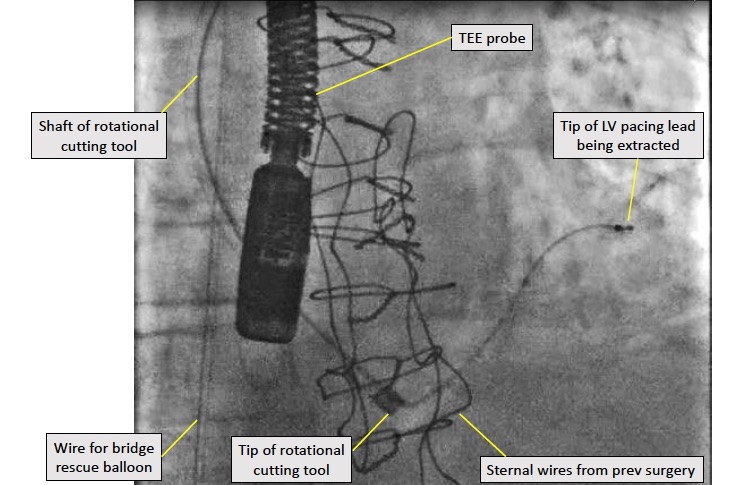 A Proactive Approach to Infection Prevention
The most effective way to deal with lead infections is to prevent them in the first place, according to Monfredi. At UVA, this involves the use of intravenous antibiotic infusions around the time of implantation and strict adherence to aseptic and sterile techniques during surgery. For high-risk patients, UVA surgeons encase the CIED in an antibiotic impregnated pouch, which will release protective antibiotics for a period after implantation.
As a result of techniques like this, the number of so-called "pocket infections" associated with implantation has dropped significantly over the last decade. More difficult to control are lead infections that patients develop months after implantation, which are the result of infections elsewhere in the body.
"Any condition that allows infective pathogens access to the bloodstream can be a cause for concern," Monfredi says. "Certain bacterial and fungal pathogens are especially adept at settling on the leads and going on to infect the surrounding tissue."
Proceeding with Caution
Whether leads must be removed because they are a source of infection, because they have broken (as pictured below), failed, or because they're simply no longer required, electrophysiologists must proceed with extreme caution.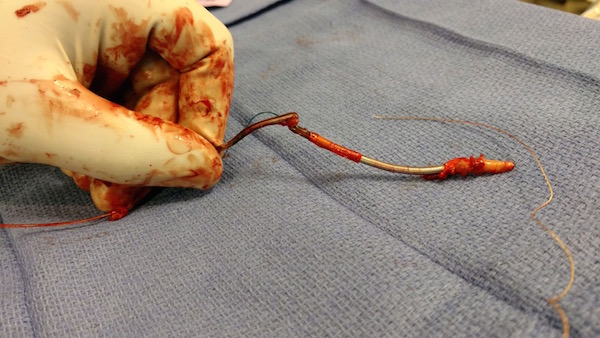 At UVA, the first step in lead extraction is a detailed patient risk assessment that includes such factors as the lead type and manufacturer, the age of the leads, the type of infection and the general health of the patient. As part of this analysis, the patient also undergoes preprocedural imaging, with a trans-thoracic echocardiogram and a CT scan, to determine if and where the lead has become affixed to the lining of the blood vessels or heart.
In high-risk cases, the extraction is performed in a large operating room with a full cardiothoracic surgical team immediately on hand in case of emergencies. As an added precaution, electrophysiologists will insert a precautionary guidewire for a 'bridge occlusion balloon', which can be rapidly inflated inside a blood vessel to seal a tear immediately, giving the surgical team additional time to prepare and perform a definitive repair.
Having the Right Tools for the Job
For devices that have been implanted in the recent past (within the past one to two years), lead extraction is often straightforward. In cases where leads have been implanted for longer periods, UVA electrophysiologists have a series of tools at their disposal, including rotational cutting sheaths as well as laser sheaths. "UVA works closely with Cook Medical and Phillips/Spectranetics, the two main players in lead management/extraction," Monfredi says. "Because we are a research and education center, we have early and complete access to their latest technology."
Similarly, if leads are broken or break during extraction, UVA electrophysiologists have a whole host of techniques at their disposal, including a variety of snares, to ensure that they remove all portions of the lead. "Leaving lead fragments behind is undesirable for a number of reasons, and it is usually possible to extract all of the fragments of a lead that breaks down during an extraction," says Monfredi.
New Perspectives on Lead Management
These advances in lead extraction have led to new approaches to lead management, especially in cases of faulty leads. "When someone had a failed lead, the traditional response has been to implant a new lead and 'cap and bury' the old one," Monfredi says. "We have realized that abandoned leads increase the risk of complications over time, especially infection. They can lead to blockages within the veins in which they take up space, and also preclude patients from undergoing MRI scans at a number of facilities. The superior approach is to extract these leads and replace them with new ones."
Leadless devices may eventually become the gold standard, preventing these problems with lead failure or infection. Leadless pacemakers, such as Medtronic's MICRA device, do exist today and are implanted by Monfredi, Mason and the electrophysiology team at UVA. However, these leadless devices do not have the complex sophistication of the devices often required today, which employ leads within the circulation.
"It seems likely that devices employing leads will be around for many years to come," says Monfredi. While this remains the case, highly trained specialists like those at UVA will be required to extract and manage leads successfully. And given the millions of CIEDs implanted in the United States over the last decade, this is a service that will continue to be in increasing demand.
To refer a patient to UVA Heart & Vascular Center, call UVA Physician Direct at 800.552.3723.