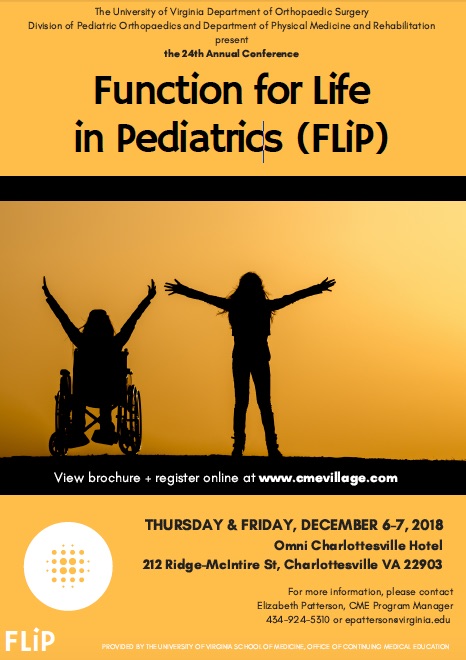 Registration is now open for the 24th annual Function for Life in Pediatrics (FLiP) Conference hosted by the UVA Department of Orthopaedic Surgery Division of Pediatric Orthopaedics and Department of Physical Medicine and Rehabilitation. Recommended for pediatric physical, occupational and speech therapists, as well as pediatricians, family practice physicians and other pediatric providers, this two-day event is different from past pediatric neuromuscular conferences, according to UVA physiatrist Christopher Lunsford, MD.
"UVA's Pediatric Neuromuscular Conference has long been well received by the pediatric care community," says Lunsford. "To encourage continued excellence in the care of these kids and their families, we have looked to improve this conference in both scope and reach. The conference's new name, Function for Life in Pediatrics — UVA FLiP — is more than just a re-brand. It aims to show our understanding of good care for kids with respect to qualify of life and function, taking into account the whole child."
Through a series of presentations by UVA and guest faculty, participants will learn more about the basic and clinical science underlying the pathophysiology of impairments and functional deficits in children with cerebral palsy and other common neuromuscular disorders, such as spinal muscular atrophy (SMA), neuromuscular scoliosis and more. Nationally recognized clinicians and research scientists will present detailed updates on the research and clinical implications for management of spasticity, contractures, bony deformities and weakness for ambulatory and non-ambulatory patients.
New on the agenda this year: discussion of the use of CBD oil for motor disorders, nusinersen treatment for SMA, complex care coordination, disability studies and advocacy work. In addition, case studies and interdisciplinary panels will provide opportunities for audience participation.
Interested? Find out how you can register.
Visit cmevillage.com for a complete list of upcoming CME opportunities.