At a Glance
UVA Health will open its new emergency department to patients on October 15.
ED square footage will increase from 15,000 to 45,000 square feet.
The ED bed count will increase from 45 (plus 18 hallway beds) to 70, with 10 more to come in 2020.
The new space will offer more private patient rooms, reduce wait times and increase interventional capacity.
There will be dedicated spaces to care for pediatric patients and those with mental health-related emergencies.
Technological upgrades will offer greater efficiency and enhance patient comfort and care.
The full hospital expansion will be complete in 2020.
A level 1 trauma center caring for nearly 65,000 patients each year, the UVA Emergency Department provides a critical link to healthcare for the local community and region. The new University Hospital expansion, opening its doors October 15, will triple the ED footprint ­— from 15,000 square feet to 45,000 square feet. This new space has been thoughtfully planned and designed to include improvements that will allow caregivers to provide each patient the most efficient and advanced care possible while safeguarding their privacy.
ED Expansion: What Your Patients Can Expect
More Efficient Care
When patients enter the department, a clinician is their first point of contact. A nurse in our rapid medical evaluation area evaluates each patient so caregivers can begin providing the appropriate level of care for the patient's immediate needs.
Patients are registered as care is administered, often at the bedside, so that treatment is not delayed.
Because every second counts, the ED is designed to place patients receiving care for a stroke or heart attack closer to radiology services.
Each space is equipped based on human movement science principles. Supplies are distributed as universally as possible to help ensure that items are kept in the same place in each room, which saves precious time.
Enhanced Privacy
The new ED was designed to accommodate both current patient volumes and future projected volumes. The number of visits to the ED increased from 58,544 in fiscal year 2014 to 54,780 in fiscal year 2018. The number of visits is expected to increase to 69,250 in fiscal year 2023.
The new ED expands capacity from 45 rooms to 70 rooms. An additional 10 rooms will become available when the former ED is renovated. This space will be part of a new Clinical Decision Unit, which will open in 2020 (see below).
The transition to private rooms will allow caregivers to safeguard protected health information and respectfully maintain patients' privacy throughout care.
A Dedicated Space for Kids
The new ED will have a dedicated Pediatric Emergency Department designed to meet the unique care needs of patients up to age 21.This child-friendly space is staffed by pediatric emergency medicine specialists and will include a pediatric resuscitation room. It will be equipped with the most advanced diagnostic and treatment equipment available, sized to fit children of all ages.
Enhanced Mental Health Care
A new Behavioral Health Unit will provide a calming space for patients experiencing mental health-related emergencies. It includes three rooms for pediatric patients and one room for adult patients. In this unit, Region 10 Community Services Board staff work alongside our clinicians and social workers to provide care.
ED Expansion: Technology Upgrades
As part of fleet-level upgrades the Medical Center has been making over past few years, the new ED space will include a variety of new technology that will enhance patient care and comfort. They include:
Anti-shadowing lights: LED lights remove shadows on patients in resuscitation rooms, giving providers clearer more consistent visibility while offering care. Light levels adjust automatically when a caregiver moves between the light and the patient. The use of LED lights also decreases consumption and power costs.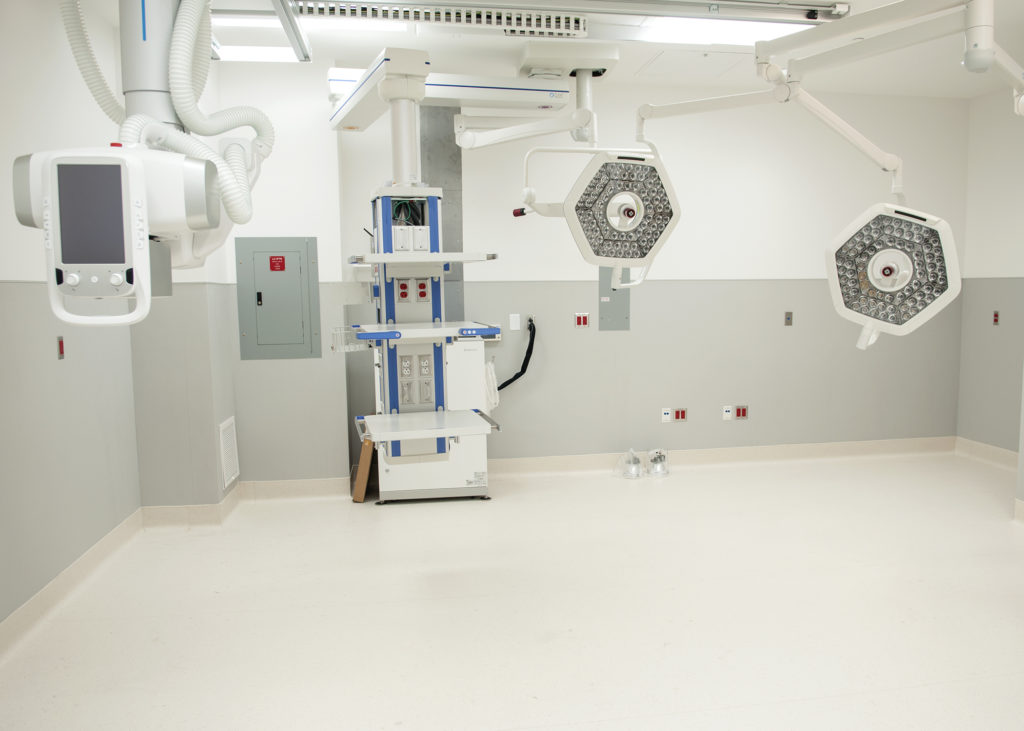 Electric stretchers: specially constructed mattresses help prevent hospital-acquired pressure ulcers (HAPU) by distributing load, reducing shearing forces and promoting a better skin microclimate at the point of contact.
Equipment booms: installed in each of the expanded department's four resuscitation rooms – three adult and one pediatric – these arm-like booms provide a flexible, space-saving place to house bedside equipment. Benefits include:

More complete bedside capabilities. Having trauma rooms quipped with a full spectrum of bedside devices is expected to reduce the need to move patients to other areas during the emergent phase of their care.

More room for large teams. Having equipment in a single footprint leaves more space for large caregiving groups to assemble.

Fewer observers at the bedside. For example, mounting a point-of-care ultrasound on the boom and routing images from that equipment to additional displays in the room frees up space at the bedside for other providers.
Dedicated imaging: each ED resuscitation room is equipped with a ceiling–mounted X-ray system. Other imaging services will be located near the new ED, including two CTs, two X-ray rooms and two ultrasound rooms. The close proximity to these services is expected to speed movement and care of ED patients who need additional imaging and also improve overall patient experience. Plus, the devices use lower radiation doses, decreasing exposure risk for patients and adults.
Infusion pumps: these devices, which deliver medication at a programmable rate, have been integrated with the medication administration record and electronic medical record to help ensure that the right drug in the right dose goes to the right patient at the right time via the right route.
Patient call system: will enhance workflow in the ED and throughout UVA health by enabling a more efficient transfer of information at point of care.
Coming Soon: New Clinical Decision Unit
The former emergency department is being renovated to create a Clinical Decision Unit, which will open in 2020. This unit will be used when staff need more time to assess a patient's condition or provide treatment. Based on their progress, patients will be discharged home or admitted to the hospital from this unit.