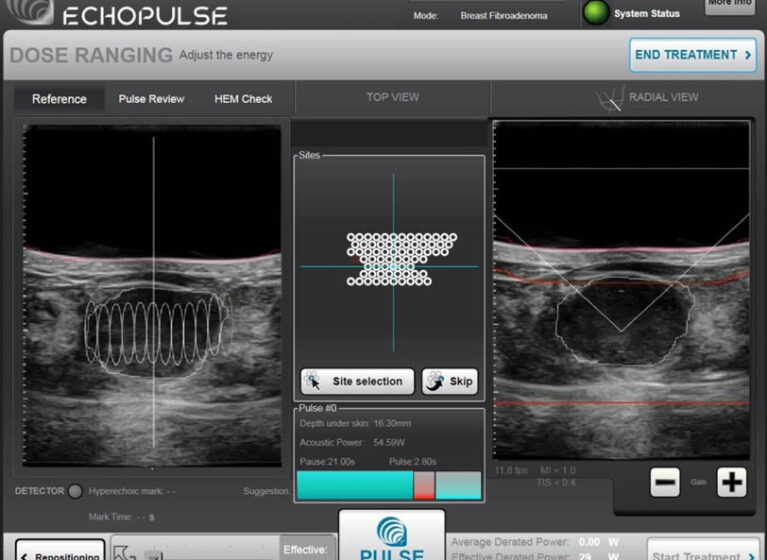 UVA Health has launched a new Focused Ultrasound Cancer Immunotherapy Center. It aims to accelerate the pace of preclinical and clinical research of focused ultrasound (FUS) to augment immune responses against primary and metastatic cancer. The first-of-its-kind center positions UVA Health as the worldwide leader in translational FUS immuno-oncology research.
FUS Targets Non-Immunogenic Tumors
One of the center's three co-directors is David Brenin, MD, FACS, chief of the UVA Health division of breast and melanoma surgical services. He has been working with FUS technology for many years.
Several of his clinical trials have applied FUS in tandem with immunotherapy to treat benign and malignant breast tumors. Alone, each treatment lacks the impact they create when used together.
Individual Treatment Limitations
As Brenin notes, immunotherapy has been a game-changer for treating highly immunogenic tumors. But this approach doesn't work for cancers that fall outside of that category.
"The problem is that most tumors — including those in the breast, esophagus, and pancreas — are not particularly immunogenic," he says.
With FUS, clinicians use image guidance to deposit non-ionizing thermal or mechanical acoustic energy into solid tumors. These high-energy soundwaves heat the tissue, physically disrupting it to kill cells. The resulting thermal injury creates a highly immunogenic pathology. This allows the body's immune system to detect the tumor and form an immune response.
But, according to Brenin, the immune response generated by FUS ablation alone typically lacks the momentum needed to effectively fight cancer.
The Power Combination
Brenin has found a powerful combination that enhances treatment efficacy. He explains that FUS can "convert non-immunogenic tumors into tumors that can be treated with immunotherapy."
And when FUS is combined with immunotherapy drugs, the body's immune response becomes significantly more potent.
"Combining FUS with immunotherapy overcomes the limitations of both, allowing more patients to respond and opening new fronts in the war against cancer," Brenin says.
FUS technology also can be used to enhance delivery of drugs and genes under image guidance. This can augment the effectiveness of immunotherapeutics, enabling more robust and prolonged responses to drugs, decreasing the doses needed.
Center Speeds Bench-to-Bedside Pipeline
In addition to clinical research driven by Brenin and co-director Craig L. Slingluff Jr., MD, the new center at UVA Health is aggressively pursuing preclinical research under the leadership of co-director Richard Price, PhD, professor of biomedical engineering in the School of Engineering and Applied Sciences. His bench science work helps determine how the center leverages the $8 million investment it received from the University of Virginia, the Commonwealth of Virginia, and the FUS Foundation.
Among other priorities, the investment has funded a wide array of preclinical and clinical FUS equipment, along with numerous cores and facilities for immune cell profiling, molecular biology assays, MRI, and molecular imaging.
"Using FUS to improve immune response in tumors has been a focus of my research work for several years, and it's incredibly enticing to think of ways we can leverage this technology further," Price says. "Between work that we have done here at the University of Virginia and the work of the Focused Ultrasound Foundation, we've been moving forward in parallel. The new center will allow us to move ahead more rapidly and synergistically now."
Price says the bench-to-bedside pipeline for FUS existed before the center was established, but the timeframe — from animal study to IRB and FDA approval to begin clinical studies — took years. He is now creating positions and recruiting for senior scientists, postdoctoral students, and clinical and research support personnel to expedite the process.
"Not only are we creating jobs and offering internal funding opportunities to UVA Health investigators, we also are offering training opportunities that leverage focused ultrasound and cancer immunotherapy to students in UVA School of Medicine, the UVA Department of Biomedical Engineering, and the UVA Biomedical Sciences Graduate Program," Price says.
A Triumvirate of Expertise at UVA Health
Three groundbreaking cancer trials are already underway at the new center. Two of the trials pair FUS with an immunotherapy drug in patients with metastatic breast cancer or solid tumors. The third uses FUS plus chemotherapy to activate immune response in patients with early-stage breast cancers.
Brenin calls UVA Health the ideal academic institution at which to conduct this research and house a center of excellence like the Focused Ultrasound Cancer Immunotherapy Center. He points to the triumvirate of expertise that exists at the bench, in immunotherapy through the UVA Cancer Center Human Immune Therapy Center, and in clinical use of FUS to treat a variety of tumors and essential tremor in the brain.
"It is truly a multidisciplinary and interdepartmental collaboration effort focused on enhancing access to cutting-edge care, reducing costs, and ultimately improving quality of life and survival for patients," he says.