When it comes to restoring function and alleviating pain, hip replacement surgery is one of the most successful procedures being performed today, according to Thomas E. Brown, MD, part of a highly skilled team of orthopaedic surgeons at UVA Health System, which performs around 400 of these procedures each year.
Brown says that while there are many different approaches to hip replacement surgery, the anterior approach is one that is being revisited more and more because patients tend to experience a shorter recovery. "Each approach has its advantages if done appropriately," he says. "However, with the anterior approach, patients tend to rebound more quickly and recovery time is slightly less because fewer muscles are disrupted. All other approaches require that we detach muscle from the bone to gain access to the joint." Anterior hip replacement is not for everyone, however. "If a patient has any abnormal bony anatomy, or if they are carrying extra weight, this approach may not be ideal," adds Brown.
At UVA, patients are evaluated on a case-by-case basis to determine the best option to restore normal, pain-free mobility. Below is a case study for one patient who was considered an ideal candidate for the anterior approach.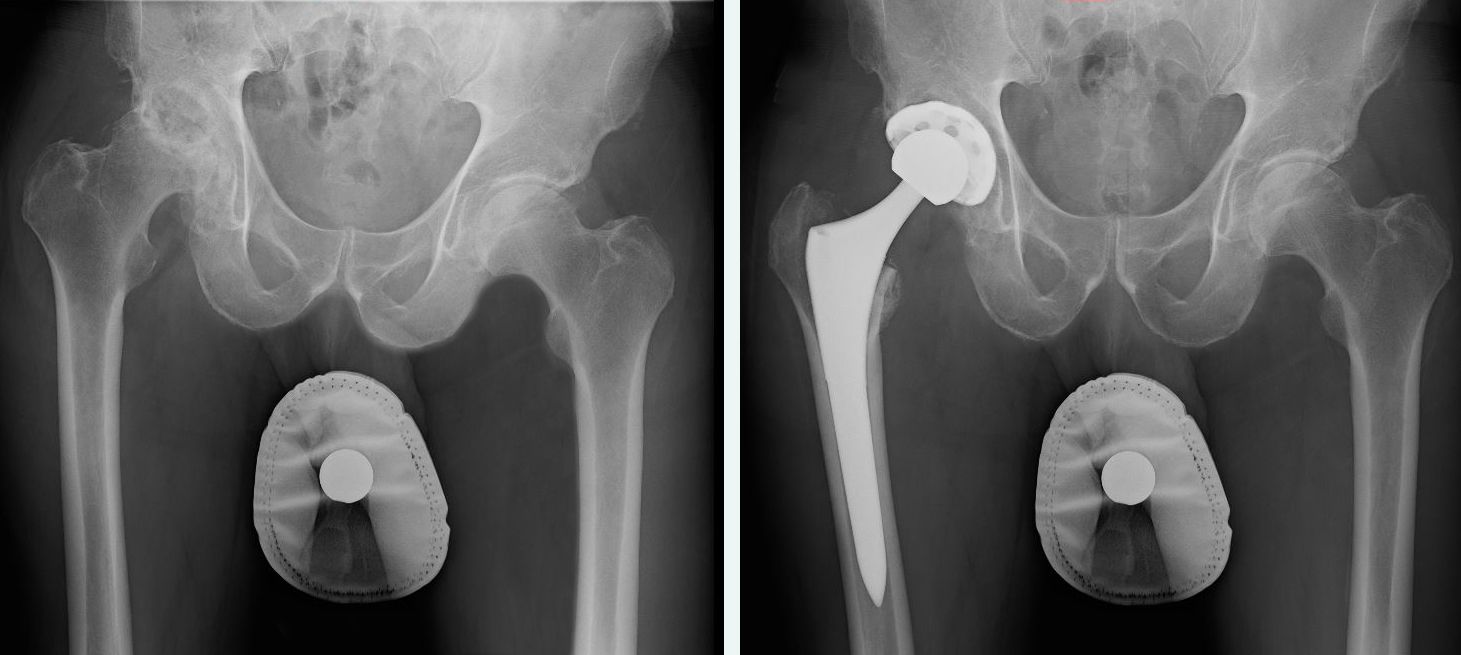 Case Study: Anterior Hip Replacement Surgery
Patient: Raymond Ford, MD; age 75
Presented With: Pain in the right hip and decreasing mobility.
"Over several years, I had progressively increasing hip pain and restricted motion that gradually got worse," says Ford. "I was taking high-dose ibuprofen, but that led to its own problems; I developed hypertension. So I decided it was time to look into surgery."
Evaluated by: Orthopaedic surgeon Thomas Brown, MD
Diagnosis: Ford had osteoarthritis of the hip with narrowing of the joint space and bone spurs.
"Osteoarthritis is the most common cause of hip pain and immobility; it leads to the loss of articular cartilage between the ball and socket," says Brown.
Treatment Plan: Because of Ford's thin build and eagerness to return to activities, Brown recommended a total hip replacement utilizing a direct anterior approach
Preparation: Ford was required to attend a pre-op education class led by orthopaedic nurse coordinators.
"We've found that when patients are educated about the procedure, hospital stay and recovery expectations, there is less anxiety and a smoother recovery," says Brown.
For Ford, the clinic visit and class experience were seamless. "After seeing Dr. Brown and confirming that surgery was the best option for me, I went immediately to the class with the nurse coordinator. There was very minimal wait time in between, and the entire team was very upbeat and good-natured, which put me at ease," he says.
Procedure: Ford was placed in a supine position on a special table that facilitates the use of fluoroscopy, or real-time imaging, throughout the procedure. Brown made a 10-cm incision on the anterior lateral thigh between the Sartorius and Tensor Fascia muscle. The abductor muscles remained untouched. This approach allows direct visualization of the socket for implantation of the artificial socket, according to Brown. The surgical team then mobilized the femur in order to install the femoral component into the hip. The surgery was a success, with no complications. At the conclusion of the procedure, Ford received an injection of long-acting anesthetic into the hip joint in order to limit his discomfort post-procedure.
"I had no pain when I woke up from surgery," says Ford. "I think they know that if you're in pain, you won't use that joint and they really want you to use that joint!"
Recovery: "Dr. Ford is a physician and he's highly motivated, so he had a good understanding of what needed to be done to expedite his recovery," says Brown.
Ford was walking the same day of the surgery. He met with a physical therapist and occupational therapist who instructed him on how to climb stairs, get in and out of cars and put on his socks during the healing process. Less than 24 hours after his surgery, Ford was discharged from the hospital.
"Within three weeks of surgery, I was pain-free," says Ford. "Within six weeks, I was totally back to normal. Now I have a better range of motion than I've had for many years."
Reducing Do-Over Procedures
The Orthopaedic Adult Reconstruction team at UVA is dedicated to working with referring physicians to determine whether hip or knee replacement surgery is the best option for their patients, and which approach will be most effective. Unfortunately, unlike the case above, many of the hip replacement surgeries performed at UVA currently are revision surgeries.
"We have become the largest referral base for complications of hip and knee replacements done elsewhere, taking on approximately 40 percent of the state's revision burden," says Brown. To reduce this risk for later complications, the key is choosing an experienced orthopaedic team right from the start.
Watch this video to learn more about UVA's approach to joint replacement surgery.
To refer a patient for orthopaedic consultation or treatment, contact a UVA orthopaedist by calling UVA Physician Direct at 800.552.3723 or reach out to our Referral Services team for assistance.