When neurologist Robert McMahon, MD, began seeing patients at UVA Health System in March, it was a homecoming of sorts; he had obtained his medical degree from UVA 30 years prior. McMahon's three-decade career between those UVA bookends included training in submarine and diving medicine, an assignment in Scotland and extensive work developing a neurology practice in Augusta County, Va.
It was the Navy and a military health scholarship that initially brought McMahon to UVA Medical School. Upon graduation, he completed an internal medicine internship at Naval Medical Center Portsmouth in Virginia, and then went on an operational medicine tour, specializing in undersea medicine. As part of his training, McMahon attended a six-month course in submarine and diving medicine, which included exercises that allowed him to experience what it was like to descend to great depths undersea and become familiar with the environment on submarines.
"You can read about things and have the sense that you understand the environment your patients work in — the stressors, the environmental circumstances they face," says McMahon. "But it's quite another thing to put on one of the deep sea diving rigs and get into a pressure pot where they simulate a 300-foot dive. You realize how hard it is to function in that kind of environment."
In McMahon's view, this training continues to enrich his medical practice. "I think having gone through those experiences widens your aperture for considering your patients' symptoms and difficulties a little bit more," he says.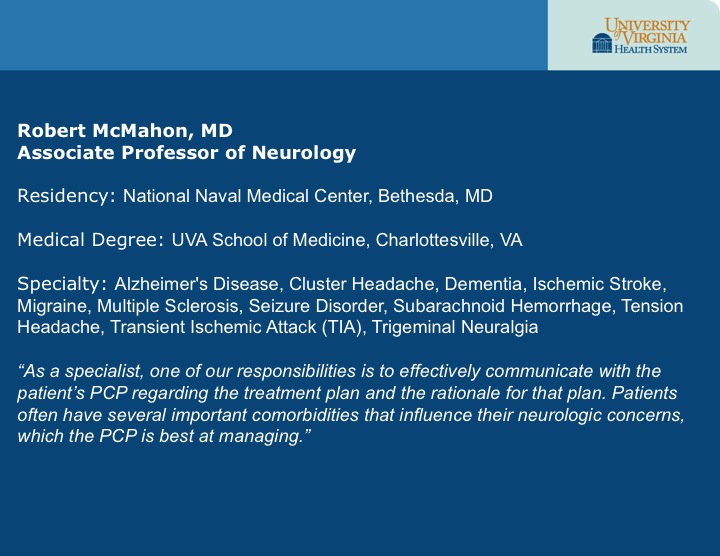 His naval career also took him to Holy Loch, Scotland, where he served as a submarine squadron medical officer; to National Naval Medical Center in Bethesda, Md., for a residency in neurology; and to the Naval Hospital at Camp Pendleton, Calif., where he was the staff neurologist. When he left the Navy, his familiarity with Virginia led him to settle in Augusta County. He took a position with Augusta Health and Shenandoah Valley Neurology, where he would spend the next 20 years of his career, becoming deeply involved in the culture and activities of the hospital's neurology program. He served as one of the Medical Directors of Inpatient Rehabilitation and, for a time, president of the medical staff, in addition to other medical staff leadership positions.
McMahon helped develop the hospital's stroke program and launched a neurology outreach clinic in Bath County, Va. But after two decades at Augusta, McMahon found himself at a career crossroads and began considering a faculty position at UVA. In early 2015, he returned to his alma mater, joining the Department of Neurology as an associate professor. While he'd had some experience teaching in the past, that aspect of the position was appealing to McMahon. "One new professional challenge was having the opportunity to teach medical students and neurology residents," he says.
At UVA, McMahon's focus of care is headache, and his addition allowed the neurology team to increase its clinic hours for treatments that target chronic migraines, such as Botox® injection. McMahon is a strong advocate of the UVA Neurology team's approach to patient appointments; physicians spend an hour with new patients and a half-hour for follow-ups — time that is crucial for accurately diagnosing headache types and formulating the most effective treatment for each individual.
Also crucial to his care of headache patients is his collaboration with their primary care physicians, according to McMahon. "As a specialist, one of our responsibilities is to effectively communicate with the patient's PCP regarding the treatment plan and the rationale for that plan," he says. "Patients often have several important comorbidities that influence their neurologic concerns, which the PCP is best at managing. That is one reason our clinic tries very hard to gather information from previous evaluations and treatments."
McMahon's thorough approach to patient care continues to be informed by his Naval training, which encouraged him to empathize with his patients. "I think I ponder how a person's neurologic issues impact their life and what they're doing, either professionally or socially, " he says. "I think most good doctors do that anyway. But it seems like it's a very natural part of my approach to patients."
In addition to his clinical practice in Charlottesville, McMahon continues to see many of his long-term patients, several of which live in the Shenandoah Valley and travel to UVA Family Medicine and Specialty Care Crozet, where McMahon sees patients one half-day a week. He has also been able to maintain a once-monthly general neurology outreach clinic in Bath County that he launched a dozen years ago.
"I'm really very pleased that UVA has endorsed and supported that effort," McMahon says. "I know it is very much appreciated by the Bath Community Hospital staff and patient population."
In this new chapter in his career, McMahon is looking forward to UVA Neurology's upcoming move to the Primary Care Center, which will integrate all of the department's adult neurology offerings into one location. Thereafter, he hopes to further develop UVA's clinical research program for headache, including acute and preventative migraine treatments.
To refer a patient to Dr. McMahon, call UVA Physician Direct at 800.552.3723.