One of the UVA specialties ranked among the top 10% nationally by U.S. News & World Report, UVA nephrology continues to recruit top talent to further its commitment to advance the study and treatment of kidney disorders and diseases. Learn more about two recent faculty additions below.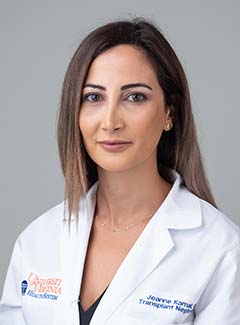 Title: Assistant Professor
Fellowship: Columbia University College of Physicians and Surgeons New York University School of Medicine
Residency: Staten Island University Hospital
You attended medical school in Lebanon and then moved to New York for your residency training. What were your first impressions of medical care in the U.S.?
Each country has its unique qualities in regard to medical care. I am proud of the education I received at the Lebanese University, and I was lucky to come to the U.S. and work alongside renowned physicians and researchers. What I appreciated in the U.S. was the availability of medical resources and the holistic approach to patient care from the time of admission to the hospital to discharge.
Why did you choose to specialize in transplant nephrology?
Nephrology interested me since medical school. I was intrigued and fascinated by the renal physiology. While completing my training in general nephrology, I enjoyed transplant the most. You literally "donate life," and turn someone's loss into a time of hope.
How would you describe your approach to patient care?
What is unique to transplant nephrology is our team approach to patient care. Our team of transplant nephrologists, surgeons, nurses, pharmacists, social workers and nutritionists cover all aspects of patient care.
Will you also be involved in research at UVA? If so - which study or studies are you most excited about currently?
I am interested in studying the recurrence of kidney diseases after transplantation. I am currently involved in a research project evaluating the factors affecting the recurrence of two types of kidney disease: IgA nephropathy and membranous nephropathy. This is an international collaboration among many centers in the U.S. and Europe.
What attracted you to UVA?
UVA ranks amongst the best global universities. It is a world class institution that provides high-quality care and an opportunity for groundbreaking research all within a friendly work environment in a city like Charlottesville.
You received a second-place award for an oral presentation at the New York Society of Nephrology. What was the presentation's focus?
The New York Society of Nephrology organizes a yearly research meeting in which fellows from different university hospitals in New York City present their basic science and clinical research projects. I presented a research project studying the clinical and pathologic characteristics of a rarely encountered and poorly characterized entity in kidney transplant monoclonal immunoglobulin-associated renal disease.
How important is your relationship with referring providers and how do you prefer to communicate with them?
As transplant nephrologists and with UVA being a quaternary care center, we value our relationship with our referring general nephrologists. We work closely together to optimize the care of patients with end-stage kidney disease on the transplant wait list. We also work closely on providing care for kidney transplant recipients and answer any kidney transplant-related questions they might have. Thus, having good means of communication is key and we are always accessible via phone calls and emails. One thing I would emphasize is the importance of referring those patients suffering from kidney disease in a timely manner for transplant evaluation.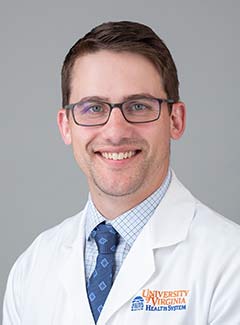 Title: Assistant Professor
Fellowship: Yale University
Residency: University of Louisville
When did you arrive at UVA?
I arrived in July 2019 to UVA immediately after completing training at Yale University.
What is your clinical focus?
I see general nephrology patients for things like acute
and chronic kidney disease, hypertension and electrolyte disturbance, but my major clinical focus is glomerulonephritis.
What do you enjoy about the field of nephrology?
Nephrology is difficult. Really difficult — and I love a challenge. The ability to solve a difficult diagnostic dilemma and offer life-changing therapy to my patients is truly gratifying.
What are some of the challenges of caring for patients with kidney disease, specifically those with glomerular disease?
Glomerular disease can be high stakes. Often it involves kidney biopsies and immunosuppressive medications, yet all the while the patient can be relatively asymptomatic, which we know yields a great deal of stress for them. On top of this, our patients are unique and many times clinical studies cannot always capture their varied syndromes, so it requires creativity and collaboration, often with rheumatology and pathology, to devise a plan.
How do you feel UVA is unique when it comes to caring for these patients?
Coming to UVA means you're coming in contact with the cutting edge of medical care and that's something that isn't around the corner. There's only a handful of places that I think are like that in the country so you're going to get extremely good care from extremely bright and compassionate people.
To refer a patient to a UVA nephrologist, call UVA Physician Direct at 800.552.3723.