UVA Cancer Center is actively recruiting top talent with a broad range of experience and expertise to build a solid foundation of excellence that will allow them to adapt and grow to meet the increasing demand for specialized care and novel cancer treatments for years to come. Learn more about two of the most recent additions to the team below.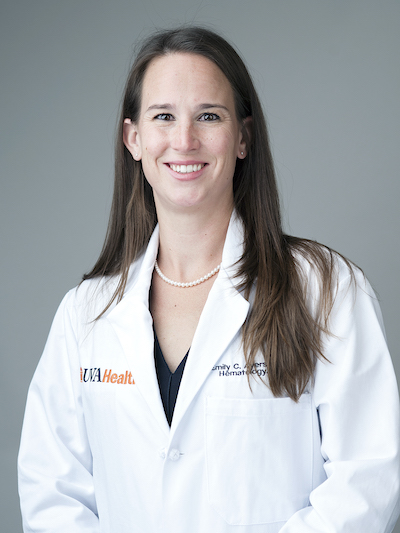 Emily Ayers, MD
Title: Assistant Professor
Fellowship: University of Pennsylvania
Residency: University of Pennsylvania
What will be your clinical and research focus at UVA?
I will be seeing patients with lymphoma and CLL [chronic lymphocytic leukemia]. My research focus, historically, has been on diffuse large B-cell lymphoma. I am particularly interested in using real-world evidence to study outcomes in these patients, but I will also be involved eventually in helping run clinical trials, including a frontline clinical trial for large B-cell lymphoma that is still in the works. I am most excited about finding trials for patients with relapsed disease. 
How has cancer treatment changed since you began your medical training?
In general, doctors and researchers getting smarter in the way we treat cancer. Everything is becoming more targeted, more individualized to the biology of a patient's tumor. We are moving away from chemo in many cases, which kind of kills anything that is dividing quickly, and we're moving more toward targeted therapy specific to a particular tumor's mutations.
Why did you choose to specialize in oncology?
My father had lymphoma when I was growing up. He was diagnosed when I was a teen, so it's always been something I was relatively passionate about. Watching him go through that, I saw how his disease was changing and how treatment was changing even during his course. So I had an initial interest from that experience. But in med school, I fell in love with oncology patients. They're just so invested in their care, and it's just really a privilege to take care of them and get to know them and their families and get them on the path to receiving therapy.
How would you describe your approach to care?
I believe in using shared decision making to make sure patients are informed so that they can help me make the decision that's best for them. A lot of times, there isn't a standard approach or one-size-fits-all treatment, and so really, it's a discussion with the patient and their family to determine which treatment is best for them. I want to make sure everyone – the patient and their family – are informed so that we can come to agree on an individualized treatment plan.
Your husband, cardiologist Michael Ayers, MD, also joined the UVA team recently. What made UVA a good fit for you both?
It was difficult to find an academic institution that would allow us both to do what we wanted, but UVA seemed to be a perfect match for us. My clinical research interests are very specific, so that's why UVA was so special for me. For a smaller-size program compared to Columbia University, where I was coming from, I knew UVA was going to focus specifically on what I was interested in with great mentorship and plenty of patients to study and treat. I came to UVA to become part of the foundation of the hematology program established at UVA, which is rare and renowned across the nation.
Jonathan Garneau, MD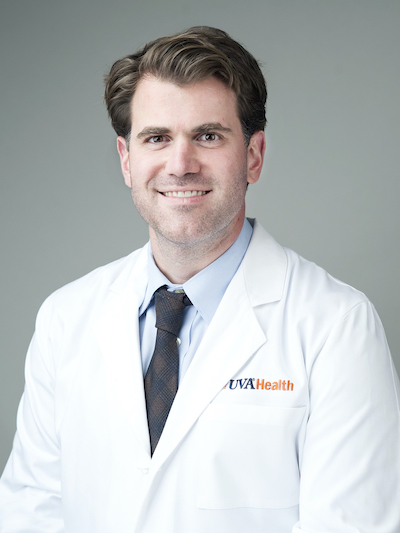 Title: Assistant Professor
Fellowship: University Hospitals of Cleveland/Case Western Reserve University
Residency: Icahn School of Medicine at Mount Sinai Hospital
Both of your parents are physicians. Did that early exposure to medicine influence your career choice?
Yes, my interest in medicine was really unavoidable. Throughout my childhood and in young adulthood, I noticed my parents were very dedicated to patient care and also lifelong learning, staying current with medical information. They were constantly trying to stay on the cutting edge of treatment as their careers evolved.
My mom is an anesthesiologist, and she took me to the OR at a young age and had me shadow her to give me exposure to complex surgical cases and the life of a surgeon. My dad is an internist, and he would still perform house calls when I was younger, which is really a lost art these days. I noticed he was very dedicated to establishing a relationship with his patients. He was incredibly patient when he listened to people. He never seemed rushed. I admired that about him. He's still working and dedicated, doing the same thing to this day. So because of the kind of environment I was raised in, caring for cancer patients seemed like a very natural match for me.
Then, when I was in med school, I had a very lasting experience with someone who was a head and neck surgeon. I was captivated by what I saw him do on a daily basis. I was drawn to the surgical procedures, the intricacy of them. But it was also the nature of what he did outside of the operating room. He was an incredible person and patients loved him. His talent and his gift, not only dealing with people but being an excellent surgeon, drew me in and fostered an interest in this field in particular.
As a head and neck oncologic and microvascular reconstructive surgeon, what are some of the most common conditions you treat?
There are a whole host of common tumors, including those of the upper aerodigestive tract. I also treat skin cancers in the head and neck region, along with thyroid gland tumors and rare tumors of the sinuses, neuroendocrine tumors and soft tissue tumors as well.
What makes this type of surgery especially challenging?
The head and neck anatomy is very intricate and complex. When it comes to cancer, we typically talk about removing cancer with a surrounding rim of healthy tissue as a margin to make sure cancer is removed. But in the head and neck region, when we remove any tumor or tissue — small or large — it can have a significant impact on speech, swallowing and overall appearance. You add to that a complex network of nerves, arteries and veins and removing cancer can be a real challenge at times.
We also try, when we remove a tumor, to reconstruct that area to give the patients the best form and function afterwards. We typically need to borrow tissue from either surrounding areas or from farther away — the arm, leg or back — which makes things very complex.
What do you feel distinguishes UVA in the care of these patients?
We understand that many head and neck cancers require surgery with the addition of other treatments, such as chemotherapy, radiation or other novel treatments such as immunotherapy. When a patient undergoes head and neck surgery, we take seriously the coordination of care. It's very common for us to coordinate nutrition appointments, follow-up appointments and nursing care after surgery. It requires a very dedicated staff and a very collegial environment.
When you get treated here, you get treatment by a team. It's not even a small group. It's not just one person; it's a large, dedicated group of physicians, nurses and clinical staff, and we really invest in every person individually. We're constantly, throughout the day, discussing treatment plans and collaborating among experts in other medical disciplines outside of our expertise to make sure everyone gets personalized care. So I think an important take-home is that being at a unified, collaborative medical center makes complex care as easy and seamless as possible. When you send a patient to me, you send them to a team.
What would you like referring providers to know about your approach to care?
I like the continuity of care, the long-term relationship I establish with patients, so a referring provider can expect that I will do a thorough assessment and offer personalized care. I will also have a good patient-centered discussion and make decisions based on the presentation of the most current available options for treatment of a given condition.
Also, I'd like them to know that after a visit my work doesn't stop. I'm committed to following people through their treatment surveillance, collaborating with other providers in other medical disciplines if needed to make sure all issues are addressed. I welcome that responsibility. I like being available to referring providers, and they can email or call for a consult or to follow up on a patient.
You taught a workshop on prevention and detection of head and neck cancers – can you provide an overview or a few key takeaways?
This was a group project I participated in during my residency training. It was designed for pediatricians and internal medicine doctors in the primary care setting. We gave very simple and informative workshops educating providers on common head and neck cancers and the clinical warning signs that a patient should be sent in for a referral. Especially in pediatrics, increasing awareness of HPV and its effects is important. We discussed the rise of oropharyngeal cancer and the use of the HPV vaccine. I am looking forward to getting involved in this effort again at UVA in the future.
You have received multiple awards during your medical training. Is there one that stands out?
One award that definitely stands out is the Chief Resident Teacher of the Year Award. It was peer-selected by my colleagues at the Icahn School of Medicine. It's important to me because these were colleagues I admired and had asked their advice and opinions on many things, medicine related and not. I was very honored that they saw me as I saw them. The other award was the Chairman's Award, given to the top graduate of the program.
To refer a patient to UVA Cancer Center, call UVA Physician Direct at 800.552.3723.