In the last four years, the number of stem cell transplants performed at UVA Cancer Center has grown steadily. "We're on track to perform 75 transplants this year, and we're very pleased with the outcomes we've attained," says Thomas P. Loughran Jr., MD, director of the Cancer Center and interim director of the Stem Cell Transplant Program. "We are putting the elements in place to raise that number to 150 over the next two or three years."
Loughran's goal is not simply to perform more transplants, but to offer the full range of transplants, both autologous and allogeneic. The Cancer Center moved a step closer to this objective when it was designated as a National Marrow Donor Program transplant center, which enables it to perform allogeneic transplants with unrelated donors. The Center is now one of just three sites in Virginia with access to the Be the Match Registry®, the world's largest and most diverse bone marrow donor registry. For patients, this opens the door to a greater number of unrelated donors and, as a result, improved access to life-saving treatments. (For more information, listen to a podcast by WINA featuring Dr. Loughran.)
Acute myeloid leukemia (AML) is one of the diseases being treated more effectively as a result of an active stem cell transplant program. In a high percentage of patients over age 60, induction chemotherapy — the administration of a combination of drugs at high doses — produces remission lasting between nine and 12 months. Stem cell transplantation can often prolong the average duration of remission and lead to a cure in a greater number of patients. Physicians at the Cancer Center are taking advantage of less intense chemotherapy regimens that can make these older patients potential candidates for transplantation.
To sustain and grow this successful stem cell transplant program, Loughran and his colleagues have been strengthening the Cancer Center's capacity in such areas as pathology and laboratory medicine, selection and genetic testing, and pheresis, a technique used to collect stem cells from the peripheral blood. A number of new faculty have been recruited in these areas, and Loughran is in the process of recruiting a full-time director to join the Stem Cell Transplant Program.
Setting the Stage for Future Cancer Treatments
In addition to growing its Stem Cell Transplant Program, the Cancer Center is also pioneering new approaches to treat AML and other hematological malignancies. One of these efforts is being led by Loughran, along with Mark Kester, PhD, co-director of the UVA Institute for Nanoscale and Quantum Scientific and Technological Advanced Research (nanoSTAR). Their project is being funded by a $10 million program grant from the National Cancer Institute that will leverage the talents of investigators from across disciplines to develop a novel nanotechnology platform for delivering therapeutic drugs for AML.
It is a commitment to cutting-edge research like this that makes UVA Cancer Center a destination for highly skilled scientists such as Leonid Volodin, MD, and Craig Portell, MD, two recent additions to the UVA blood cancer team. Read more about how their research is shaping the future of blood cancer treatment, and about Loughran's long history of hematologic discoveries in the profiles below.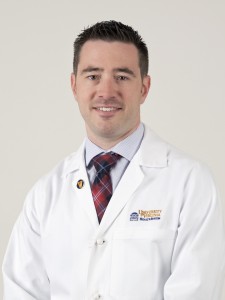 Craig Portell, MD
Specialty: Lymphoma and chronic lymphocytic leukemia
Fellowship: Hematology/medical oncology, Cleveland Clinic, Taussig Cancer Institute
Residency: Internal medicine, Loyola University School of Medicine
Medical degree: Saint Louis University School of Medicine
As a resident at the Loyola University School of Medicine near Chicago, Ill., Craig Portell, MD, was drawn to patients with lymphoma and leukemia, but he was equally fascinated by the biology of cancer. "In fundamental ways, it's a dysfunction of the immune system, yet we can use the immune system to treat it," he says. The introduction of a host of new, targeted agents raised the possibility of intervening in ways that had been impossible before.
One of Portell's research interests is determining how to best administer these new agents. "We still have a lot to learn about where they go in the treatment algorithm," he says. Inspired by his residency at the Cleveland Clinic, where he was mentored by John Sweetenham, MD, Portell decided he would launch his career in a setting where he could advance the standard of care through clinical trials incorporating non-chemotherapy treatments. "UVA seemed an ideal fit," he says.
One of the issues Portell focuses on is whether these new agents should be used in combination or in sequence "When you combine agents, you potentially increase their beneficial effects, but you may also magnify their toxicity," he says. "We're trying to develop the right strategy for the right situation." Portell is currently developing a combination study for mantle cell lymphoma using two targeted agents.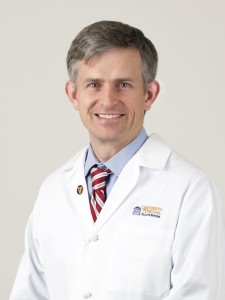 Leonid Volodin, MBBS
Specialty: Stem cell transplant and acute leukemia
Fellowship: Stem Cell Transplantation, Stanford University
Fellowship: Hematology/oncology, Feist Weiller Cancer Center, Louisiana State University
Residency: Internal medicine, Louisiana State University
Medical degree: The University of Melbourne
The son of two mathematicians, Leonid Volodin, MBBS, naturally gravitates to a data-based approach to medicine, an asset as he works with colleagues at UVA to develop rigorous, standardized approaches to stem cell transplantation that can be analyzed for their effectiveness. He is particularly interested in refining treatment protocols immediately post transplantation that can delay or prevent relapse. "More closely tracking molecular markers while the immune system is recovering would help guide the application of a bridging strategy," he says.
One of the attractions for Volodin of coming to a growing stem cell transplant program like UVA is the opportunity to create a program that rests firmly on the evidence. "Because there are no long-established institutional practices, we have the opportunity to question all of our assumptions," he says. "It can be a time-consuming process, but the result is better outcomes."
Volodin's data-driven approach is just one reflection of his commitment to serving patients, a commitment that also finds expression in a personal touch to care. "Because leukemia can come on suddenly, patients often find themselves in a state of shock," he says. "Providing guidance and support during their treatment is very important for me."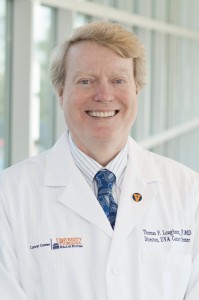 Thomas P. Loughran Jr., MD
Director, UVA Cancer Center
Specialty: Bone marrow disorders, leukemia, large granular lymphocyte (LGL) leukemia
Fellowship: Medical oncology, Fred Hutchinson Cancer Research Center
Residency: Internal medicine, Thomas Jefferson University Hospital
Medical degree: Hahnemann Medical School
Thomas P. Loughran Jr., MD, was founding director of the Penn State Hershey Cancer Institute, where he remained for 10 years prior to accepting his position as director of UVA Cancer Center. As a researcher, his experience spans several decades and many important discoveries in the treatment of hematologic malignancies.
He is internationally recognized for discovering large granular lymphocyte leukemia (LGL), and his research has been continuously funded since 1985. "Part of my research effort is to figure out the biology underlying this disease, and that effort is well supported with grant funding from the NCI and the Leukemia/Lymphoma Society," he says.
This dual perspective as administrator and scientist has helped shape Loughran's approach to leadership as well as his priorities at UVA. His primary goal is to strengthen UVA's translational research program, increasing the size and scope of clinical trials offered. "I would like to move discoveries made in our labs to the patient's bedside," he says. "Phase I clinical trials are so important and often give us the opportunity to test breakthrough therapies on patients with otherwise limited options."
This strategy to increase the number of cancer clinical trials is part of an overall objective to earn National Cancer Institute designation as a Comprehensive Cancer Center. "Our goal is to make sure patients have access to state-of-the-art care, but also to advance cancer care for the nation by developing new treatments," says Loughran. There are currently no Comprehensive Cancer Centers in Virginia.
Read about other new additions to the Hematology-Oncology Program at UVA.