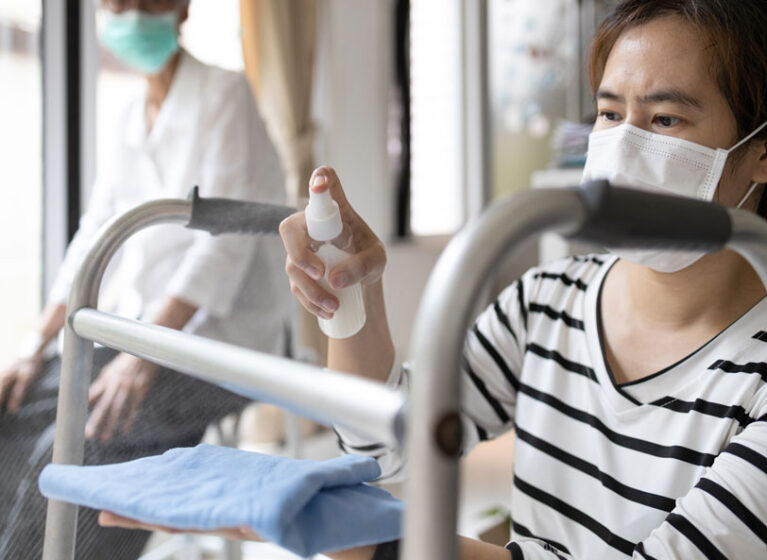 UVA Health received $1.2 million in state and federal grants to fund a project dedicated to reducing infections in Virginia's long-term care facilities. Collaborating with the Mid-Atlantic Telehealth Resource Center and practitioners statewide, the UVA Health team will create the Virginia Infection Control Center of Excellence website. This online resource — launching later in 2023 — will provide best practices and guidelines for infection control and prevention at nursing homes, assisted living facilities, and other adult congregate living facilities.
"Our goal is to establish a trusted, one-stop shop for long-term care facilities to help them protect their patients and staff," says UVA Health geriatrician Laurie R. Archbald-Pannone, MD, the program's lead physician.
She adds, "We'll be inviting people from different facilities across the state to participate and share their best practices with the rest of the group regarding infection control. The website will be a repository for these group discussions. It will also include resources from other Virginia Department of Health-funded projects."
Using Effective COVID Response as a Framework
UVA Health established itself as an authority on infection control in long-term care settings at the outset of the COVID pandemic. This current effort builds on their successful Geriatric Engagement and Resource Integration for Post-Acute and Long-Term Care Facilities (GERI-PaL) program — a runner-up in the 2020 Health Quality Innovators of the Year Awards.
Archbald-Pannone was the lead author on a research paper that analyzed outcomes at two facilities with COVID-19 outbreaks assisted by GERI-PaL. The paper showed significantly lower mortality rates — 12% and 19% — compared with a 28% mortality rate reported at a long-term care facility in Washington state that served as a control.
Preparing for the Next Pandemic & Day-to-Day Outbreaks
As part of the GERI-PaL program, long-term care facilities were able to:
Consult with UVA Health infectious disease experts on infection control
Receive COVID-19 guidance via telehealth
Consult with UVA Health physicians on individual patients and have patients transferred to the hospital
Have regular discussions with a nurse liaison to ensure each facility's needs were met
"We actively reached out to our colleagues at regional, long-term care facilities to see what they needed going into the COVID era. We were meeting daily to discuss how we could support them, what resources they needed, what was working well, and what they were concerned about," says Archbald-Pannone.
She adds, "Now we want to build on that community of practice so that we're prepared for the next outbreak. But we also want to keep residents safe day-to-day from an infection control standpoint."
Calling for Collaboration
New perspectives and insight are invaluable, according to Archbald-Pannone. That's why the project team is looking for volunteers to be part of the discussion.
"We want to collaborate with others who work in congregate living facilities to sort through the nuances of infection control in these settings where people are living in close quarters," she says. "Just like the GERI-PaL program, we want others to participate in discussions, to ask questions, and bring up any issues they're having. We want to get to the practical aspects of rolling out changes and offer guidelines for others on how to implement an infection-control program in their facilities."