After an extensive and competitive national review process, the Center to Advance Palliative Care (CAPC) has designated UVA Health System as a Palliative Care Learning Center (PCLC) for its success in providing comprehensive palliative care in the ambulatory setting. "This designation means that UVA has been recognized as a national exemplar for high-quality palliative care, and a leader in the movement to integrate palliative care in the outpatient setting as part of best practices for the medical care of those with serious illnesses such as cancer and [congestive heart failure]," says Palliative Care Medical Director Leslie Blackhall, MD.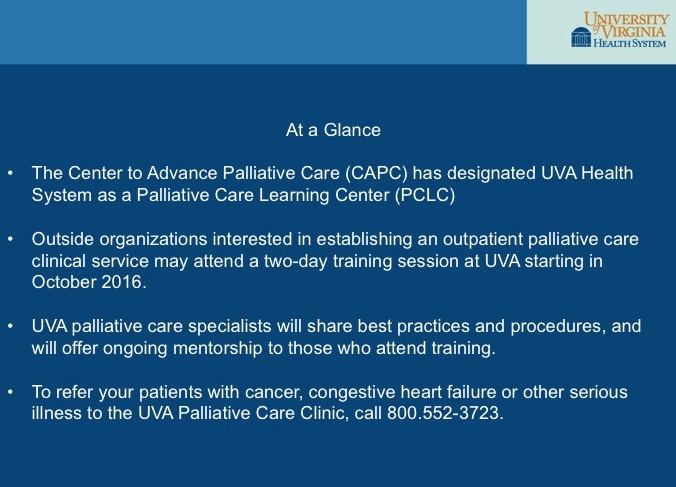 UVA is one of just four newly designated sites, joining seven others nationwide, that will help share their proven methods with other health systems and organizations seeking to establish an outpatient palliative care clinical service, the merits of which are now being widely recognized in the medical community.
"Palliative care in many places is focused on inpatient care. However, this means that patients are often not seen until the very end of life," says Blackhall. "Recent research shows that early provision of palliative care to cancer patients in the ambulatory setting can improve quality of life, decrease hospital admissions and may even prolong life." In fact, according to research published by the UVA palliative care program, outpatient palliative care has been shown to be more effective than inpatient care alone in providing these benefits to patients.
"Patients facing serious illness often experience a high symptom burden, leading to many forms of distress, including physical, psychological, social and spiritual. This distress often extends to the family and caregivers," adds UVA Cancer Center Administrator Jody Reyes, MSBA, BSN, OCN. "The more we can do to support our patients in the outpatient setting, and hopefully avoid an inpatient hospitalization, the greater impact we can potentially have on our patients' and families' overall wellbeing."
Active in the ambulatory palliative care setting for close to 15 years, UVA palliative care physicians are specially trained in the often-complex treatment of pain and other symptoms caused by serious illness, as well as those that result from certain treatments, such as chemotherapy-induced peripheral neuropathy. "We also have expertise in helping patients and their family members navigate the myriad of choices for care they face when they have a chronic life-limiting illnesses, and experience in helping them determine what resources are available and meet their needs as the illness progresses," says Blackhall.
Establishing Your Ambulatory Palliative Care Service
As a PCLC, UVA will share this acquired knowledge with others and, ideally, raise the level of palliative care delivery and access on a national scale. "This is in alignment with our mission as a teaching institution," says Reyes.
Starting this fall, UVA will begin hosting two-day training sessions for outside organizations six times per year. "This may include hospitals, hospices, home health care agencies, physician groups and others who want to implement palliative care in an ambulatory setting," says Reyes. "We hope to educate other organizations on best practices and procedures and, after the training, we will promote a strong mentoring relationship that will be ongoing."
At each of the six two-day sessions, UVA will host one group, which Reyes says should include multiple members of an interdisciplinary team, such as physicians, finance or operations professionals, nurses, social workers, nutritionists and others who are integral in the palliative care setting.
"Our goal is to take what 'works' and spread that message," says Reyes. "We'll examine our model and provide the tools others need to replicate it in a way that suits their clinical environment."
Referring Patients to UVA Palliative Care
UVA palliative care specialists are available to assist you with patients facing serious illnesses, such as cancer, congestive heart failure or other conditions in which the symptom burden is too great. "At UVA, we have specialty care physicians who regularly partner with primary care and other specialists to provide experienced consult and share what they've learned to manage symptoms more effectively, with the hope of improving one's quality of life," says Reyes.
To refer a patient to the UVA Palliative Care Clinic, call 800.552.3723.