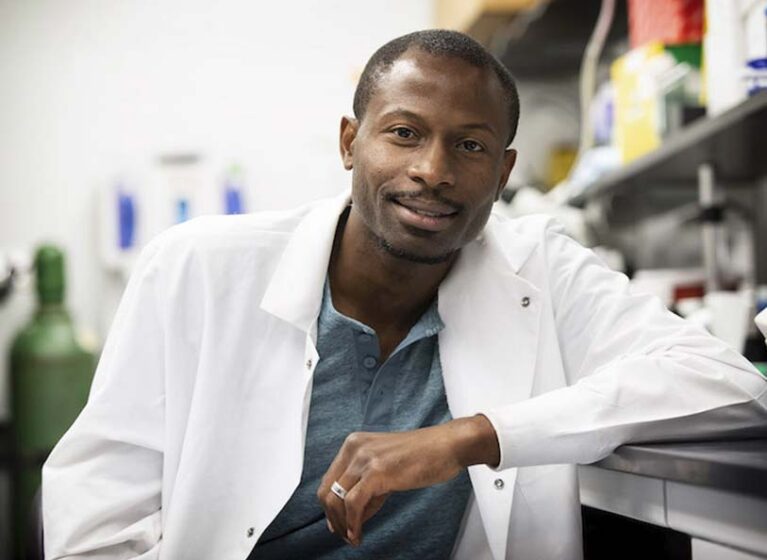 UVA Health researchers shocked the medical community when they discovered the brain and immune system aren't separate. It had been the prevailing belief for decades; they had to rewrite the textbooks.
Now researchers are among the first to explore how microglia, immune cells in the brain, heal neurons damaged by epileptic seizures. They're also exploring how these cells regulate blood flow to the brain, in hopes of restoring proper blood flow in Alzheimer's patients.
Bringing Together Three Key Areas of Research
Ukpong Eyo, PhD, chose UVA Health for his independent faculty position because it was one of the only institutions in the U.S. with strong research programs in three key areas — neuroimmunology, epilepsy, and neurovascular studies.
Eyo first began studying microglia, one of the primary cells that carries out immune activity in the brain, during grad school. As a post-doc, he learned microglia interact with neurons, especially when they are overactive, as in the context of seizures and epilepsy. He'd also begun studying how microglia affect blood flow in the brain.
"I can think of no other place in the country to do our work, so that's why I'm thrilled and honored to be here," he shares.
A Groundbreaking Discovery: Microglia Regulate Blood Flow in the Brain
In 2021, UVA Health researchers became the first to publish an important discovery: microglia both regulate blood flow and maintain the brain's blood vessels.
Why is this so important? "For the last 10 years we've known that microglia play a critical role in Alzheimer's disease. We just found out they're regulating blood flow and one of the features of Alzheimer's is impaired blood flow," Eyo explains.
The researchers are now among the first to study Alzheimer's from this unique viewpoint. "Researchers have previously targeted these immune cells broadly, looking at plaques and other degenerative activity. However, to date, microglial contributions to vascular function in Alzheimer's has not been explored and our lab is now at the forefront of doing this," Eyo says.
The hope? To eventually modulate blood flow to the brain in Alzheimer's patients to improve their condition.
"We are excited for what the future holds here," Eyo shares.
Understanding the Role of Microglia in Seizures
In 2021, Eyo and his team published findings showing microglia heal neurons damaged during seizures. Now they're building on those results working with leading UVA Health epilepsy researcher Edward Perez-Reyes, PhD.
"Together, we have a paper that should be published soon that shows for the first time that microglia play beneficial roles in different experimental seizure paradigms. For this study, we incorporated 3 models of experimental seizures," Eyo shares.
That finding opens three new important avenues of research.
First, they plan to test the role of microglia in a clinically relevant model of seizures called Dravet syndrome that affects children.
They also plan to determine the specific mechanisms by which microglia may provide these beneficial activities. "We have a microglial-specific protein that we are interested in pursuing, and we think it may hold promise," Eyo explains.
Thirdly, they plan to research the role of microglia in multiple seizures over time. "This is a bigger concern in patients with epilepsy. The role of microglia could be different than in a single seizure setting."