New Neurosurgery Hires Expand Knowledge Base and Surgical Capability at UVA
---
At a Glance
UVA stroke team adds two new neurosurgeons
Yashar Kalani, MD, PhD and Min Park, MD, have the expertise to treat both ischemic and hemorrhagic stroke, as well as other neurovascular disorders
Kalani and Park will be continuing their research efforts at UVA
A new, toll-free number will give referring providers access to Kalani and Park 24/7 for consultations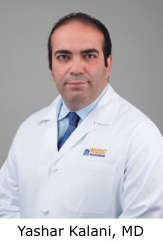 To uphold its commitment to provide the most advanced medical and surgical care to stroke patients, and to pioneer new ways to treat this disease through cutting-edge research, UVA Health System continues to recruit some of the top physician-scientists in the field. Two recent additions are: Yashar Kalani, MD, PhD, Associate Professor of Neurosurgery, Neurology and Neuroscience, Director of Cerebrovascular and Skull Base Surgery and Neurosurgical Director of the Stroke Center; and Min Park, MD, Associate Professor of Neurosurgery and Neurology, Director of Cerebrovascular Surgery, Director of the Endovascular Neurosurgery Fellowship, and Associate Residency Program Director of Neurosurgery.
"The recruitment of Drs. Park and Kalani is extremely exciting for UVA Health System," says Mark Shaffrey, MD, chair of the Department of Neurosurgery. "Their expertise helps to fulfill [UVA Executive Vice President of Health Affairs] Dr. Richard Shannon's vision to provide the highest quality stroke care for our patients and is coincident to UVA receiving Comprehensive Stroke Center designation as a top center for care of patients with neurovascular disorders."
Colleagues for the past four years, Kalani and Park bring a vast knowledge of neurological disease and the expertise to treat both ischemic and hemorrhagic stroke as well as other neurovascular disorders, including aneurysm, arteriovenous malformations, and spine and skull base tumors. Notably, both have the ability to perform both open cerebrovascular and endovascular neurosurgical procedures, making UVA one of the few centers in Central Virginia offering comprehensive cerebrovascular care.
"Being able to provide comprehensive care for both types of stroke is definitely a need in this area," says Park. "As a team, Dr. Kalani and I bring a comprehensive grasp of the latest endovascular technology, specifically thrombectomy devices. Evidence has shown that by utilizing this procedure we can make a meaningful difference in patients with large vessel occlusion."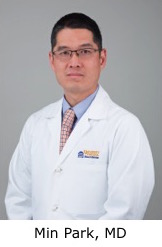 Kalani and Park are arriving at a time when UVA is setting standards for quality stroke care as a newly designated Comprehensive Stroke Center, and both see this recognition as a driver for further progress. "We will continue to provide exceptional stroke care with this designation because of the requirement to maintain rigorous standards," says Park. "We have the people and resources in place to provide the best available stroke care, whether patients come through our ER or are referred from other places."
"This designation extends the reach of UVA, attracting patients from beyond central Virginia," adds Kalani.
Forward Focus
A Comprehensive Stroke Center designation is also a nod to UVA's commitment to advance the field of stroke medicine through research, and it will continue to support these providers and others in their efforts. "Drs. Park and Kalani bring new research and clinical trial interests to UVA that we believe have the real potential to move the entire field forward," says Shaffrey.
Kalani will further his study of stem cell biology and cell regeneration after stroke, and will move to UVA a trial examining biomarkers for stroke. "The purpose of this NIH-funded research is to identify a biomarker to predict complications of brain injury, allowing us to decrease the severity and number of poor outcomes after hemorrhagic stroke," he explains.
Park is planning to expand a novel study of the use of vitamin D supplements in the neurocritical care setting to improve mortality rates, in addition to participating in the latest clinical trials examining the efficacy of the latest in endovascular technology.
Team Approach
In UVA, Kalani and Park have found an environment ripe for innovation that will allow them to further their practice and research efforts. And they've found a team recognized for its ability to consistently provide expert care to even the most complex patients.
"The team within the neurosurgery department is very well respected — and they're good people," says Park. "That was important to me: being in an environment where I could see myself succeeding, to wake up excited to go to work with a great team that meets the day's challenges head on in order to do what's best for the patient."
In addition to the hundreds of UVA staff involved in stroke care, both Kalani and Park see referring providers as essential members of their team and are committed to collaborating from the start to ensure patients receive the best neurological care. Key to this partnership is communication.
"Open communication is the best way to provide quality care. Everything in medicine is a team effort and team communication is paramount," says Park. "I learned this firsthand in the military. I spent six months in Afghanistan as a neurosurgeon. You can only do so much by yourself. You have to rely on others to do the job well so that you can provide the best care to patients."
As co-directors of cerebrovascular and endovascular neurosurgery at UVA, they have established a direct line of contact for referring providers. A toll-free number will connect physicians to Kalani or Park 24 hours a day, 7 days a week, so that you can consult on patients with suspected stroke or other neurovascular emergencies.
"We are excited to build up our practice at the University and are committed to making ourselves available to referring providers around the clock," says Kalani.
To reach Kalani or Park directly for patient consult, call 877.CVA.4.UVA.