This fall, UVA neurosurgeon Justin Smith, MD, PhD, was named among the 18 best spine surgeons in North America by Orthopedics This Week. Becker's Hospital Review also honored UVA Spine Center and the Department of Neurosurgery by including UVA on its 2014 list of 100 hospitals (the top 2 percent nationally) with great spine and neurosurgery programs. This national recognition can be attributed, in part, to the Medical Center's ongoing commitment to comprehensive and cutting-edge care sustained by the recruitment of leading practitioners in the fields of neurosurgery and orthopaedics.
UVA Spine Center recently welcomed more new providers to its award-winning team, including Dennis Vollmer, MD (profiled here), Anuj Singla, MD, and Hamid Hassanzadeh, MD. To UVA, they bring expertise in advanced surgical techniques and insight into managing complex spinal deformities that will only strengthen UVA Spine Center's ability to care for its patients.
Effective Management of Early-Onset Scoliosis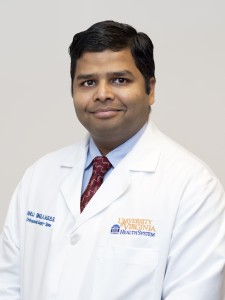 Anuj Singla, MD, completed three fellowships — the most recent at UVA — giving him combined training in orthopaedics, neurosurgical spine surgery and pediatric spine surgery. "The spine, as a specialty, has always been an area of common interest to both orthopaedic surgeons and neurosurgeons. However, the training in either specialty has traditionally been distinct," he says. "Because I have had training in both orthopaedics and neurosurgery, I feel I can surpass the barrier and take a comprehensive approach to spine care."
In clinic, Singla sees both pediatric and adult patients with spinal deformities. He is the primary physician at a new pediatric spine clinic held in the Battle Building, where he works directly with Pediatric Orthopaedics Division Head Mark Abel, MD, to provide timely treatment to young patients with spinal trauma and a variety of other spinal conditions, including scoliosis.
"Scoliosis is a challenge because it affects the growing spine," he says. "The treatment options have to balance curve correction and the natural growth of the spine. Spinal fusion, commonly used for scoliosis correction, can cause limited growth of the immature spine, so you cannot fuse the spine at a very early age. However, if you let it go too long, if the curve goes untreated, it can reach the point in which it's difficult to treat. You have to find that balance."
Fortunately, Singla says these deformities are typically very obvious. "If a referring doctor has the slightest suspicion of scoliosis, the patient should be referred to a spinal specialist who can utilize X-rays and/or MRI to identify the problem, treat the curves early and, in some cases, prevent a catastrophic spinal cord event later on."
Advancing Minimally Invasive Spine Surgery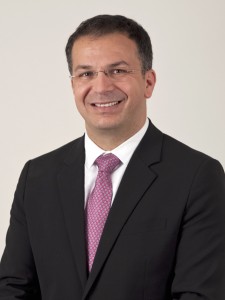 Hamid Hassanzadeh, MD, joined the Spine Center in August after a residency at Johns Hopkins and fellowship training in spine surgery at Rush University Medical Center."The Spine Center at UVA is one of the most complete teams I've seen," he says. "Having neurosurgery and orthopaedics in the same center is a huge advantage for patients and it's a great opportunity for us as clinicians to exchange ideas and see different perspectives."
Hassanzadeh's clinical interests and expertise include complex spinal deformity and the use of minimally invasive surgery. While minimally invasive spine surgery has been around for more than a decade, Hassanzadeh says the introduction of new instrumentation and advanced techniques has made it more amenable, easier to apply and safer for patients.
"The spine is buried within the body, so before we had to go through the muscle to reach the spine," he explains. "Now there is no need to cut the muscle, so basically we can treat the problem without creating new ones."
As with other minimally invasive procedures, there is little blood loss, less scarring and pain as well as a shorter recovery time. "Before, with an open procedure, recovery would have been weeks," says Hassanzadeh. "Now some of these surgeries are same-day procedures."
Not all procedures can be minimally invasive, however. Depending on the patient's anatomy, injury or deformity, surgeons may opt to utilize an open procedure or even combine the two approaches.
"Sometimes combining open and minimally invasive can minimize soft tissue dissection," says Hassanzadeh. "Most recently, I collaborated with the Ortho Trauma team to treat a pelvis trauma patient using minimally invasive and open techniques. When you dissect through soft tissue with contusions, which are common in trauma cases, you increase the risk for infection and post-surgical issues. This approach reduces that risk."
Hassanzadeh will continue to collaborate with the Orthopaedic Trauma team to study the safety and efficacy of utilizing minimally invasive spine surgery in the trauma setting. He'll also continue his research into the potential for decreasing complications during large reconstructive spine surgeries by taking appropriate preventive measures and by combining open and minimally invasive techniques.
Strength in Numbers
More than 1,500 spine procedures are performed each year at UVA by some of the leading spine specialists in the country. Yet it is at the hands of many that patients find comfort and relief. The Spine Center care team includes pain management specialists, physical medicine and rehabilitation specialists, radiologists as well as neurosurgeons and orthopaedic surgeons. Together, they offer comprehensive treatment and care.