At a Glance
High-grade gliomas are aggressive types of brain cancer

New Toca 5 study at UVA aims to break down some of the barriers of traditional drug therapy
The goal of Toca 5 is to activate therapeutics selectively within the brain tumor, leading to fewer side effects
Phase 1 trials showed prolonged survival rates, leading to the launch of an international Phase 2/3 trial
To find out if your patient is eligible for the Toca 5 trial (IRB# 18471), contact study coordinator Cara Hanby at 434.243.9900 or [email protected].
Targeting Aggressive Brain Cancers
There is a desperate need for new treatments for glioblastoma (GBM) and anaplastic astrocytoma (AA), two particularly aggressive types of brain cancer referred to as high-grade gliomas. Even with the best care, often these cancers recur quickly. Median survival time for patients with newly diagnosed GBM is slightly more than a year, and that of AA is only twice as long. For patients with recurrent disease, median survival time is measured in months.
In an effort to shift that trajectory, high-grade glioma patients at UVA now have the opportunity to participate in Toca 5, an international clinical trial of a new, virus-based procedure, which requires close collaboration between neurosurgeons and neuro-oncologists. Neuro-oncologist David Schiff, MD, the primary investigator of the trial at UVA, believes that a multidisciplinary approach, such as the one required to deliver this new treatment, "offers the best chance of progress for the field and the best outcomes for the individual." Schiff leads the multidisciplinary effort at UVA, partnering with neuro-oncologists Benjamin Purow, MD and Camilo Fadul, MD and neurosurgeons Ashok Asthagiri, MD and Mark Shaffrey, MD.
Breaking Barriers
Both the character of these high-grade gliomas and their location make them difficult to treat. These tumors send tentacle-like projections deep into surrounding tissue, so surgery provides only a temporary benefit. The blood-brain barrier, which excludes the most effective forms of drug therapy, further limits the treatment options for targeting residual tumor cells that permeate normal-appearing brain around the resection site. In addition, because these tumors are composed of heterogeneous cells that grow aggressively and mutate rapidly, the effectiveness of those drug therapies that can pass through the barrier are both partial and short-term. "The lack of effective therapies for high-grade glioma leaves doctors with few options for treating patients," Schiff says.
Tocagen™, the company sponsoring the Toca 5 trial, has developed a two-part approach that aims to sidestep many of the barriers of drug therapy. The goal of the process is to activate therapeutics selectively within the brain tumor, resulting in fewer side effects to the rest of the body.
The Mechanics of Toca 5
After removing recurrent tumors, surgeons inject a virus called Toca 511 into the surrounding tissue. Toca 511 selectively infects cancer cells and inserts a gene that causes them to produce cytosine deaminase (CD), an enzyme derived from yeast. Six weeks later, patients take Toca FC, an orally administered, extended-release version of a common antifungal drug, 5-FC, which readily crosses the blood-brain barrier. Toca FC diffuses into the cancer cells, where CD converts it into 5-FU, a potent, FDA-approved anticancer drug that has been used for the treatment of breast and colorectal cancer.
5-FU also helps produce an immune response to the tumor. It kills immunosuppressive myeloid cells, which are cells that help tumors avoid the immune system. The immune system is further activated by tumor-associated antigens and viral proteins that the dying cancer cells release. Physicians administer Toca FC at six-week intervals for as long as the cancer remains in remission and the patient has no untoward effects.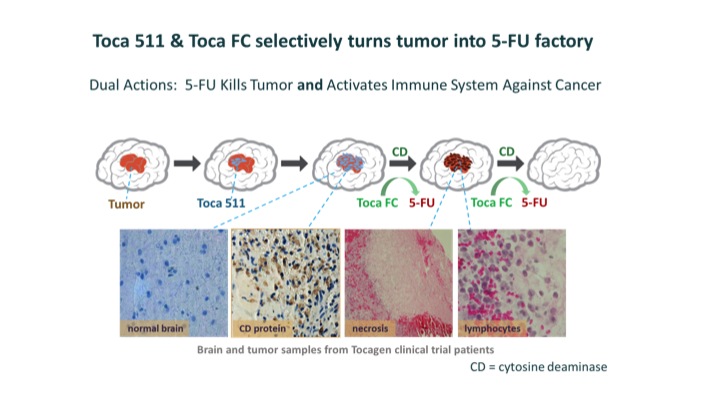 (Image courtesy of Tocagen™ )
On the Fast Track
The FDA granted Tocagen fast-track designation for Toca 511 and Toca FC for the treatment of high-grade glioma. Recently, the company reported that, in addition to a favorable safety profile, its Phase 1 trials showed prolonged survival rates, leading to the launch of an international Phase 2/3 trial. If the results from the first 170 patients in the Phase 2 portion look promising, Tocagen may begin the Phase 3 portion with an additional 200 patients.
Patients in the Toca 5 clinical trial will receive either the combination of Toca 511 and Toca FC or the standard of care for this type of brain cancer — chemotherapy with lomustine or temozolomide or antiangiogenic therapy with bevacizumab.
"Treatment of GBM and AA is evolving," says Asthagiri. "At UVA, we're committed to being part of that evolution, taking a leading role in searching for ways to move beyond existing therapies."