At a Glance
One of the more common pediatric brain tumors is a Juvenile Pilocytic Astrocytoma or JPA
Two case studies provide a better understanding of when to consider brain tumor as a potential diagnosis
Symptoms of a brain tumor may mimic a migraine, so it's important to know how to distinguish the two
When young patients experience recurrent headaches, it's not uncommon for families to assume the worst. "Often, a family's greatest concern is that it could be a brain tumor," says UVA pediatric neurologist Kristen Heinan, MD. "The truth is that they're not that common. But we don't want to be dismissive. Early diagnosis is important, so recognizing the signs is key."
According to the Central Brain Tumor Registry of the United States, non-malignant and malignant pediatric brain tumors occur in approximately six out of every 100,000 patients ages 0 to 19. One of the more common is a Juvenile Pilocytic Astrocytoma or JPA, a benign and slow-growing glioma that typically develops in the cerebellum.
By taking a closer look at two cases of JPA, both teen patients referred to UVA Children's Hospital, we can get a better understanding of when to consider brain tumor as a potential diagnosis.
Patients
Sebastian Cave, age 13 at diagnosis in 2014
Addie Coleman, age 18 at diagnosis in 2010
Symptoms
Sebastian had headaches and nausea for months. When he woke up one morning with a debilitating headache and incessant vomiting, his parents took him to the UVA emergency department.
Addie experienced fatigue throughout high school, which was attributed to anemia. She had pain in the back of her head that was worse in the mornings; the headache would subside as the day went on. She then developed a hand tremor and experienced a blackout.
"Most of these patients do not present with symptoms related to dysfunction of the cerebellum, but rather hydrocephalus," says UVA neurosurgeon John Jane Jr., MD. "The position of tumor in the back of the brain blocks the exit of cerebrospinal fluid, causing an increase in intracranial pressure."
Diagnosis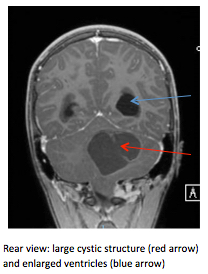 Addie and Sebastian had CT scans that revealed tumors positioned in the cerebellum.
"Both of these patients had very big tumors," says Jane. "Sebastian's was 6 cm; Addie's was 5 cm. The bigger the tumor, the more difficult they are to remove, but that's often how they are at presentation."
This is because most patients experience symptoms for weeks to months before diagnosis, Jane explains. By the time patients are showing the later signs of hydrocephalus, they are at increased risk for seizures, coma or even death.
Treatment
Rapid response was necessary in both of these cases to relieve intracranial pressure.
Jane performed a craniotomy to remove Addie's tumor. A follow-up MRI a day after the surgery confirmed the total resection of the tumor.
Jane removed Sebastian's tumor with the assistance of a newly acquired intraoperative MRI, which allowed him to do an imaging scan to confirm the tumor had been completely removed prior to closing.
"When this tumor is removed completely, it will not recur," says Jane.
Outcome
Six weeks after undergoing brain surgery, Sebastian was back on his school's swim team. By spring, he was running on the track team and today he ranks among the state's top runners.
Addie was discharged a little over a week after surgery. She worked with a physical therapist to resolve balance issues and a head tilt, but soon returned to running and made her college track team.
"Balance and coordination are two of the biggest concerns after this surgery because of the tumor location in the cerebellum," explains Jane. "In addition, approximately 30 percent of these patients will require a shunt despite tumor removal. Fortunately, this was not necessary for these patients and both were discharged to home."
Follow-Up
Sebastian and Addie returned to UVA for MRIs every 3 to 4 months during the first year after surgery. They now receive an MRI annually.
"These patients do need continued, lifelong surveillance, but they do well over the long haul generally and should have a normal chance for recovery," says Jane.

Ruling Out a Brain Tumor
The symptoms of a brain tumor can often mimic a migraine. Here are the key signs that indicate further testing may be warranted:
Headaches that are consistently worse in the morning and subside as the day goes on
Headaches and vomiting that wake a patient during the night
Abnormal eye movements, especially difficulty looking up
Seizures
New or worsening problems with balance and coordination
New weakness or difficulty using are and legs
"If you are concerned about your patient's headaches — if there is no personal or family history of headaches and if these headaches are a major change for this patient — please notify us so that we can ensure your patient is seen quickly," says Heinan.
To refer a patient to UVA Children's Hospital, call 844.XFER.UVA (933.7882).