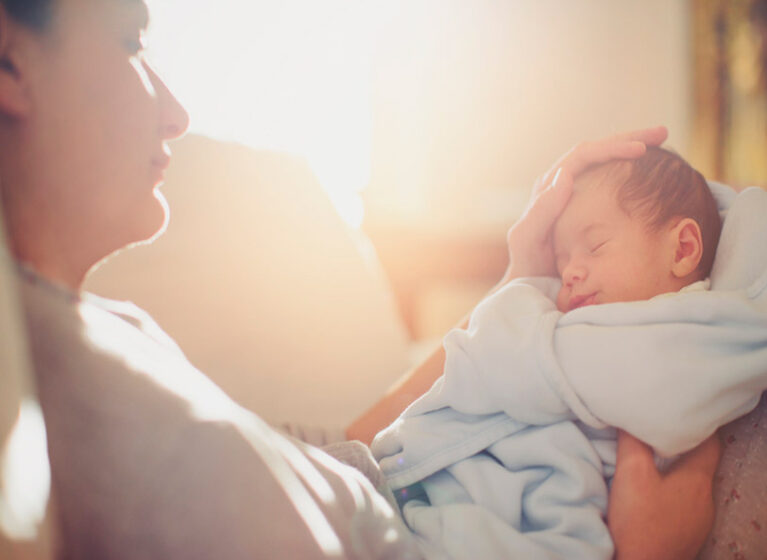 UVA Health research led by Jennifer Payne, MD, has uncovered definitive answers on risk factors for postpartum depression. Carrying a boy isn't one of them. She's also laying the groundwork for a day when we can accurately test for PPD, just as we now do for gestational diabetes.
Who's Most at Risk for Postpartum Depression?
PPD is the most common complication of childbirth. But those most at risk are:
First-time mothers
Mothers younger than 25 years old
Mothers of twins, especially moms older than 40
These findings come from a survey of more than 1.1 million new mothers from 138 countries.
"The size of this study makes the findings highly significant and definitive," says Payne, the study's senior author and director of the Reproductive Psychiatry Research Program at the UVA School of Medicine.
She adds, "Most studies on postpartum depression are small and confined to a small region. This study answers questions about risk factors for postpartum depression from a worldwide sample."
The study findings are based on surveys sent to women who use Flo Health, an app which helps women track their fertility, period, and menstrual cycle. The findings are published in the Journal of Affective Disorders.
Other studies have reported that mothers of boys have a higher risk for PPD. But the researchers found no significant difference in the rates of postpartum depression between mothers of boys or girls.
Closer Look at Risk Factors for Postpartum Depression
Women self-reporting postpartum depression symptoms was highest among 18- to 24-year-olds, at 10%.
PPD was significantly lower among women who had previously had children compared with first-time moms. This was shown across all age groups.
11.3% of mothers of twins reported symptoms, compared with 8.3% of mothers of a single child.
The twin difference was especially pronounced among moms ages 40 and older; 15% of moms in this age group having twins reported PPD symptoms, compared with 6.6% of mothers of one baby.
Consequences of an Underdiagnosed Disorder
Payne hopes these findings lead to early intervention for a condition that often goes untreated.
"Most women with postpartum depression are not diagnosed or treated," says Payne. "Clinicians caring for new mothers can be aware of risk factors like age, first pregnancy, and twin pregnancies that put women at a higher risk of developing postpartum depression and screen and intervene early. "
She adds, "We screen 99% of pregnant women for gestational diabetes, and its prevalence is in the single digits. There's been a real reluctance to screen for major depression, but it's the most common complication of pregnancy. And we know it has effects on IQ and language development of the child."
As a nationally recognized leader in reproductive psychology, Payne consults with providers throughout the U.S. who are treating difficult cases of PPD. While no clear guidelines exist for screening for PPD, Payne recommends using the Edinburgh Postnatal Depression Scale at every pre- and postnatal visit. A score of 13 and above strongly correlates with the onset of PPD, she notes.
Startling Findings Could Lead to a Blood Test for PPD
Payne's pioneering basic science research has uncovered two epigenetic biomarkers for PPD. These can predict with 80% accuracy the likelihood of a pregnant person developing PPD. When Payne and her collaborator first made this startling discovery, she shares, "Initially, I didn't believe the finding and didn't talk about it for a year and a half. Then we replicated it in somebody else's samples, and it continues to replicate. I felt like I tripped over something."
Payne made this discovery along with epigenetics researcher Zachary Kaminsky, PhD, of the Royal's Institute of Mental Health Research, affiliated with University of Ottawa. Payne and Kaminsky teamed up a decade ago at Johns Hopkins University where they generated some of the first and most widely replicating epigenetic biomarkers in psychiatry.
Careful observation was the key to discovering the two PPD epigenetic marks, Payne says. She and Kaminsky found the same genes involved but different methylation patterns in two groups of women:
Those with depression before and after pregnancy
Those with depression after pregnancy but not before
"We would have missed the signal if we hadn't looked at these two groups separately," Payne notes.
Payne couldn't yet share details but she and Kaminsky have made further discoveries that could predict PPD with 100% accuracy. Translating this research into a commercially available blood or saliva test would be a significant step.
"Most doctors like a blood test," Payne says. "This would lead to more women getting treated for postpartum depression." She adds, "Where I hope to eventually go is to find a way to prevent PPD. We're still trying to figure that out."