At a Glance
VenaSeal is a minimally invasive procedure to eliminate varicose veins.
Results are equivalent to ablation after 12 months.
The procedure is well tolerated by patients, with minimal recovery time.
The UVA Vein Clinic is the first clinic in the region to offer a new, minimally invasive procedure to eliminate varicose veins. As you know, this venous insufficiency can cause painful symptoms that can greatly impact a patient's quality of life and put them at risk for more serious complications over time. The VenaSeal™ procedure is proving to be a quicker, more effective way to treat varicose veins with few contraindications.
How It Works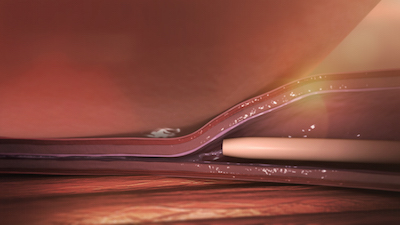 Compared to other treatments for varicose veins, VenaSeal is a faster procedure (approximately 20 minutes total). "We can perform the VenaSeal treatment in 1/3 of the time," says UVA interventional radiologist Luke Wilkins, MD. "Also, there is substantial evidence showing results are equivalent to ablation after 12 months."
During the procedure:
A single small needle is used to insert a catheter into the affected vein and thread a wire up to the groin.
With ultrasound guidance, a glue delivery system is directed to the origin of the vein.
Glue is deposited along the course of the vein while applying compression until the vein walls adhere.
Blood flow is cut off and is redirected to healthier veins.
"Typically we treat one vein at a time, but because this is a minimally invasive procedure, we could do more than one at a sitting," says Wilkins. "Generally, if you have venous insufficiency, you have more than one vein affected."
Advantages of VenaSeal
Because VenaSeal is minimally invasive, with just one needle prick and no tumescent anesthesia, the procedure is easily tolerated by patients. In fact, patients typically return to activities the next day. Symptom relief occurs within a week and the full cosmetic improvements are noticeable after three months on average. Another perk: no compression socks are necessary during recovery and the risk of nerve injury is close to zero. Plus, the results are permanent and the procedure will provide substantial long-term relief.
"We expect to see a lot of success and improved patient satisfaction with this entire process," says Wilkins.
Note that Medicare and Medicaid currently cover the VenaSeal procedure; other insurers are expected to cover in the near future. Patients may self refer to the UVA Vein Clinic for a consultation with Wilkins, interventional radiologist J. Fritz Angle, MD and vascular surgeon Megan Tracci, MD. However, if you have questions about the procedure, please contact us at 434.924.2722.