According to John Kern, MD, Surgical Director of UVA Heart and Vascular Center, there is a growing need for reoperative cardiac surgery due, in part, to advances in medical care, as well as a shift to healthier living, allowing those who once had serious heart conditions to outlive their initial treatment.
"Some of the most common cases we see are those patients who have had a coronary artery bypass procedure in the past and then develop a valve problem later in life," says Kern. "Or someone who had a valve replacement may need a repeat procedure because valves can wear out after 20 years or so. We also see adults who were treated for congenital heart abnormalities as a child who need a procedure to readdress an existing problem or fix something new that arises."
Today, approximately 30 percent of all open-heart surgeries done at UVA are reoperative procedures. "We do a lot of them and, because of our experience, we've managed to reduce the risk to that of a first-time open-heart surgery," says Kern.
Due to their complexity, reoperative cardiac procedures are only offered at a handful of centers in the region. At UVA, these patients have a variety of options available to them, including minimally invasive procedures. Together, cardiologists, cardiac surgeons and interventional cardiologists evaluate each patient to determine which procedure will successfully address the problem at hand with the least risk. Often, as was true in the case study below, patients require a combination of procedures to treat their recurrent and/or newly acquired conditions.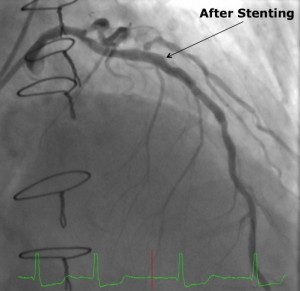 Case Study: Reoperative Cardiac Surgery
Patient: Active, 83-year-old male who had undergone a three-vessel coronary artery bypass grafting eight years prior to being referred to UVA.
Evaluated by: John Kern, MD, Surgical Director of UVA Heart and Vascular Center and Michael Ragosta, MD, Director of UVA Cardiac Catheterization Laboratory
Presented with: Shortness of breath, fatigue, mild chest pain
"This gentleman was referred to me by a cardiologist who had been following him from a preventive standpoint since his bypass procedure eight years prior" says Kern. "He was a fit, active guy who began experiencing mild chest pain and significant shortness of breath."
Diagnosis: Aortic insufficiency and single-vessel coronary artery disease
An echocardiogram revealed severe aortic insufficiency. In addition, a diagnostic cardiac catheterization showed single-vessel coronary artery disease involving the left anterior descending (LAD) coronary artery. The development of recurrent CAD over time was compromising the patient's initial bypass procedure, and represented a significant cardiac event risk.
"After seeing the patient and reviewing his history, I determined he was an excellent candidate for reoperative surgery.  Because his problem was aortic insufficiency with no calcific stenosis, he was not a candidate for a transcatheter aortic valve" says Kern. "I considered the option of doing a redo LAD bypass along with the valve replacement, but that would have slightly increased the operative risk. I reviewed his cath with Dr. Ragosta to see if stenting the LAD prior to surgical valve replacement was an option, in order to minimize the surgical dissection and risk."
Procedure: Cardiac catheterization and LAD stenting followed by redo open heart surgical aortic valve replacement
Dr. Ragosta performed a minimally invasive cardiac catheterization through the patient's radial artery, placing a bare-metal stent into the LAD with excellent angiographic results. Because of the need for Plavix, surgery was delayed for at least four weeks.
Five weeks after the catheterization and stenting, Dr. Kern performed the aortic valve replacement. The patient was placed on cardiopulmonary bypass via the right axillary artery and femoral vein in order to minimize risk of cardiac injury, and the previous sternotomy incision was reopened. Minimal dissection of the heart and previous bypass grafts was required because the LAD had already been revascularized. The operation lasted approximately four hours and there were no complications.
Outcome: Standard recovery time, relief of symptoms
"After four weeks, the patient was back to full activity, working in his yard and driving," says Kern. "Like many reoperative patients, he reported having less pain and discomfort after this repeat operation than with his first heart surgery. It may be due to emotional preparedness or because sensory nerves are reduced in that area."
Watch a video featuring John Kern, MD, discussing reoperative cardiac surgery.