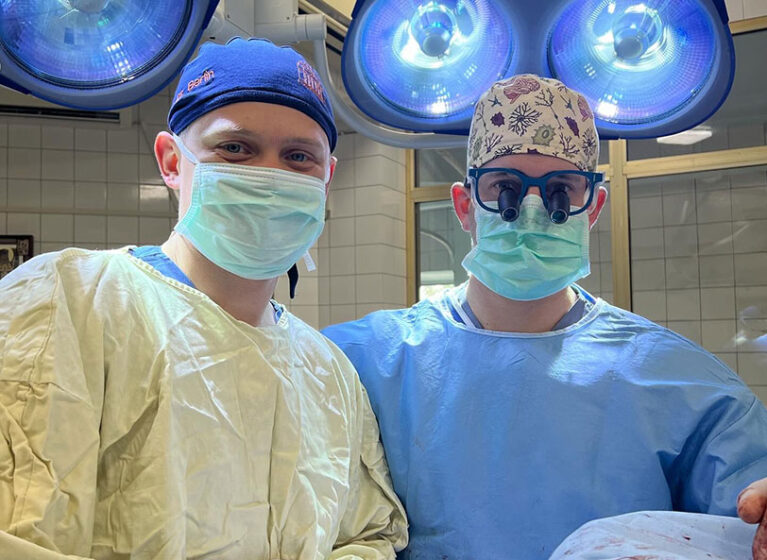 Summer vacation looked a little different for UVA Health's Connor Berlin, MD, resident in the Department of Neurosurgery. Instead of heading to the beach or mountains, the rising fourth-year resident provided medical support just miles from the Ukrainian frontlines.
During an intense, 3-week period, Berlin worked on elective neurosurgery and spine cases during the day. At night, he operated on soldiers brought in from the frontlines.
"My experience was very eye-opening and very difficult," says Berlin. "The first time I entered one of their neuro ICUs brought me to tears. I saw gruesome injuries, and they were patients my age and younger."
A Warzone OR Experience
In Ukraine, Berlin found a country with a limited number of neurosurgeons but a large, high-acuity patient volume, approaching 700 casualties per day.
"Because of the training I had at UVA Health, the Ukrainian neurosurgeons were able to very quickly trust me because they saw that I have things to offer," says Berlin. "Once you have that trust, you can have a healthy exchange of ideas that benefits patients."
As might be expected when operating 70 miles from the frontlines of an active war zone, the equipment Berlin worked with, including handsaws and hand drills at times, was something he had not trained with previously in the U.S. — but this approach had its advantages.
"We are sometimes spoiled here in terms of the great technology we have at our disposal, and while it might make things a little easier in the OR, it isn't always needed to get the job done," says Berlin. "It gave me a greater appreciation for a deep understanding of neuroanatomy."
Support From the Homefront
During his time overseas, Berlin stayed connected to the UVA Health community, including talking through challenging cases.
"We saw so many things over in Ukraine that we don't see here," says Berlin. "It was nice to have resources in my attending physicians to go over these cases and to feel supported that way."
The trip took nearly a year to prepare for. Berlin started planning in the fall of 2022, including making connections with nonprofits serving medical missions in Ukraine. When Berlin's contact asked if he would prefer a "safer" trip in the western part of the country or a riskier one further east, the resident didn't hesitate, opting for an assignment in Dnipro, close to the frontlines.
Berlin also received the support of his department's leadership, including Min Park, MD, neurosurgery residency program director, and Mark Shaffrey, MD, chair of the Department of Neurosurgery.
"I felt comfortable approaching them because Dr. Park had practiced while serving in the U.S. Navy and Dr. Shaffrey in the U.S. Air Force," says Berlin. "They both understood why I wanted to do this and wanted to be part of the solution. They said if there's a way we can make this work and support you, we will."
A UVA Health Foundation Made the Difference
Berlin credits the hands-on approach he's experienced at UVA Health for enabling him to jump right in during his time overseas. In fact, before leaving Ukraine, Berlin had already completed his board minimum surgical operation requirements after 3 years of his residency.
"At UVA Health, we take pride in the operating room experience our interns get," says Berlin. "With a lot of programs that's not the case. I'm grateful that I was able to get that extra year of experience in the OR. Because of that training, I felt confident in my ability to help out, safely."
Additionally, Berlin attributes his preparedness to the apprenticeship model, which allowed for rapid progression of his skills as a neurosurgeon, including world-renowned faculty who are dedicated to teaching residents to provide care in the OR and on the floor.
"Part of why I came to UVA Health is that at the end of the day, I want to be a good surgeon and good doctor," says Berlin. "We are physicians first and surgeons second. We take pride in managing our patients and being active in their medical care before, during, and after surgery. That perspective helped me provide the best care I could during my time overseas."
More Missions Ahead
Moving into the second half of his residency, Berlin hopes to grow as a neurosurgeon and physician, while continuing to find ways to support medical efforts in Ukraine.
"I'm just working to become the best physician I can, but traveling to Ukraine and using the skills I've learned to support the Ukrainian people was the best decision I ever made," says Berlin.
"I couldn't have done it alone. Without the help of so many individuals at UVA Health, the Department of Neurosurgery, and the folks here at home and in Poland, this trip would not have been possible. Specifically, I would like to thank Andrii Sirko, MD, chief of the Department of Neurosurgery at Mechnikov Hospital, for allowing me to join his neurosurgery family in Ukraine and for training such excellent surgeons; the entire hospital staff at Mechnikov; Rocco Armonda, MD, a neurosurgeon at Georgetown, for his ongoing involvement in supporting Ukraine, his mentorship, and supporting me personally during my trip to Mechnikov; neurosurgeon Luke Tomycz, MD, for his dedication and commitment to Razom (a nonprofit formed to support Ukraine) and helping me prepare for this trip; and all the members of Razom Ukraine who helped me get to and from Dnipro safely. We were able to help a lot of soldiers and civilians, and I hope we're able to keep doing good work together."