Help Your Patients Dispose of Drugs Safely
---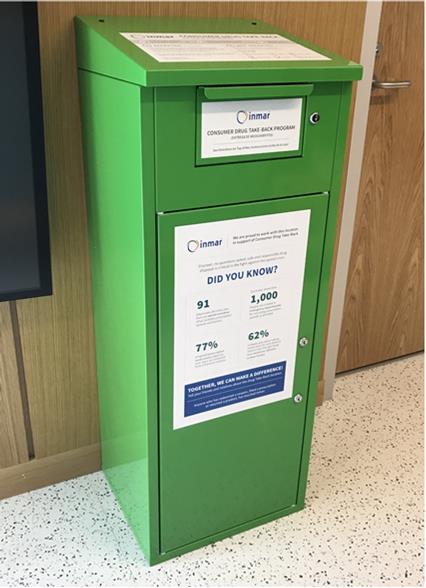 It's not uncommon for patients to arrive at a doctor's appointment carrying a bag of pills they no longer need. Unfortunately, it's also not uncommon for physicians to be unable to dispose of those drugs safely.
One of the primary issues: there have been few options available for getting rid of unwanted medications in the Charlottesville area, according to UVA Health System Pharmacy Supervisor Justin Vesser, PharmD. "The number of drug take-back locations has gone down over the years. Sometimes the police department or fire department will host a take-back event, but those are few and far between," he says.
With drug abuse and misuse on the rise throughout Virginia, the safe handling of medications is more important than ever before. That's why UVA has made it a priority to step up and fill the void, installing a bright green drug take-back box in the main lobby of the Education Resource Center. This will make it easy for patients to eliminate unwanted prescription and over-the-counter drugs from their medicine cabinets.
"We know that if medications are disposed of properly, they are out of the hands of those who can be harmed by them. They're also out of reach of kids and pets, and they're not a threat to the environment," says Vesser. "Now that we have the 24-hour pharmacy, we are happy to provide this service to the community."
Here are some key takeaways to pass along to your patients about the new drug take-back program at UVA:
The take-back box is located in the lobby of the Education Resource Center.
The box is safe, secure and easily accessible 24/7.
Patients can deposit medications discreetly, no questions asked.
Over-the-counter and prescription medications are accepted.
Illegal substances and medical waste are not allowed.
Contents of the box are emptied regularly by authorized staff and sent to a reverse distributor for safe disposal.
For more information, contact UVA Pharmacy at 434.924.9041.
UVA Pharmacy Lee Street
Education Resource Center
1240 Lee St. Charlottesville, VA 22903
*Free parking in the 11th Street or Lee Street garage