In the six months after UVA Health System introduced Enhanced Recovery After Surgery (ERAS) protocols for patients undergoing elective colorectal surgery, the risk-adjusted median length of stay dropped from five days to three, the overall complication rate decreased 17 percent and patient satisfaction scores rose sharply in virtually every category — from pain control to discharge readiness. The results of this first trial were so significant that they were covered by The Wall Street Journal and U.S. News and World Report.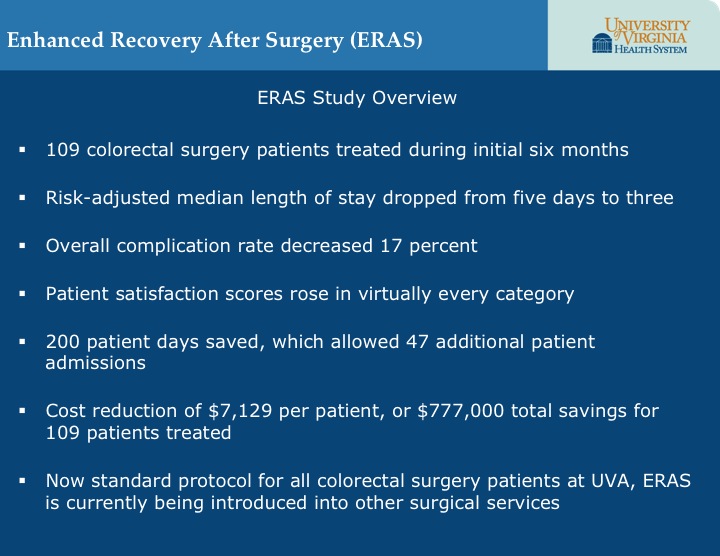 The 109 patients treated using the technique were not the only ones to benefit, however. "During the six months of the study, we opened up over 200 patient days by reducing length of stay," says colorectal surgeon Traci Hedrick, MD, one of the leaders of the initiative. "This allowed us to admit 47 new patients." At the same time, using enhanced recovery reduced UVA's healthcare costs by as much as $7,129 per patient, corresponding to a total cost savings of $777,000 in the group of 109 patients treated using the technique.
Five Key Changes
Enhanced recovery is a method pioneered in Europe to develop standardized protocols for preoperative, intraoperative and postoperative care based on evidence-based practices that accelerate recovery. Anesthesiologist Robert Thiele, MD, brought enhanced recovery to UVA after returning from a fellowship at Duke, where he studied with Tong Joo Gan, MD, one of the early proponents of enhanced recovery in the United States. Thiele, Hedrick and clinical nurse specialist Kathleen Rea, MSN, RN, ACNS-BC, joined forces with colleagues in the colorectal surgery service to roll out the practice.
"We took a comprehensive look at everything that happens to our patients from the time they are seen in the surgeon's clinic to the time they go home and beyond," Thiele says. "We put our process under the microscope and compared it to best practices. We identified five primary areas where we felt changes would improve our risk-adjusted outcomes."
Pain Management
Rather than rely heavily on opioids that can lead to complications like constipation and respiratory repression, UVA has adopted a multimodal approach that includes a preoperative cocktail of analgesics like acetaminophen and celecoxib before and after surgery, along with intrathecal morphine and postoperative lidocaine infusions.
Food Intake
In the past, patients were placed on a clear liquid diet the morning of the day before their operation and stopped eating at midnight. UVA now allows patients to eat regularly until the evening before surgery. Patients progress to solid foods about a day into their recovery. "We've found that the body is quite good at autoregulating itself," Hedrick says.
Fluid Intake
Because midnight was the cut-off point for fluids, patients arrived at the operating room dehydrated. Therefore, they received a constant stream of IV fluids during the operation. Now patients can drink clear liquids until two hours before surgery.
"We ask them to finish a 20-ounce bottle of Gatorade as they drive into the hospital garage, which provides fluids as well as energy," says the ERAS development coordinator Bethany Sarosiek, RN, MSN, CNL, MPH. During the procedure, the patient's cardiac output is measured noninvasively, and the patient receives IV fluids only as needed, then start on clear liquids in the recovery room.
Ambulation
In the past, patients did not typically get out of bed until the day following surgery. UVA now encourages patients to stand in the post anesthesia care unit so they can be weighed.  They are out of bed and in a chair the night of surgery and walk several times during their postoperative day.
Patient Education
Formerly, many patients and their families arrived at the hospital with only a vague idea of what to expect — and little understanding of what they might do to accelerate their recovery. The colorectal team created a patient handbook, which team members review with patients and family members in the clinic. The handbook includes a checklist of items for patients to complete before and after their surgical procedure. "Thanks to this information, patients tell us they feel part of the team," Rea says. "They feel more motivated to participate in their recovery."
These changes are now incorporated as standard protocol for all colorectal surgery patients.
ERAS Expansion
UVA is a leader in embracing ERAS as an institution and, with Sarosiek as coordinator, has begun the process of rolling it out in additional surgical services. Preliminary results from gynecological surgery, the next service to adopt ERAS, have been promising and a number of other services are in the process of developing their protocols.
In the meantime, the colorectal team has continued to refine its standards and innovate. They have installed equipment that allows them to continuously monitor respiratory status during the first 24 hours after surgery, hired a nurse practitioner specializing in pain management and are converting the patient handbook and checklist to a smartphone app. "Enhanced recovery after surgery is a mindset," Thiele says. "It's a way of continuously improving patient outcomes based on the evidence. It never stops."