At the recent International Stroke Conference, researchers announced the results of three multicenter clinical trials (THERAPY, ESCAPE and SWIFT PRIME) that national and international experts believe will significantly alter stroke treatment. Each of these studies provides long-awaited, definitive proof that endovascular thrombectomy improves survival and lowers the risk of lasting disability in select patients experiencing ischemic stroke.
According to the results of two studies published in the New England Journal of Medicine, the incidence of death was cut in half in those ischemic stroke patients undergoing endovascular thrombectomy. These patients were also much more likely to return to normal activities and maintain their independence — 71 percent compared to 40 percent of those who were treated with tPA (tissue plasminogen activator) alone in one study, and 53 percent versus 29 percent in another study.
"We could not be more thrilled about this groundbreaking therapeutic discovery," says UVA neurology chair Karen Johnston, MD. "This treatment option can result in dramatic recovery that we have not seen since IV tPA, the stroke clot buster, was discovered."
"For the first time, we have Class 1A data that shows endovascular therapy improves outcomes and reduces morbidity in those with acute, large-vessel occlusion," adds UVA endovascular neurosurgeon R. Webster Crowley, MD.
The Right Tools
UVA researchers were involved in some of the earliest studies investigating the benefits of clot removal and have continued to push for further device development over the past decade. "UVA has helped shape the tools needed to do this procedure safely and effectively," says interventional neuroradiologist Mary E. Lee Jensen, MD, who was a member of the FDA Neurological Devices Panel when the first clot retrieval device (MERCI) was approved.
The introduction of a new generation of devices called "stentrievers" is one of the key reasons endovascular clot removal is now proven to be an effective stroke treatment. Similar to the stents used to open clogged arteries in the heart, the stents used to remove clots in the brain are mesh cages that are threaded through the femoral artery up to the blockage. However, unlike those used in the heart, the stents used in stroke treatment do not remain in the body. Instead, they are used to trap and contain the clot, and then are removed.
"We've known for some time that there are advantages to clot removal for select patients," says Jensen. "However, the first retrieval devices didn't hold onto the clot securely; now they're much more reliable. We just needed technology to catch up."
The Right Patient
UVA neurointerventionalists have been performing endovascular thrombectomy procedures for many years, primarily in those ischemic stroke patients unable to receive IV tPA. In light of recent study findings, however, this minimally invasive clot removal procedure will now be the standard of care for ischemic stroke patients with large blockages in a proximal location within the brain, according to Crowley. Endovascular thrombectomy is not recommended for those with clots in the smaller vessels of the brain.
Identifying which patients fit into this category — and doing so quickly — is one of the hurdles hospitals face as they strive to comply with these new recommendations. As a designated stroke center with distinct resources in place, UVA will have an advantage when it comes to adapting its processes to ensure all stroke patients receive the treatment proven most effective for their particular stroke event.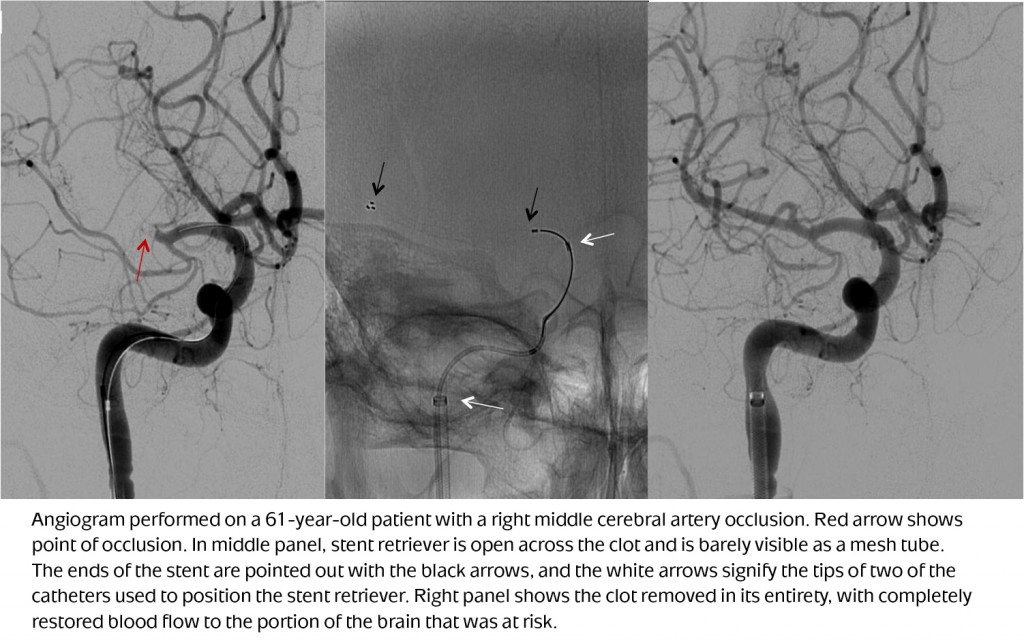 The Right Response
Orchestrating acute stroke care at UVA is a team of highly skilled stroke neurologists that will be instrumental in ushering in the process changes required to implement these new recommendations. They are on call 24/7 to respond at the bedside or to alerts from outside hospitals or emergency medical teams — by phone or through an extensive telemedicine network. They work quickly to evaluate the patient, identifying the type of stroke and its severity in order to make a recommendation for treatment. With endovascular thrombectomy added to that list of viable stroke treatment options, a prompt, accurate evaluation becomes a critical part of the equation.
Although it's difficult to confirm the type of stroke someone is having until the proper imaging is performed, there are some clues that a patient may have a large vessel occlusion, according to Jensen. "Typically these patients are higher on the NIH stroke scale," she says. "With a clinical evaluation and proper imaging, we can determine if a patient might be a candidate for clot removal."
If an emergent large vessel occlusion (ELVO) is suspected, the neurologist on call can initiate the necessary response and assemble the appropriate care team. A patient who presents in the UVA emergency department may have a CTA (computed tomography angiogram) to confirm the clot size and location, rule out a large evolving stroke, and then immediately be transferred to the endovascular suite for clot removal. A patient at an outlying hospital or in transit via ambulance may receive tPA prior to being transported to a hospital equipped to perform the advanced imaging and thrombectomy procedure.
The Right Place
UVA has five physicians trained in endovascular thrombectomy, including endovascular neurosurgeons R. Webster Crowley, MD, and Kenneth Liu, MD; interventional neuroradiologists Mary Jensen, MD, and Avery Evans, MD; as well as interventional neuroradiologist John Gaughen, MD, who is spearheading process changes at Bon Secours St. Mary's Hospital in Richmond. While these skilled interventionalists are key to ensuring a successful outcome, so too are the support staff and environment of care available to patients post-procedure.
"It's not just about removing the clot," says Jensen. "You have to have the neuro-critical care piece of the puzzle — the nurses and therapists — and the appropriate environment to ensure patients continue to benefit from the treatment."
The Right Time
Every stroke is different, but in every instance, "time equals brain." The sooner a patient receives treatment the better the outcome. To be most effective, the average timeframe for a patient to qualify for endovascular thrombectomy is approximately six hours from the onset of symptoms. For IV tPA, that window is four-and-a-half hours or less.
If you have a patient at an increased risk for stroke, Jensen recommends discussing the warning signs and the steps to follow if a stroke is suspected. "Play out a stroke scenario with patients and their families. Not everyone has a choice, so patients should go to the closest hospital," says Jensen. "But if possible, I would recommend to patients that they choose a hospital like UVA that offers all available stroke therapies."
"The interdisciplinary team of emergency medicine, stroke neurology, neurointerventional surgery, neurosurgery and neuro-critical care at UVA is unique to our region and the team is integrated to offer this type of high-level care in a very rapid, streamlined way," adds Johnston. "We know that minutes matter and that 1.9 million neurons die every minute that the cells don't get blood flow. Our whole team moves as fast as they can for this very reason. We welcome the opportunity to partner with referring physicians to care for all stroke patients."
UVA offers comprehensive stroke care to all stroke patients. To get a sense of just how many providers are involved in caring for these patients, take a look at this case study for one ischemic stroke patient who was treated with endovascular thrombectomy.