At a glance:
With the aging population, lumbar degenerative disease is common.
Although the majority of the patients can be managed with conservative treatment or limited decompressive surgeries, some patients with advanced degeneration require fusion surgery.
TLIF is one of the most common fusion procedures.
In contrast to traditional open TLIF, minimally invasive TLIF achieves effective results with less soft tissue damage, decreased blood loss, reduced postoperative pain and short hospital stay.
Most patients with lumbar spine degeneration can be treated with conservative treatment or simple decompressive surgeries. However, those with advanced degeneration resulting in spinal instability, canal or neuroforaminal stenosis may experience low back pain, leg pain, numbness, weakness or difficulty ambulating that can only be relieved with fusion surgery.
Transforaminal lumbar interbody fusion (TLIF), one of the most commonly performed fusion procedures, involves removing the lamina and facet joint, placing an interbody spacer or cage, bone grafting and stabilizing the spine with rods and screws. Traditionally, open TLIF surgery would require a lengthy incision and extensive muscle stripping. However, minimally invasive approaches to the spine have revolutionized spine surgeries like this one.
"Minimally invasive surgery (MIS) techniques allow spine surgeons to achieve the same goals of open surgery while minimizing the collateral damage associated with open approaches," says UVA neurosurgeon Chun-Po Yen, MD. By avoiding a long incision and extensive muscle dissection, surgeons reduce tissue injury, which means decreased blood loss, less postoperative pain, shortened hospital stays and expedited recovery. In addition, several laboratory, imaging and biomechanical studies have shown that MIS approaches reduce paraspinal muscle atrophy and allow greater preservation of normal spinal motion.
The case study below provides a closer look at the advantages of minimally invasive TLIF and how it's done.
Case Study: Minimally Invasive TLIF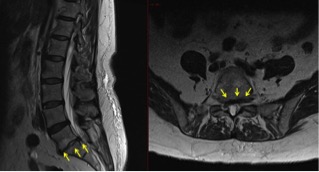 Patient: Mary Miller, 56-year-old female
Assessed by: UVA neurosurgeon Chun-Po Yen, MD, and Lara Myers, NP
Presented with: chronic back and leg pain
Miller had a 10-year history of chronic low back pain, right leg sciatica pain and right foot weakness. Her symptoms progressively worsened and began affecting her daily activities and her job as a nurse. Conservative treatment, including epidural steroid injections and physical therapy, had not been effective in alleviating her pain. "I was in chronic pain and I tried every nonsurgical intervention I could think of – yoga, physical therapy, medication – but nothing worked," says Miller.
Diagnosis: degenerative disc disease
An MRI and CT of the lumbar spine showed severe degenerative disc disease at the L5-S1 level. "The collapsed and bulging disc was causing spinal canal, lateral recess and neuroforaminal stenosis with S1 nerve root impingement," says Yen.

Treatment: Transforaminal lumbar interbody fusion (TLIF)
The procedure was performed under general anesthesia. Miller was placed in a prone position. Using two 2-cm incisions and X-ray guidance, pedicle screws were placed on the side of the spine in which the patient did not have symptoms. A mini-open, 4-cm incision was then made on the symptomatic side of the spine to place additional pedicle screws and to expose the spine. The surgeon performed a hemilaminectomy and full facetectomy to completely decompress the nerve. By carefully retracting the nerve, the degenerated disc was removed successfully.
With the placed pedicle screws acting as retractors, the disc material was then further cleaned. Using bone harvested from the decompression, the surgeon filled the interbody cage and inserted it into the proper position of the disc space to restore the disc height. Two rods were then passed under the skin, attached and locked to the pedicle screws — one on each side — to stabilize the spine and restore lumbar lordosis. The small incisions were closed with absorbable sutures and covered with skin glue.
Recovery: Discharged after two days with no back brace required
Miller had complete resolution of leg pain immediately after surgery. Her incisional pain was minor given the minimally invasive nature of the surgery. She was discharged two days after surgery. "I felt instant pain relief," says Miller. "I was able to walk out of the hospital."
Outcome: Resolution of symptoms and return to daily activities
Three months post-op, X-rays showed good spinal fusion. Now one year after surgery, Miller has no leg or back pain and she has returned to her active lifestyle and demanding career. "In just a few months, I was back to normal — or better than normal," says Miller. "Now, I have no more limp, I'm doing yoga and I can get in and out of the car or get clothes out of the dryer with no problem. After being in pain for so long, I forgot what normal felt like. So I'm excited to do these things again. This whole process went very smoothly for me from beginning to end."
To refer a patient to UVA Health System, call 800.552.3723.