Thanks to its growing sophistication and sensitivity, magnetic resonance imaging (MRI) has become the modality of choice for an ever-broader range of conditions, from tumors and aneurysms to back pain and torn cartilage. Unfortunately, MRI scans can cause pacemaker and implantable cardioverter defibrillators (ICDs) to malfunction, endangering the lives of people who depend on them.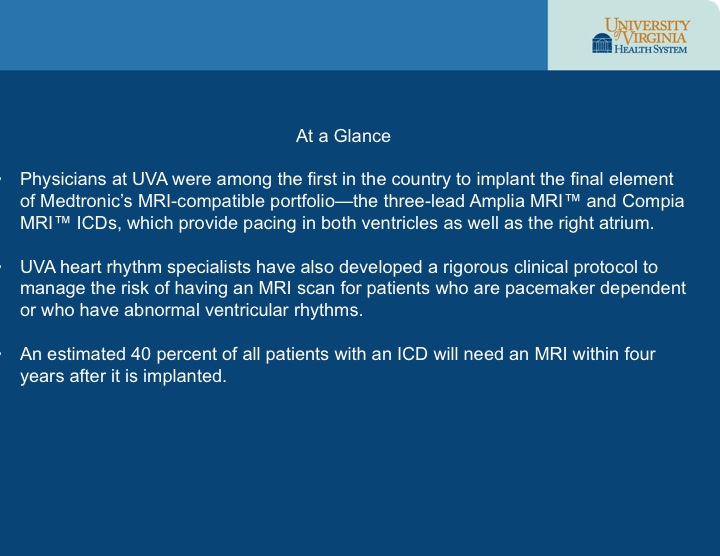 Heart rhythm specialists at UVA Health System have made it a priority to develop clinical procedures that enable most pacemaker and ICD patients to undergo MRIs safely. They have also participated in clinical trials of next-generation of MRI-compatible devices. This March, physicians at UVA were among the first in the country to implant the final element of Medtronic's MRI-compatible portfolio—the three-lead Amplia MRI™ and Compia MRI™ ICDs, which provide pacing in both ventricles as well as the right atrium.
For John Ferguson, MD, UVA's ability to introduce new treatments as soon as they are approved highlights the advantage for patients of academic medical centers. "Because we participate in clinical trials, we gain exposure to new technology long before it is approved by the FDA," he says. "When it is approved, we are already familiar with the devices, enabling us to introduce them as soon as possible." UVA was among the first to implant Medtronic's MRI-compatible pacemaker in 2011 and its two-lead ICD in 2015.
Creating Options for Patients
According to the most recent figures, there were 33 million MRI scans performed last year in the United States — and before each one, technicians asked patients about the presence of metallic objects on or in their bodies. They are particularly concerned about pacemakers and ICDs because the powerful magnetic field generated by the MRI can damage their circuit boards and heat the leads connecting them to heart tissue.
Before the introduction of the MRI-compatible devices, access to MRIs was an issue that all potential pacemaker and ICD patients had to consider, even those not needing periodic MRI scans. That's because an estimated 40 percent of all patients with an ICD will need an MRI within four years after it is implanted. Access to MRIs is particularly a problem for patients who are pacemaker dependent or who have abnormal ventricular rhythms.
UVA Health System has developed two approaches to address this challenge. For patients with standard pacemakers and ICDs, UVA heart rhythm specialists have developed a rigorous clinical protocol to manage the risk of having an MRI scan. "The protocol involves careful assessment of the patient and a thorough analysis of the risks and benefits of the scan," Ferguson says. "If the patient is an appropriate candidate, we program the device, monitor the patient during the scan and then recheck the device afterward."
Ferguson and his colleagues also worked closely with Medtronic on its next-generation MRI-compatible devices, participating in both the Amplia and Compia trials. Amplia has more sophisticated computer algorithms for treating various abnormal heart rhythms such as atrial fibrillation.
UVA implanted four of these devices in the first week they were available. "Patients have been asking for MRI-compatibility for some time now," Ferguson says. "Going forward, it is hard to imagine a circumstance where you would not want to use an MRI-compatible pacemaker or ICD."
To arrange a meeting with a UVA Heart & Vascular physician, contact our Physician Relations team.