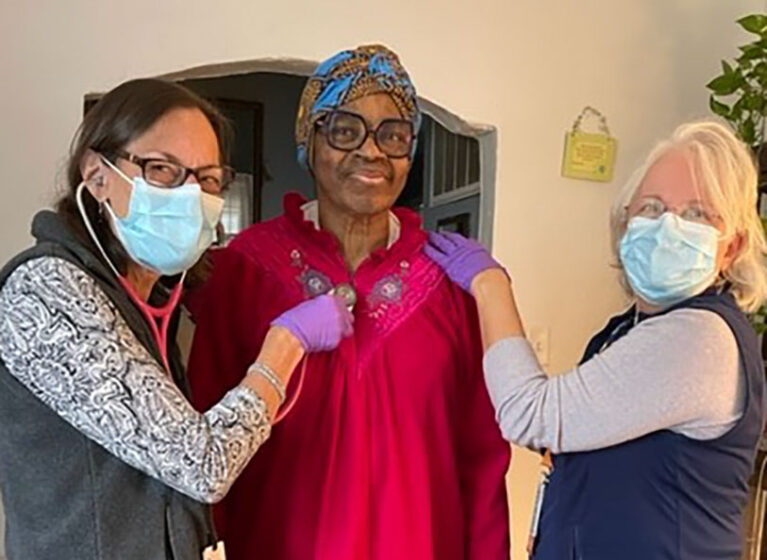 Today, we can have everything from toilet paper to a new car delivered to our doorstep. So why not medical care? There are millions of people across the country for whom home healthcare isn't just a convenience, but a necessity.
Yet, around 85% of older adults who need home-based care aren't getting it. With the launch of its Virginia at Home Program (VaH), UVA Health is meeting the needs of this overlooked population, bringing comprehensive primary care services home.
"This program is for people who can't leave their homes without significant assistance from another person," says Medical Director Justin Mutter, MD. "They're often called the 'invisible homebound' because they have such a hard time accessing healthcare. Unfortunately, they are invisible, so to speak, until something really bad happens and they end up in the emergency department."
"Our goal is to try to keep people out of the hospital and out of the emergency department so that they can really be fully supported and thrive in their home environment."
In just two years since it began, VaH has made great progress in meeting this goal, reducing both hospitalizations and emergency department visits across their patient population by 45%, according to Mutter. Here are some of the factors that have made this care model a success.
Top-Notch Team
In the earliest stages of VaH's launch, Mutter says choosing the right team was priority number one. "We need the best of all of our teams, working together at the top of our licenses," says Mutter. "This is critical for the care of homebound, older adults who have a lot of medical complexity."
The VaH team is made up of a physician, two nurse practitioners, a nurse, a pharmacist, and a team of social workers who split their time with other UVA Health programs. Collaborating with hospitalists caring for high-risk inpatients, as well as with hospice agencies and others within the community, this team works to broaden its reach and deliver the best possible care to patients where they are.
It takes a dedicated and resourceful care provider to deliver quality service in a setting not designed for clinicians. Every day is different, and each patient is unique. So planning is key.
"We meet at the beginning of each week to review our patients' concerns and make sure we map out a plan for the week. On any given day, we're doing follow-up visits, we're making sure that we go out to our patients' homes who may be experiencing some healthcare concerns — we want to make sure we catch problems early and try to prevent them from becoming big problems," Mutter explains.
The team spend all day, every day, seeing patients.
Broad Service Area
Compared to other similar programs across the country, VaH has a broad and diverse service area that spans both rural and urban areas. "We serve 10 counties surrounding UVA in addition to the city of Charlottesville," says Mutter. "Many of these communities are in what we call 'HRSA shortage areas.' HRSA is the federal government's Health Resources and Services Administration. These areas lack access to primary and specialty care, so it's important to make sure we're accessible to those communities, as well as our urban participants who are closer to our health system. We want to keep growing our program so that we can reach as many people as possible."
Multiple Touchpoints
Thanks to advances in technology, providing comprehensive care to homebound patients extends beyond in-home provider visits. The VaH program utilizes a variety of outreach methods when appropriate to round out its services and make them more widely accessible.
"Not every single visit or patient engagement is an in-person house call," says Mutter. "We use telemedicine and telephone calls to make sure we're available as needed. This is meant to be a high-touch model, but there are some concerns, such as a problem with a medication, that can be addressed without an in-home visit."
Solid Relationships
There's something unique about caring for someone in their own home. It allows providers and patients to connect on a more personal level. "It's a special privilege to be able to walk across someone's threshold into their home to provide in-depth care. Typically, patients are walking across our thresholds into our clinics, and that's a difficult place for many patients to be," says Mutter.
"The relationships we can have with our patients, their families, and caregivers can be deeply meaningful in ways that I think only the house call can provide. We're able to sit around the kitchen table and talk about a patient's needs and do our best to really meet those needs together."
In addition to convenience and care quality, these solid relationships are key drivers of the high level of patient and clinician satisfaction with this home-based care model. Caregivers, too, have had a positive response. "These patients have significant caregiving needs, and that creates a huge burden for family members or friends who might be involved in their care. We've shown that we've been able to reduce caregiver burden for those who have participated in our program. This is a very important outcome for us."
Is In-Home Care an Option for Your Patient?
Although house calls used to be the norm, today home-based care is not widely available. Where it is, it's limited to patients who meet very specific Medicare criteria. Patients eligible to participate in the VaH Program must be:
Homebound: they cannot leave their home independently, without significant assistance, or have not left their home in 1 to 2 months
Medically complex: this may include patients who have difficulty accessing care because of serious medical problems, like dementia
Poorly served: unable to access the care they deserve or struggling with usual forms of care
The Future of Home-Based Care
The demand for in-home care is unlikely to decline as our population ages and chronic conditions like heart disease and diabetes continue to rise. Programs like VaH are early models of what, Mutter says, will be the wave of the future. "Across the country and, in fact, across the world, there's a turn toward home-based models of care in ways that we haven't seen in decades," he says.
"There are even care models now called 'Hospital at Home,' for example, where we can set up systems so that if somebody needs hospitalization, in certain circumstances, we can provide that care safely in their home, in their own comfortable bed. I think that what we've done with Virginia at Home is really just the tip of the iceberg. We're excited about being able to think about home-based care models as a way to really expand access to both primary care and other forms of care for high-risk persons."