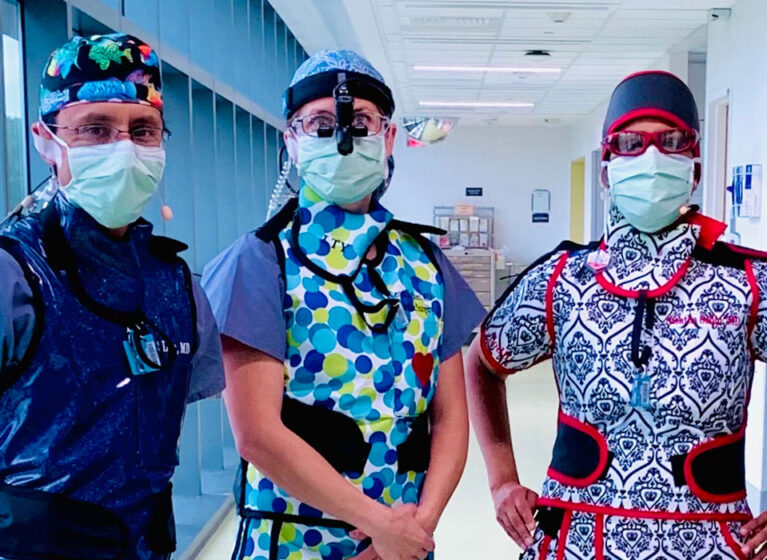 UVA Health recently presented live cases demonstrating key advancements in techniques for mitral valve replacement and repair. UVA joined just 10 institutions invited to present cases to hospitals across the world at the 2021 Transcatheter Valvular Therapeutics (TVT) Conference, the premier annual conference for structural heart disease.
"Traditionally, valve disease has been treated with open-heart surgery. Minimally invasive transcatheter technology has transformed how valve disease is treated in the contemporary era," says Nishtha Sodhi, MD, part of the UVA Advanced Cardiac Valve Center. "At UVA, we are very fortunate to offer these up-and-coming technologies, many of which are offered as part of clinical trials at very select hospital sites."
New Mitral Valve Replacement Option for Patients Who Had None
At the conference, the team completed a mitral valve replacement using Tendyne. This novel technology offers an option for patients who previously had no options.
"Due to the complexity of their valve disease, these patients are not amenable to either standard open surgery nor transcatheter repair with a MitraClip," explains Scott Lim, MD, part of the team that presented the case. "We were honored to demonstrate the Tendyne technology in just such a patient, to educate our colleagues around the world about how this can be used effectively."
UVA Health is a leading enroller in the clinical trial investigating the technology. Lim performed the case with Dale Fowler, MD, Leora Yarboro, MD, and Sodhi.
New Device for Complex Mitral Valve Repair
The second case demonstrated use of the PASCAL device, which is being compared against the MitraClip in the CLASP II clinical trial. This device includes several innovative design features, including a flexible nitinol construction, central spacer, and smooth surfaces, that potentially improve physicians' ability to repair the valve.
"We were honored to demonstrate to our colleagues how to use these features to efficiently and effectively repair a very difficult and complex case of mitral regurgitation," Lim says.
He performed the case with Fowler and Sodhi.