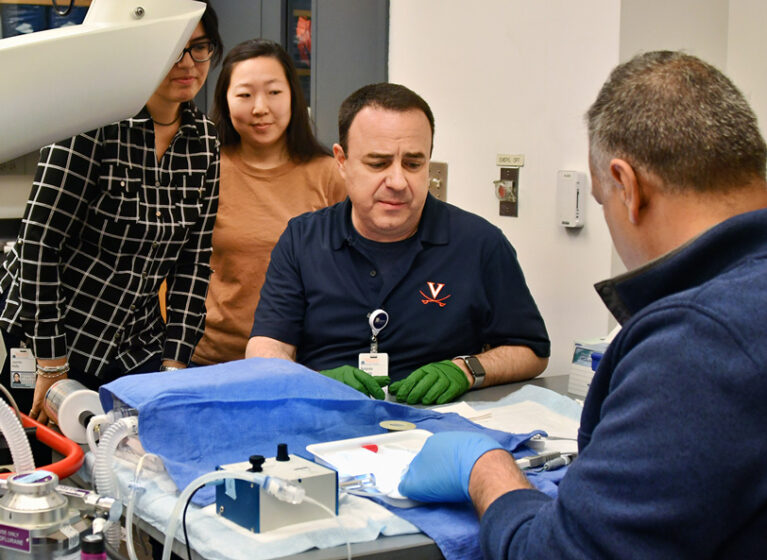 Multiple clinical trials underway at UVA Health aim to discover the best method for inhibiting interleukin-1 (IL-1) to blunt inflammation in heart attack and heart failure patients.
Antonio Abbate, MD, PhD, a professor of cardiology and medical director of the Exercise Physiology Laboratory, studies anti-inflammatory therapies that can prevent heart failure after a heart attack and reduce inflammation in patients already experiencing heart failure.
Heart Failure Is a Growing Problem
Heart failure, a frequent complication following a heart attack, affects close to 7 million American a year. In 2017, the American Heart Association projected that heart failure incidence would increase by 46% by 2030.
As a high-performing center for heart failure care, UVA Health is a pioneering leader in exploring new heart disease treatments. This clinical translational research exploits the workings of IL-1 and the anti-inflammatory drug anakinra. It is the primary research focus for Abbate. The trials are funded by the National Institutes of Health.
The ultimate goal? To develop a U.S. Food and Drug Administration (FDA)–approved drug that prevents and reduces inflammation in patients with heart attack and heart failure, thereby reducing morbidity and mortality in this large population.
Exploring Inflammation Control in Heart Failure
Abbate and his collaborators hope to:
Expand the use of anakinra and anti-interleukin therapies to treat other inflammatory cardiovascular diseases
Determine who to treat and for how long
Determine which patients are most likely to achieve a favorable outcome and which might be at risk for complications
Develop precision immunotherapy
Identify additional treatment targets
"We focus on inflammation and interleukin-1 because it is a first line of defense," Abbate says. "We know that independent of the injury, the immediate inflammatory response is activated and produces interleukin-1, which leads to further injury and aggravation of the disease process."
Understanding the Inflammation & Immune Response Connection
The potential benefits of reducing inflammation are well understood, and readily available lipid-lowering drugs, such as statins, are known to also reduce inflammation.
"But when a patient is in the hospital with an ongoing heart attack or the heart is already damaged and failing, we need powerful and targeted anti-inflammatory drugs," Abbate says.
Current studies in Virginia, at UVA Health and VCU Health, explore how preventing the production or action ofIL-1 limits the injury to cardiac muscle during a heart attack.
An earlier pilot study found that patients treated with anakinra "do better, have reduced inflammation, feel better, and remain free of heart failure," Abbate says. Earlier work also determined that blocking IL-1 caused remission of recurrent pericarditis syndrome, a condition characterized by intense inflammation of the sac surrounding the heart.
Clinical Trials: Heart Attacks and Inflammation
Virginia-ART4: Anakinra and Heart Failure
Researchers believe the reaction of heart muscle to inflammation during a heart attack may contribute to heart failure risk.
The clinical trial Interleukin-1 Blockage in Acute Myocardial Infarction to Prevent Heart Failure (Virgina-ART4) tests the ability of anakinra to block inflammation during and after a heart attack.
"We are treating patients for a short period while the heart is intensely injured and inflamed," Abbate says.
Patients in the study randomly receive a daily injection of 100 mg of anakinra or a placebo for up to 14 days. Anakinra mimics a naturally occurring protein made by the body to block inflammation. The FDA approved anakinra 100 mg daily for the treatment of rheumatoid arthritis and other chronic inflammatory diseases. But it's not currently approved for the treatment of heart disease.
Abbate also partners with Coleen McNamara, MD, and other researchers in the Beirne B. Carter Center for Immunology Research to understand:
If anakinra, by blocking IL-1, successfully modulates inflammation
If any predictors, markers of success, or side effects exist and can be monitored over time
The best length of treatment for different disease settings
"We're trying to see what inflammatory cells are being modified and how the patient's immune profile can predict how these treatments may work," Abbate says.
Today, doctors look for the inflammatory biomarker C-reactive protein produced by the liver. This predicts risk but is downstream in the cascade and doesn't reveal what was modified in the disease process.
Abbate and his team, including data scientists, are studying immune cells in the blood to see how they expand and activate when inflammation occurs. Patients will be followed for a year. About 84 people will take part in the four-year study.
REDHART2: Anakinra & Exercise Capacity
In a second clinical trial, Abbate and his close collaborators, partnering with Benjamin Van Tassell, PharmD, at VCU Health, will determine the effects of anakinra on peak aerobic exercise capacity. This will be measured with a cardiopulmonary test after 24 weeks in patients with recently decompensated systolic heart failure and increased systemic inflammation.
The Interleukin-1 Blockage in Recently Decompensated Heart Failure - 2 (REDHART2) study is a randomized, double-blinded, placebo-controlled phase II trial.
A pilot REDHART study found that 12 weeks of anakinra treatment was associated with a significant improvement in peak aerobic exercise capacity. Two weeks of treatment showed no improvement.
The REDHART2 study is designed to expand and confirm the beneficial effect of sustained anakinra treatment (24 weeks) on peak VO2. It also explores the potential effect on hospital readmissions for heart failure.
Patients are randomized 2:1 to active treatment. They'll be twice as likely to receive anakinra versus the placebo.
"We know that exercise training can improve capacity and that anakinra has anti-inflammatory effects," Abbate says.
Other Ongoing Multicenter Trials
Abbate and his UVA Health team also are collaborating on the multicenter HERMES study sponsored by Novo Nordisk. This trial looks at how the drug ziltivekimab works in people with heart failure preserved ejection fraction (HFpEF) and evidence of inflammation.
Ziltivekimab is an anti-inflammatory drug that blocks interleukin-6 downstream from IL-1, "and we think it will be beneficial in HFpEF," Abbate says.
Patients will make up to 20 clinic visits. Participants will use a study app on their phones. They can record and share information about their injections and complete questionnaires.
Abbate also continues to collaborate with the research team at Virginia Commonwealth University. One study he began at VCU uses the same IL-6 blocker being tested in the HERMES trial. The ZEUS study looks at how ziltivekimab works in people with cardiovascular disease, chronic kidney disease, and inflammation.
"We think this might help prevent future cardiovascular events," Abbate says.
A Commitment to Bettering Outcomes for Heart Patients
Abbate joined UVA Health a year ago. For the past 15 years, he led a team studying IL-1 and its inflammatory mediators in animal studies and clinical trials. During that time, Abbate collaborated with UVA Health counterparts at the Beirne B. Carter Center for Immunology Research. 
He joined UVA Health "because there is a genuine interest in understanding how inflammation and the immune system communicate." He notes earlier partnerships with, and the work of Coleen McNamara, MD, Carter Center director; and Gary Owens, PhD, both of whom have studied cardiovascular disease and the immune response for decades.
Abbate also works closely with several other key collaborators, including:
Stefano Toldo, PhD, Associate Professor of Medicine, UVA School of Medicine
Benjamin Van Tassell, PharmD; Professor; School of Pharmacy; Virginia Commonwealth University
Jeff Saucerman, PhD; Professor, Biomedical Engineering, UVA
Salvatore Carbone, PhD, Assistant Professor and nutritionist, Virginia Commonwealth University
Fadi Salloum, PhD; Professor, Pauley Heart Center, Virginia Commonwealth University