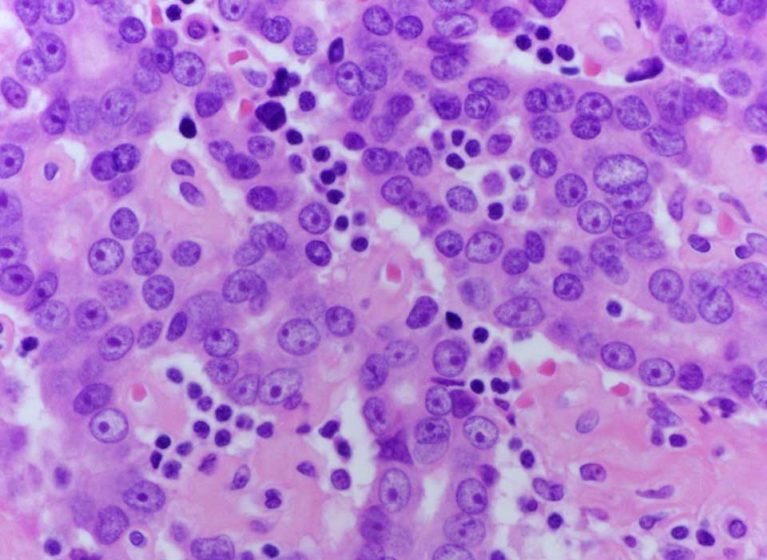 In a paper in the journal Nature Communications, UVA Cancer Center researchers reveal a new mechanism for how androgen regulates communication within prostate cancer cells. "The better we understand how androgens drive biological effects, the better clinicians will be positioned to understand why anti-androgen therapy fails, and perhaps how even better therapies can be designed," said Bryce M. Paschal, PhD, of the UVA School of Medicine's Department of Biochemistry and Molecular Genetics.
Enzyme Insight Could Impact Ovarian & Breast Cancer Treatment
Scientists have struggled to understand how modified proteins regulate the androgen receptors. One key, Paschal and his team discovered, is Parp7 — an enzyme target of certain cancer drugs to treat prostate, ovarian, and breast cancers in patients with mutations in DNA-repair genes. From gene expression data, Paschal and his team observed there are lower levels of Parp7 enzyme in prostate cancer that has spread to other parts of the body than in the initial tumors. That may suggest that a reduction in Parp7 is associated with the progression of the disease.
With their new androgen insights, Paschal and his colleagues have provided scientists with important new directions to explore in the battle against prostate and other cancers. "Our next steps will be to use preclinical models to determine the role this pathway plays in prostate cancer progression, and whether inhibition of the pathways slows disease," Paschal said. "Our study emphasizes there is still much to be learned, and that basic science plays a critical role in defining the molecular context for enzyme and drug action."
Read the full paper in Nature Communications.
Top-Tier Prostate Cancer Program
The prostate cancer program at UVA provides a context of excellence for researchers and clinicians alike and offers:
Urologic surgeons overseeing one of the nation's most experienced robotic prostatectomy programs

Leading medical oncologist who gives patients access to important national clinical trials

Collaborative team so every patient is encouraged to consult with a surgeon and radiation oncologist, giving them access to every therapy proven to be effective

Clinical trial investigating low-intensity shockwave therapy for erectile dysfunction
Our work in prostate cancer is one of many ways where we've proven we're "taking maximum advantage of our major university's resources to improve the health of the community," said Thomas P. Loughran Jr., MD. In 2013, Dr. Loughran took the helm of UVA Cancer Center and is now overseeing our transition to join (officially in February) the ranks of NCI-designated Comprehensive Cancer Centers.