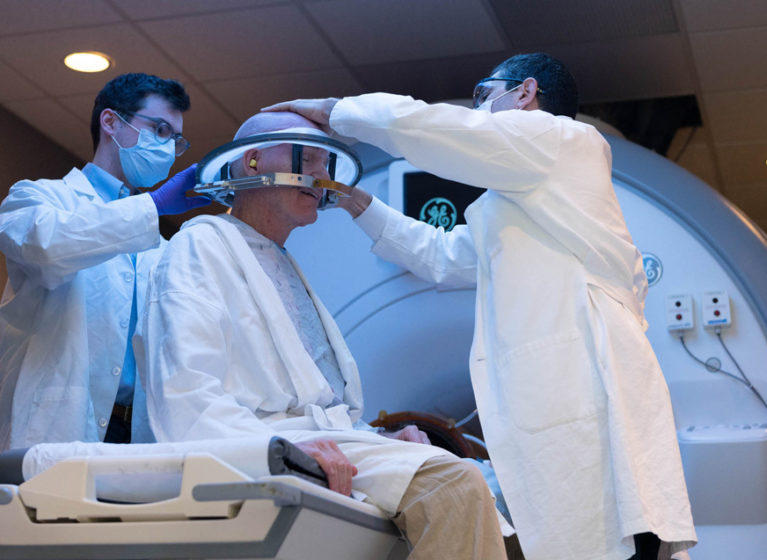 UVA Health, a national leader in creating and investigating therapeutic applications for focused ultrasound, continues to push the envelope of possibility with two current clinical trials. These clinical trials aim to lessen cancer pain and bolster the effectiveness of systemic immunotherapy.
Pioneers in Focused Ultrasound
Focused ultrasound is a method for performing stereotactic surgery that combines ultrasound with MRI guidance. The noninvasive approach treats tissue within the body without the need for incisions. Patients travel from around Virginia to UVA Health to receive this treatment.
UVA Health has an extensive history with focused ultrasound. The Focused Ultrasound Foundation, an organization that works to expand the adoption of focused ultrasound for treatment, was founded by a former UVA neurosurgeon and is located in Charlottesville, VA, our home base. UVA Health's own dedicated Focused Ultrasound Center opened in 2009, providing life-improving treatment to patients suffering from essential tremor, Parkinson's disease, uterine fibroids, and some breast cancers.
Additionally, UVA neurosurgeon Jeff Elias, MD conducted the pivotal clinical research that resulted in FDA approval of focused ultrasound treatment for essential tremor. We were at the forefront of implementing this new technology, which can bring relief to the 10 million Americans suffering from essential tremor.
Relieving Pain & Bolstering Cancer Care with Focused Ultrasound
We're aiming to expand the use of focused ultrasound for cancer services through these two trials:
The first is an FDA-approved pilot study with the goal of improving quality of life by using focused ultrasound surgery to lessen perceived pain. Certain head and neck cancer patients experience severe pain that is refractory to usual palliation methods, such as opioid medications. Patients in this NIH-funded study undergo one focused ultrasound procedure, a unilateral stereotactic focused ultrasound mesencephalotomy.
"We are taking advantage of the incredible precision of FUS and our increasing understanding of the brain's pain circuitry," states Elias. "This procedure is being studied as a method to interrupt pain signals."
The second trial aims to break down barriers within advanced solid tumors that prevent the body's own T-cells from mounting an effective immune response against the tumor. Patients in this study receive one short focused ultrasound ablation procedure performed under sedation. The goal is to alter the environment inside of the solid tumor to allow T cells to enter it. One cohort only receives the focused ultrasound procedure, while the other gets the procedure along with concurrent systemic immunotherapy (PD-1 blockade therapy).
"It's exciting to be running a trial that utilizes a noninvasive method of altering and targeting the tumor site with the goal of bolstering the body's own innate immune response and improving systemic therapy for patients," says the principal investigator, Lynn Dengel, MD.
A Future with Fewer Risks & Easier Recovery
As a leader in the field of minimally invasive procedures, UVA is invested in improving both patient outcomes and patient experience. Through new technologies like focused ultrasound, we can effectively treat patients in ways that don't require extensive recoveries with heightened risks.
"There is so much promise and excitement for different treatments that it can be hard to know what to focus on," notes Elias. "There are so many different ways this technology can be used and a lot of work to be done."