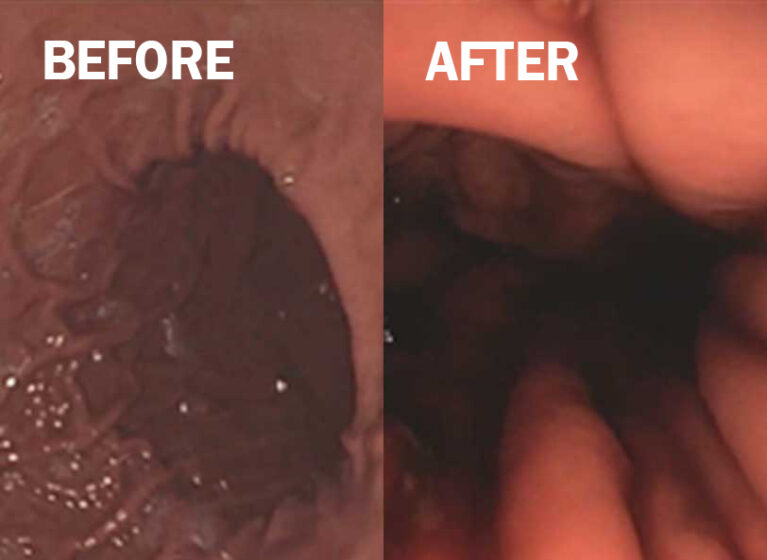 An advanced bariatric procedure performed at UVA Health carries less risk than other weight loss surgeries and can help patients achieve their weight loss goals.
Endoscopic sleeve gastroplasty (ESG) adds a non-surgical treatment option to patient care plans. The procedure requires a surgical team and sedation. It provides access to a weight loss procedure that more patients are likely to be good candidates for.
ESG is also an option for patients who need to lose weight before another procedure like a joint replacement or transplant.
"Endobariatrics provides that intermediate option for patients who need to lose weight but are hesitant to undergo surgery or don't meet the guidelines for surgery," Alexander Podboy, MD, says.
UVA Health is one of the only academic medical centers in Virginia and on the East Coast offering ESG.
An Intermediate, Nonsurgical Option
Among patients who qualify for bariatric surgery, only 1% eventually get the procedure. There are many reasons people don't undergo bariatric surgery, Podboy says. These include cost, insurance coverage, and the perceived risk of potential complications.
"What do you do when the meds fail?" he says. "ESG offers a great opportunity to lose weight."
Like sleeve gastrectomy, ESG allows surgeons to make the stomach smaller, but with a minimally invasive approach.
A flexible camera fitted with a suturing device is threaded into the patient's mouth and down to the stomach. The surgeon fixes the sutures to the stomach lining and adjusts the stomach's shape.
Patients who receive ESG lose 18-20% of their total body weight. Those who get a gastric sleeve lose about 25% of their total body weight.
"This is a great option for those who don't want surgery or are unable to get it," Podboy says. Some patients may have other health conditions that make them a poor candidate for gastric sleeve surgery. Others may need to lose weight before qualifying for gastric sleeve.
Benefits of ESG
Podboy is ramping up UVA Health's ESG practice and exploring ways to make the procedure safer and more effective for the long term. UVA Health has been performing ESG on a limited basis for the past few years.
"If patients can have a procedure that helps them lose weight with less recovery time and it helps improve their health, that is what we are interested in," Podboy says.
ESG also has applications beyond an initial weight loss treatment. It can be used in people who gain weight after bariatric surgery. ESG can re-tighten the stomach pouch or make other adjustments.
Recovery is much easier after ESG. Patients often go home the same day, with less pain, no incision, and less nausea. Most follow a graded diet after ESG and see Podboy for monthly follow-up visits.
Personalized, Patient-Centered Care
Podboy and his team personalize care as much as possible. Patients are referred by other bariatric surgeons or find the program themselves after searching online. A multidisciplinary team, including gastroenterologists, bariatric surgeons, and obesity medicine specialists, meets weekly to discuss the best approach for each patient.
The team works to ensure patients have agency in their healthcare decisions and receive good advice that fits with their lifestyle goals and risk profile.
"We marry all we can offer with what they want," Podboy says. "We look at how can we help folks today, tomorrow, and in 10 years."
To date, feedback from ESG patients has been positive. Many achieve their weight loss goals. Several have lost more than 100 pounds, Podboy says.
"Obesity doesn't just affect the scale, it affects one's ability to move, to live, and to thrive," notes Podboy.
UVA Health continues to explore and study the pathogenesis behind obesity, as well as improve and research obesity therapies, including endoscopic treatments, medicines, and surgery.
"We want to push the boundaries of what is possible and continue research to see how we can refine these procedures," Podboy says. "We know our efforts to help people lose weight improves health across the board."