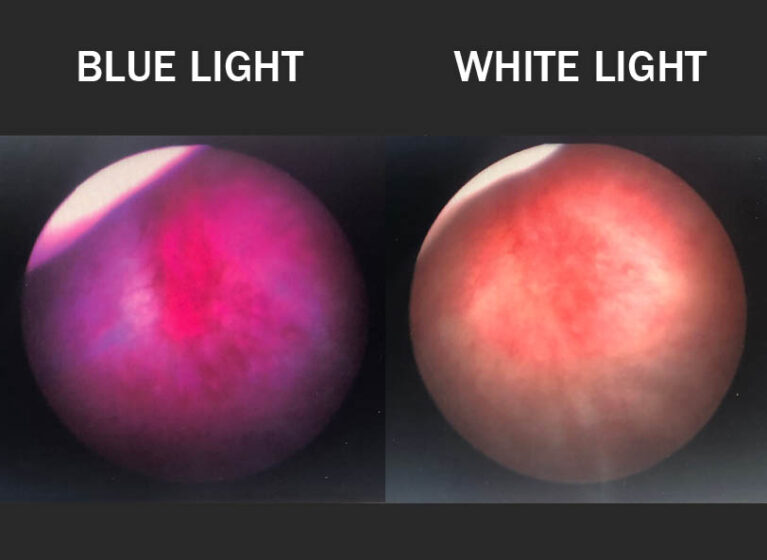 Cystoscopy plays a vital role in treating people with non-muscle invasive bladder cancer. UVA Health is using its expertise in this procedure to minimize the disease's high recurrence rate in two ways:
Providing the Virginia region with a technique that enhances surgeons' ability to diagnose, evaluate, and remove bladder cancer tumors
Bringing urologic care to rural parts of Appalachia where physicians are in short supply
Blue Light Enhances Precision of Excisions
According to UVA urologist Tracey L. Krupski, MD, the most important thing you can do to minimize cancer recurrence is to resect all the cancer that could be there the first time you find it. But the traditional white light has limited sensitivity for detecting noninvasive cancers.
"Classically, we look at the bladder with white light for anything that looks red, is mounded up, or has increased vascularity, and try to remove it," she explains. "Blue-light cystoscopy increases the detection rate with those cancers. Studies show that anywhere from 20 to 25% of tumors can be missed by the standard white light."
Blue-light cystoscopy works in two steps. First, Cysview® (hexaminolevulinate) is instilled into the bladder and dwells there for about 45 minutes. Cysview causes intracellular accumulation of photoactive porphyrins in rapidly proliferating cells, those most likely to be cancer. Then, in the operating room, the surgeon washes out the drug and views the bladder with blue light. The photoactive porphyrins fluoresce bright pink, guiding the surgeon to areas to remove or cauterize.
Clinical trials have shown blue-light cystoscopy reduces recurrence when used to guide transurethral resection of bladder cancer. In fact, American Urological Association and Society of Urologic Oncology guidelines recommend using blue light, if it is available.
Two years ago, UVA became the first institution in Virginia to adopt the technology. The UVA urology team has since become renowned for its blue-light capability, and physicians from throughout Virginia as well as Washington, D.C., West Virginia, and Tennessee refer patients to the medical center.
"Patients come to us because their cancer could not be found with traditional white light," says Terran W. Sims, MSN, ACNP-C, a nurse practitioner specializing in urology. "We use blue light to help identify their cancer and then develop a treatment plan for them."
Looking to the future, researchers at UVA and other institutions are investigating how blue-light cystoscopy could be used in the outpatient setting for surveillance to further improve patient outcomes.
Providing Rural Appalachians With Access to Urology Care
In addition to offering technologies not available elsewhere in Virginia, UVA has been an innovator of care models that increase the accessibility of urologic care. The American Cancer Society (ACS) awarded grants to Krupski, Sims, and others at UVA to study the effectiveness of mobile cystoscopy and to teach advanced practice providers in rural areas of Appalachia to perform cystoscopy.
People who live in rural areas or are uninsured often have to travel long distances to receive care. "The inaccessibility of care causes them to miss surveillance follow-up visits, leading to higher cancer recurrence rates," Krupski explains. "By providing services locally, we can improve the historically low compliance rate with recommended bladder cancer follow-up schedules and detect cancer recurrence earlier."
As part of the new models of care, Sims traveled from 3 to over 5 hours to see patients. "I went quarterly and would see 4 to 6 patients," Sims says. "These patients don't have cars and don't have a way to get to UVA, so we were providing access to cancer care. Without the program, they would not have been seen by anyone."
With ACS grant support, Krupski trained 5 advanced practice providers from around the state in cystoscopy. Now they have the capability to provide onsite services at clinics in 3 rural Virginia towns, so residents have ready access to urology care near where they live.
That care would not be possible without the right digital technology. Prior to training the advanced practice providers, Krupski led an investigation to test various equipment combinations that transmit digital images in real time as a urologist interprets them. The research showed 2 of the 8 combinations assessed provided pictures comparable in quality to traditional cystoscopy. This study allowed UVA to develop an effective rural urology care model.
"If our tele-cystoscopy system is widely adopted," Krupski says, "it has the potential to improve compliance for rural patients anywhere in the world."