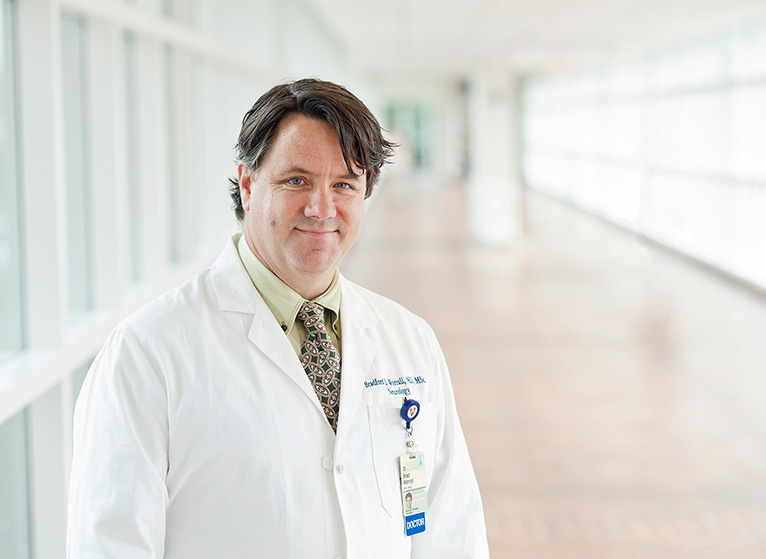 Stroke is the second most common cause of death and the leading cause of adult disability worldwide. Molecular mechanisms underlying the risk for stroke aren't fully understood, making it a challenge to identify and develop new treatments and preventative measures.
UVA Health's stroke team is aiming to change that. We're participating with researchers worldwide to expand our understanding of stroke and pinpoint new avenues for care.
International Research Expands Stroke Knowledge
"This kind of work is so important for us to understand the biology of what's going on," says Brad Worrall, MD, MSc, a UVA Health neurologist at the forefront of stroke research. "And that is how we're going to crack the nut of preventing, and better treating, stroke."
For Worrall, the journey to understanding stroke biology kicked into gear in 2007, as a founding member of the International Stroke Genetics Consortium (ISGC). ISGC researchers meet regularly to share and analyze data and plan research projects. Through this partnership, Worrall and teams of researchers at UVA Health have participated in studies identifying some of the genetic risks and biological processes that can cause a stroke.
"I was there at the beginning of the ISGC because of my earlier research looking at stroke genetics. I started out using an animal model, and then moved into human stroke genetics, collaborating with several of the people who also became part of the consortium," Worrall explains. "So, I came to the table as one of the people who was actively researching in the area at the time."
And that work continues, with a new study set for peer review and publishing in the coming months.
Uncovering Genetic Loci
The work has increased in size and scope with each study iteration. Here, Worral walks us through four of the important studies that have led to our current understanding of stroke genetics: SiGN, METASTROKE, MEGASTROKE, and COMPASS.
The Stroke Genetics Network (SiGN) Study was one of the ISGC's early successes. Says Worrall, "We worked on the first grant from the International Stroke Genetics Consortium, which was the Wellcome Trust Case Control II study. Then an Australian group put in the Australian Stroke Genetics Collaboration. Then, we put in an NIH grant, which was known as the Stroke Genetics Network, or SiGN, funded by the National Institutes of Neurologic Disorders and Stroke (NINDS). And our project (SiGN) was larger than those first two, by design."
"We had around 17,000 individuals with ischemic stroke. And we verified several of the loci that had been previously identified, including HDAC9, and some loci that were associated with stroke related to atrial fibrillation cardiac disease. But then we found a locus in what's called TSPAN2. And this was also with large artery atherosclerosis, the same way that HDAC9 was."
Subtyping Reveals Distinct Pathways
In parallel with NINDS-SiGN, the METASTROKE project took advantage of existing collections of genomic data from individuals with stroke to conduct two successive meta-analyses of genome-wide association studies (GWAS). The goal was to validate associations from previous GWAS and identify new genetic associations in stroke.
The first analysis from METASTROKE verified three previous associations: two for cardioembolic stroke and one for large artery atherosclerotic stroke, and it established HDAC9 as a strong candidate for large artery atherosclerotic stroke. This finding for HDAC9 has proven among the most promising to translate into a novel therapeutic option for stroke related to "hardening of the arteries."
The second analysis revealed 12 potentially new genetic loci, and showed that detailed stroke subtyping was needed, as genetic mechanisms appeared associated with specific stroke subtypes.
"We recategorized people who had been collected in a whole series of different studies to identify the subtype of stroke. And this gets into some of the findings where we see distinct pathways involved with stroke genetics and stroke biology, and they may differ by subtype of stroke," Worrall says.
However, one of the shortcomings of METASTROKE was that it focused solely on subjects of European ancestry.
More Diverse Population Proves Key
This then led to MEGASTROKE, a study that increased the representation of populations from Asian and African ancestry and identified more loci.
Worral notes, "By going across race/ethnic groups, you're more likely to identify something that may be biologically important in all race/ethnic groups. And so that's why we went from the handful of positive results that we had at the end of the SiGN study, to MEGASTROKE, which identified 32 loci."
He adds, "A lot of that increase in detection was driven purely by numbers. We know that when you look at larger numbers of people, you're going to be able to discriminate signals that you can't see when you have smaller numbers. One of the things that MEGASTROKE demonstrated is that when you get big enough numbers, you can actually overcome some of the noise. With that study, it kicked up the game several levels."
Addressing Inequities in Stroke Care
It's been especially important to not only get the right amount of people into this research, but also the right mix.
"We have active researchers on all six populated continents. We need to continue to collect samples from individuals with stroke. And we particularly need to continue to collect them from patients who are from populations that so far have been underrepresented. For stroke, it's a particularly egregious omission — stroke has one of the starkest health disparities in the U.S. People of African ancestry are 2-3 times more likely to have a stroke or to die from it than their European ancestry counterparts," Worrall says.
As part of the Consortium of Minority Population genome-wide-Association Studies of Stroke (COMPASS) collaboration, Dr. Worrall and the team published the largest dedicated stroke genetic study focused on people of African ancestry. COMPASS was a genome-wide association meta-analysis of stroke in more than 22,000 individuals of African ancestry (3,734 cases; 18,317 controls) from 13 cohorts. While truly a landmark work, it is still a far cry from what will be needed to begin to understand these disparities.
"Moving forward, we need to engage researchers who have samples from patients of African ancestry, and we need to seek funding from the NIH and other institutions in the U.S. and around the world to include people of African ancestry in prospective sample collection. And frankly, we need to engage the community to say, 'We need to understand this disease that affects people of African ancestry more than any other group in the U.S.,'" Worrall says.
To that end, the latest study coming from the ISGC, which UVA also participated in, includes 110,182 stroke patients — one-third of those from non-European ancestries. It also included about 1.5 million control subjects — nearly double the number of cases in previous stroke GWAS.
Although not yet peer-reviewed, the study identified association signals at 89 independent loci, of which 61 were new. "By using these large-scale, genomic approaches, we often find out things about biology that we didn't appreciate. And that opens up a whole new avenue of exploration for a target for intervention."
Our Commitment Recognized
It's this commitment to our stroke patients that helped us land the Comprehensive Stroke Center designation from The Joint Commission and American Heart Association/American Stroke Association. Just 3% of hospitals nationwide have earned this certification, and we're one of only three Comprehensive Stroke Centers in Virginia.
UVA Health's Stroke Center has been recognized for its rapid stroke response, specialized intervention techniques, and flexibility in adopting new safety protocols to treat all patients, including those with stroke as a result of COVID-19 complications. And through our international research efforts, we're building the foundations for the future of stroke care.
Worrall also is looking to the future. "I'll continue to do genomics work, but we're increasingly doing work in epigenomics, which is looking at modifications of the genome to make expression more or less likely. And this is where we're starting to see how environmental exposure may alter gene expression." He pauses thoughtfully. "We're going to get to the point where it's no longer nature or nurture," smiles Worrall. "It's nature and nurture."