Title: Assistant Professor
Fellowships: University of Texas Southwestern (Genitourinary Reconstruction, Trauma and Prosthetics)
Residency: University of Miami – Jackson Memorial Hospital (Urology)
Nicolas M. Ortiz, MD, is a board-certified urologist with a particular interest in men's health and reconstructive surgery. His expertise includes the reconstruction and restoration of function in patients who experience problems such as urethral stricture, erectile dysfunction and urinary incontinence. He has been caring for patients in the inpatient and outpatient setting at UVA since 2020.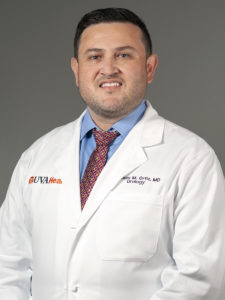 You are originally from Colombia. Why did you decide to move to the U.S. for your medical education?
When I was about to finish high school, my family and I had the opportunity to move to the United States. I was already planning to attend medical school in Colombia, but we decided there would be greater opportunities to pursue specialized medical training in the U.S.
You were in the U.S. Army for four-and-a-half years. What did you take away from that experience?
It was an invaluable experience. I had the honor to care for America's warfighters, which is something I will always cherish. I enjoyed working as a general urologist, but caring for many young and healthy soldiers also opened my eyes to the importance of men's health as a specialty and strengthened my interest to pursue additional training in this area.
What is your current clinical focus?
Currently, my clinical focus is on men's health and reconstructive urology. This includes treatment of urethral stricture, Peyronie's disease, erectile dysfunction and urinary incontinence, particularly in men who have sustained loss of function after treatments for cancer, particularly prostate or bladder cancer. We also treat less-common problems such as buried penis and urinary fistula disease, taking a multidisciplinary approach working with plastic and colorectal surgeons. Finally, I am working with our minimally invasive surgery colleagues to use robotic techniques to repair the ureters.
What do you feel distinguishes UVA in the care of patients with these conditions?
I think what distinguishes UVA is that we have a close-knit team with broad expertise and a desire to take on very complex cases and to provide the best possible care. Everyone is invested in the patient's well being. This is across not only subspecialties within urology, but across the whole medical center.
In what way has the treatment of urologic conditions changed or advanced over the past decade?
In terms of reconstructive urology, one of the biggest recent advances has been the utilization of minimally invasive surgery. Now we are using robotic surgery to treat conditions that, before, required some very large incisions and a longer recovery time. We've been following in the steps of cancer surgeons who have adopted many of these techniques for decades now. But reconstructive urology is now catching up. We are using those similar techniques to produce similar successful outcomes.
Do you have any tips for fellow providers in getting male patients to open up about some of their more private health concerns?
I think it is important to ask patients about specific problems. Ask them if they're experiencing erectile dysfunction or urinary incontinence, especially if they had prostate cancer surgery or any other kind of treatment. Patients may have heard before that there's not much that can be done for these types of problems, so they stop mentioning them. It's important for primary care providers and urologists who may not specialize in this area to actually ask the patient: 'How are your erections? Are you leaking any urine after your surgery or radiation treatment?' I think direct, frank communication with patients is one of the most important tools. Patients really appreciate that.
Will you be involved in any current clinical trials now enrolling patients?
One trial I am collaborating on, led by Dr. Ryan Smith in the Urology Department, is investigating the use of shockwave treatment to the penis as a treatment option for erectile dysfunction.
What would you like referring providers to know about you or your practice?
I'd like them to know that we're here and we're available. If they reach out to us, we are happy to accommodate the needs of their patients. I love to hear from referring physicians who have usually known the patients for years and can provide invaluable insight. I want referring providers to know that I will keep them in the loop with communications about our visits and I will contact them with updates about the treatment plan. Once their patient is treated, we are happy to send [the patient] back to continue with their care.
To refer a patient to UVA Health, call UVA Physician Direct at 800.552.3723.