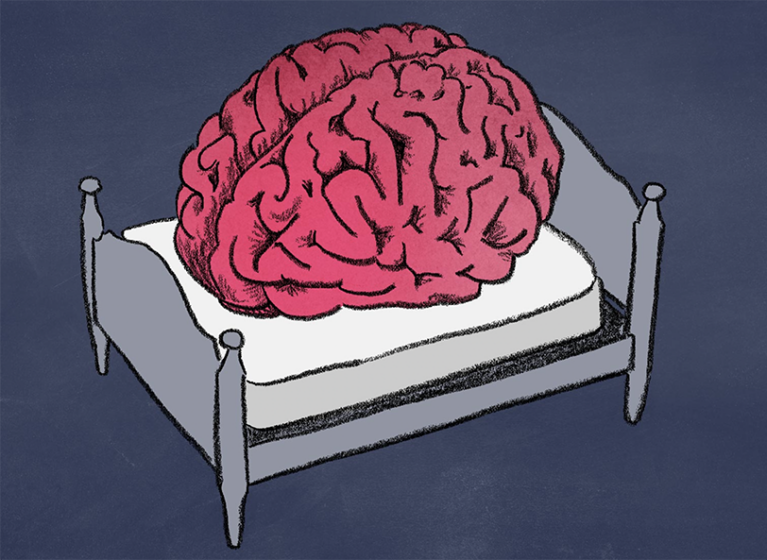 A University of Virginia assistant professor of nursing will receive a $1.22 million, 5-year grant from the National Institute on Aging (NIA) to further her research efforts exploring the connection between poor sleep and dementia, as well as the potential of internet-delivered cognitive behavioral therapy to treat insomnia and curb cognitive decline.
The Link Between Poor Sleep & Dementia
Up to one-third of adults over age 65 have insomnia. Among adults with dementia, however, the incidence of insomnia climbs as high as 50%. Meghan Mattos, PhD, RN, is one of only a few nurse scientists ever to receive a Paul B. Beeson Emerging Leaders Career Development Award in Aging (K76). Early next year, she plans to launch a clinical trial to determine if improving sleep can help prevent dementia.
"We know that individuals with cognitive impairment experience insomnia symptoms at greater rates than those without cognitive concerns," says Mattos.
"We know there is a relationship between insomnia and dementia, but based on the current literature, we're unable to demonstrate causality at this time. We can't say one causes the other. And that's why we're proposing this work."
Innovative Digital Therapeutics Expand Access to Behavioral Healthcare
At the center of this work is an internet-based cognitive behavioral therapy program to treat insomnia created by Lee Ritterbrand, PhD, UVA professor of clinical psychology and director of the Center for Behavioral Health & Technology. His successful Sleep Healthy Using the Internet (SHUTi) program was customized for older adults — with larger fonts and tailored content — to create SHUTi OASIS (Sleep Healthy Using the Internet Older Adult Sufferers of Insomnia and Sleeplessness).
According to Mattos, who has long had an interest in gerontology and cognitive health, this program is a potential game-changer for our growing population of aging adults.
"Behavioral intervention is considered the first-line treatment for insomnia, even before medication or pharmacological management," says Mattos. "Yet, cognitive behavioral therapy for insomnia [CBTI] is difficult for patients to access. It requires multiple trips to therapists, and those therapists who offer CBTI are hard to find. This program allows patients to complete cognitive behavioral therapy for insomnia in their own homes at their own pace. It is self-guided, interactive, and tailored to this patient."
SHUTi OASIS includes weekly online modules providing education and assessment modeled on the primary tenants of CBTI. Patients also must complete an online sleep diary. The program then uses a special algorithm to evaluate the data, tracking patients' progress and tailoring their treatment recommendations accordingly.
A pilot study completed in 2020 showed meaningful improvements in insomnia severity in participants who utilized SHUTi OASIS. It also showed that older adults had no problem navigating the online program. "We found that the participants with cognitive concerns were successful, as well as independent, in their management and completion of the online program. They can achieve clinical improvement. This is really the foundation from which we are doing our current study," says Mattos.
New Study to Determine Success of SHUTi for Preserving Cognition
A new study will further assess this non-pharmacologic and accessible intervention for the potential preservation of cognition. Known as SHUTi MIND (Sleep Healthy Using the Internet Mitigating Insomnia to Address Neurocognitive Difficulties), the study hopes to "find that SHUTi OASIS contributes in a positive way to both sleep and cognitive health so that more people will have the ability to access the program in the comfort of their own homes, and that it will be paid for by insurance," says Mattos.
"Long term, we aim to limit the number of older adults institutionalized because of declining cognitive functioning, to allow them to age in place longer and enjoy the activities of daily living."
Eligibility for SHUTi MIND Study
Beginning in January 2023, the national SHUTi MIND study will enroll 144 patients divided into two groups. The control group will receive education on sleep hygiene and the other will utilize the SHUTi OASIS program. Both groups will be followed for two years with multiple phone and internet-based assessments to determine the status of their sleep and cognitive health. Patients eligible to participate are those
Age 65 or older
Affected by mild cognitive impairment (official diagnosis not required)
Learn more about the SHUTi MIND study.