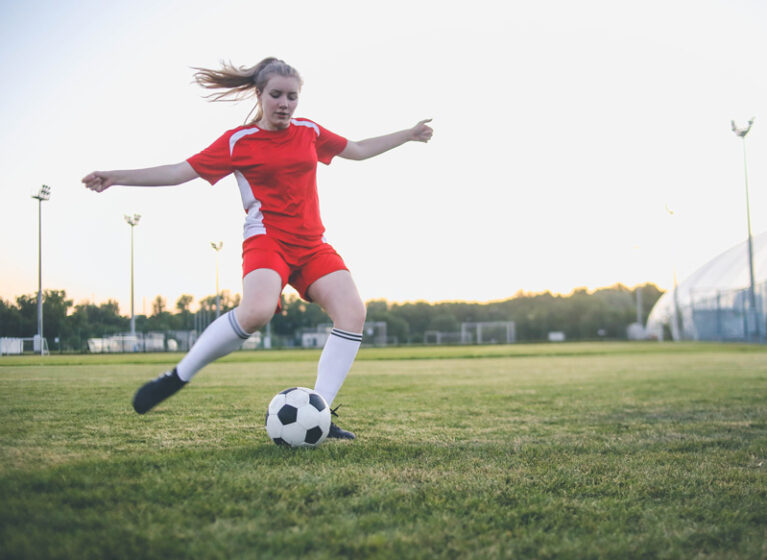 Is mandatory heart screening the solution to reducing sudden cardiac arrest (SCA) and sudden cardiac death (SCD) in young athletes? Or will it create unnecessary challenges? And how young is too young to test, given that most cardiac conditions don't present in early childhood?
Researchers at UVA Health Children's are examining the effectiveness of pre-participation electrocardiograms (ECG) in middle school athletes. Peter Dean, MD, a pediatric cardiologist and medical director of the Pediatric Exercise Stress Laboratory at UVA Health, is leading the charge.
"We're early in the data collection phase of our research, but our goal is to determine whether or not ECG readings are helpful in predicting sudden cardiac arrest in this population," explains Dean.
Although data are hard to come by due to the absence of a central database, according to one recent study, roughly 1 in 200,000 young athletes are at risk of experiencing a sudden cardiac episode during activity due to heart muscle abnormalities, electrical system irregularities, or congenital problems.
Current Sports Physical Guidelines
Athletes at the middle school, high school, and college level often complete a sports pre-participation evaluation (PPE), or sports physical, prior to the start of their season. The purpose of a sports physical is to screen student-athletes for risk factors that could put them at higher risk of a medical problem while competing, such as hypertension or an arrhythmia.
But Dean believes there's an added benefit: "It forces kids to see their doctor once a year for a complete physical exam, to review their personal and family medical history, and discuss any issues they may be having."
The current standard sports physical includes:
Medical history
Family medical history
Physical exam (performed by a licensed doctor such as the student-athlete's pediatrician)
Experts are now asking whether or not ECGs and other heart screenings should be mandatory for all young athletes.
Should Heart Screenings Be Required for Young Athletes?
UVA Health's research is important because very few studies have been conducted on the effectiveness of cardiac testing as a prevention technique.
A well-known Italian study did show a significant decrease in incidents of SDA among athletes ages 13 and older after pre-participation heart screenings became mandatory nationwide, but as Dean points out, "That study has never been duplicated."
The researchers at UVA Health are interested in middle school statistics because while there are some data on college and high school athletes, there is very limited data analyzing SCA and SCD in younger athletes, ages 10-13.
A well-known National Collegiate Athletic Association (NCAA) study concluded that the rate of SCD was highest among black, male basketball players. A similar report from the National Center for Catastrophic Sports Injury Research, conducted in collaboration with the NCAA and the National Federation of State High School Associations (NFSHS), determined that cardiomyopathies accounted for nearly half of SCD among college athletes, but congenital birth defects were the leading cause in high school cases.
"We're analyzing medical records and reviewing ECG findings to see what red flags were raised, if any," Dean says. "We expect to present our findings by late summer or fall 2024."
Challenges of Mandatory ECG Screenings
The biggest concern many have about requiring heart screenings as part of sports physicals is the limitation of an ECG as an accurate predictor of heart disease in young children.
False positives may occur and aren't always indicative of a problematic heart condition (such as an innocent heart murmur). Currently, there are no guidelines or standards to identify "red flags" or "next steps," which may result in unnecessary "benching" of healthy athletes.
Conversely, a normal ECG reading does not guarantee the absence of future cardiac events. Unless a child has a known anomaly or is experiencing symptoms, an ECG may not show any signs of heart disease.
Another concern about mandating heart screenings is the logical challenge it creates. ECGs and ultrasounds require trained medical personnel in a clinic or hospital setting. This will inevitably create access and financial barriers for some, particularly those living in more rural environments.
When to Test
As Dean points out, there are times when ordering an ECG or other heart screening is appropriate, regardless of age. He recommends testing young athletes who meet one or more of the following criteria:
Have a known heart condition
Have a family history of heart disease
Experience symptoms while exercising or playing sports, including:

Heart palpitations or inappropriate fast heartbeat

Passing out or feeling like they are about to pass out

Extreme fatigue or exercise intolerance
If a sports physical or heart screening reveals red flags such as high blood pressure or an arrhythmia, or if an athlete is experiencing symptoms, Dean strongly urges them to see their pediatrician or cardiologist for further evaluation.
The Pediatric Exercise Stress Lab at UVA Health Children's offers state-of-the-art, athlete-specific testing, stress echocardiograms, pulmonary function testing, metabolic testing, and both EKGs and ECGs. It is one of the most comprehensive clinics for children and adolescents in the country.
Emergency Action Plans
Because heart screenings cannot catch all instances of cardiac episodes, having an emergency action plan is crucial to preventing SCD. A good emergency action plan, according to Dean, meets the following criteria:
All supervising adults are trained in CPR, automated external defibrillator (AED) use and how to recognize SCA.
A fully-charged, accessible AED is on-site.
Adults responsible for calling 911, directing emergency medical services (EMS), dispersing crowds, etc. have been identified and trained.
Emergency procedures are practiced, like fire drills, at least once per year.
Dean and his team at UVA Health Children's continue to research the effectiveness of ECGs as a tool to predict or prevent SCA and SCD in middle school athletes. In the meantime, he stresses the importance of mandatory sports physicals and emergency action plans.
"PPEs and sports physicals are important for all athletes, but we're not sure yet if ECGs are helpful for younger athletes or those who are asymptomatic," says Dean. "What we do know is that a good emergency action plan – one that is practiced at least once a year, if not at the beginning of every sports season – is the most important tool we have in preventing a sudden cardiac arrest from turning into sudden cardiac death at any age."