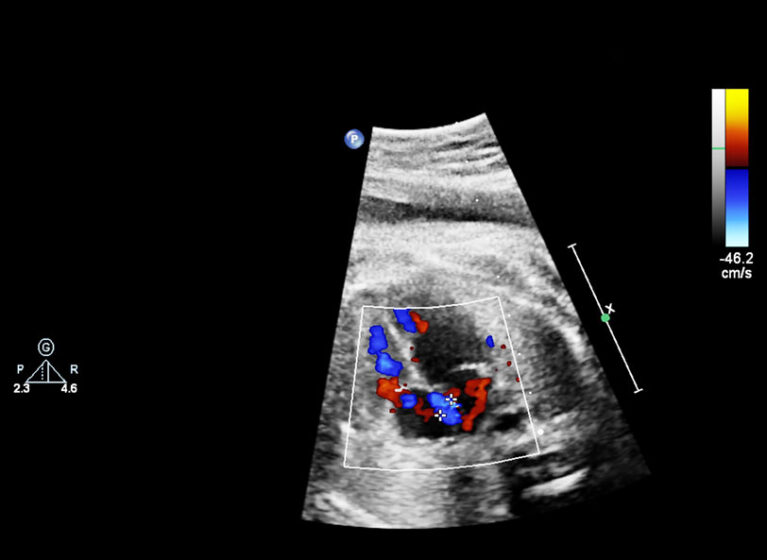 Home monitoring programs (HMPs) are nothing new. But a unique program at UVA Children's has pushed the boundaries of home monitoring capabilities and vaulted success rates for young children with complex single ventricle defects.
UVA Children's developed this comprehensive, digital HMP as part of a 3-year, $4.4 million Federal Communications Commission grant. The HMP, which allows for secure monitoring of nasogastric feed advancement, nutritional assessment and video therapist support, and oxygen saturation, is associated with shorter postoperative stays and higher rates of full oral feeding.
Resetting the Bar
With the largest fetal heart program in Virginia, UVA Children's provides expert neonatal care for these at-risk patients, starting with sophisticated, non-invasive imaging to detect and identify fetal heart conditions during pregnancy and providing immediate surgical care after birth. Babies treated at UVA Children's survive even the most complex heart surgeries at a higher rate (96.5%) than the national average (87.8%).
Once neonatal patients recover from palliative surgery, they must receive constant care over the first 3 months. In the past, UVA Children's delivered this care solely at the hospital, which placed a tremendous burden on families.
"Children thrive better in their home environment, and one of the most common questions we get from families post-surgery is when they can take their child home," says Jeffrey Vergales, MD, pediatric cardiologist at UVA Children's. "Our HMP allows us to monitor, engage, and care for these patients outside of the hospital in ways we couldn't before and at the highest possible level. Once they get home, they do so much better than in the hospital. And we can identify potential problems or concerns earlier. We are truly resetting the bar for when these patients can be discharged."
All the Tools That Families Need
UVA Children's provides participating families with the tools they need — including electronic medical record (EMR)-connected neonatal scales, the ability for parents to use all of their own devices, and data plan-enabled smart tablets for families needing more assistance. Parents input their data into an intuitive app that UVA Children's doctors customize to fit the needs of each individual patient. The entire platform tracks nutrition, oxygen saturation levels, and other necessary vital information with information deposited directly into the patient's EMR for immediate review by their physician.
"The ability to orally feed is a very important issue for parents and for the child's physical and neurological development," Vergales says. "Thanks to programs like this that support advances in home feeding, UVA Children's is a 'high performer' when it comes to patients eating by mouth."
In a retrospective observational study, use of the UVA Health HMP was associated with reduced postoperative length of stay (30.1 versus 33.1 days). In addition, more children in the digital platform monitoring group were able to achieve oral feeding at 1 year of age (90% versus 68%).
UVA Health has expanded their comprehensive HMP to other groups of patients as well, including pregnant mothers at high risk for delivering early, transplant patients, premature infants, patients with cystic fibrosis, gastrointestinal disease, and other complex chronic pediatric conditions. HMPs have also served patients recovering from COVID-19, RSV, and flu, providing a higher level of care at home for medically fragile patients. UVA Health has seen improved patient outcomes, including a lower rate of emergency department visits and hospital readmissions.
Per Vergales, "We are pushing the envelope with digital connectivity, EMG integration, and outcomes data to do a better job of caring for children in their homes."
Coordinated Center Manages Pediatric Patients to Adulthood
Vergales notes that many children's heart centers are fragmented, with individual specialists working in silos. Not so at UVA Children's, he says.
"I work closely with specialists in occupational therapy, physical therapy, speech therapy, surgery, anesthesiology, critical care, perinatology, maternal medicine, and obstetrics to bring children into this world in a safe way and help them thrive," Vergales says. "UVA Children's fosters a collegial environment that makes it easy for our large, multidisciplinary team to manage single ventricle pediatric patients in one place until they reach adulthood. No other pediatric condition requires so many different providers working as one around a common goal."